La Cucina S.Pellegrino, a prestigious table d'hôtes interpreted by starred chefs, will offer the stars of the 68th Festival de Cannes Italian gastronomy and Art Of Living.
La Cucina S.Pellegrino, an unparalleled starred table d'hôtes in the heart of La Croisette, shows the attachment of the S. Pellegrino sparkling natural mineral water for Haute Cuisine. As every year during the Festival de Cannes, the Italian brand has found a creative and original way to propose rare and privileged gastronomic moments, to foster again the love of the fine things we eat and drink, the glamor and the Italian Art of Living in an intimate setting.
La Dolce Vita
From May 13 to 22, 2015, this exceptional guest house will gather at lunches a line-up of seven iconic starred chefs, as well as movie stars. Designed as an ephemeral table d'hôtes, this extraordinary place is the setting for exclusive and intimate moments to enjoy all the sophistication of an elegant Italian-inspired cuisine. A resolutely contemporary space, its open kitchen and its terrace with panoramic views of the hills of Cannes will make it an island of serenity and Dolce Vita.
Haute gastronomie
Each day of the Cannes Film Festival, renowned starred French chefs will in turn give their personal interpretation of the Italian cuisine, offering a leading personality and guests a customized gastronomic menu. Sharing their knowledge and their love of cuisine with the prestigious guests, the chefs will provide them with an unprecedented taste and timeless experience.
In the afternoon, La Cucina S.Pellegrino will host the teams from films in competition of press junkets, interviews or shootings. In the evening, it will host the Cannes public for prestigious dinners.
A line-up of most talented chefs
The following chefs will put their talent at the service of the guests of La Cucina S.Pellegrino and realize every day culinary prowess to create customized menu.
Jacques Chibois *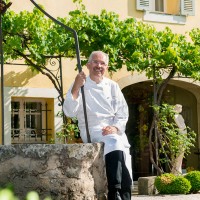 In his Relais & Châteaux restaurant La Bastide Saint Antoine in Grasse heights, the iconic Chef showcases his culinary creations that his talent and prolific imagination conceive. His creative, elegant, simple and precise cuisine, is inspired by true values of the Provence terroir – olive oil, truffles… –  and simple and authentic products.
Mauro Colagreco **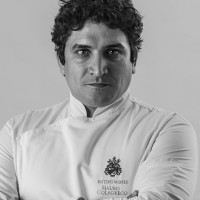 Formed with the greatest, including Bernard Loiseau and Alain Passard, the Italian-Argentine Chef is managing the Mirazur restaurant in Menton, considered as one of the world's best addresses. Passionate of local products, he cultivates a vegetable and herb by his restaurant to refine his cuisine. Consacred Grand Chef Relais & Châteaux in 2013, he took part in 2015 in the Bocuse d'Or as a member of the international jury.
Ronan Kervarrec **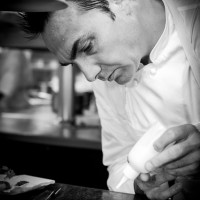 The Breton Chef has worked with Georges Blanc, Yannick Alléno and Guy Krenzer. Today, his talent is enlightening the two stars of the Relais & Châteaux La Chèvre d'Or in Eze Village, a mythical institution in the French Riviera, and one of the Grandes Tables du Monde. The cuisine is for him a moment of sharing, with recipes based on local products in a symphony of flavors between sea and land.
Stephanie Quellec *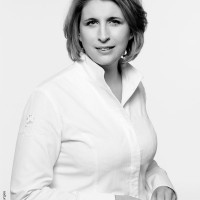 Since she won Top Chef in 2011, the Chef is in charge of the restaurant La Scène at the luxury hotel Le Prince de Galles in Paris. Gourmandise is her core value and talent and creativity make her imagine nature alliances based on flavor nuances, with accurate cooking. She is also committed to offer a sincere cuisine, respecting the product and the terroir, between luxury and modernity.
Cyril Lignac *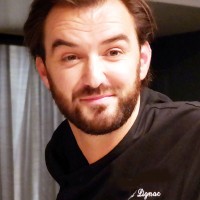 Star of French cuisine with his new concept of cooking show in 2005, he won his first star at his gastronomic restaurant Le Quinzième. A lover of traditional bistro cuisine, he takes over in 2008 an institution in Paris, Le Chardenoux. Next will come Le Chardenoux des Prés, former Claude Sainlouis, a bistro glory on the Left Bank, and Cuisine Attitude, a creative workshop plus two pastry shops, one rue Paul Bert and another rue de Chaillot.
Nicolas Navarro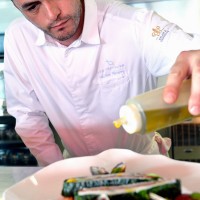 Formed in the most prestigious houses like Le Crillon, the Plaza Athénée in Paris and La Villa Belrose in Gassin, he was the former chef of La Table de Pierre in Saint Paul de Vence. He currently manages the gastronomic restaurant Les Pêcheurs at 5 star-palace Cap d'Antibes Beach Hotel, as well as the beach restaurant Le Cap. Simple and refined, always natural, his cuisine highlights the sunny Provençal flavors and seasonal products.
Michel Roth
Starred chef and former Executive Chef of the legendary Ritz Paris, recently executive chef and culinary consultant at the Hotel President Wilson in Geneva, the Meilleur Ouvrier de France in 1991 is revisiting the palace gastronomy, between tradition and innovation. To the cuisine classics, he infuses audacity and creativity on the plate with an undisguised love for the finest products.
An icon of international gastronomy
Appreciated since 1899 in its home country, the S.Pellegrino natural mineral water has conquered the world. Perfectly balanced, its freshness and delicate fragrance, its bright, long-lasting bubbles provide a feeling both enjoyable and refreshing. Revealing the flavors and dishes, it is paring with the most refined dishes and its strength of character is prized by both chefs and sommeliers.
See also: in 2014, La Trattoria Al Mare S.Pellegrino gastronomic dinners on boats facing the Lerins Islands.
Two passions: gastronomy and cinema
The love affair with the seventh art began in 1960, when the brand gained fame in Federico Fellini's masterpiece, La Dolce Vita. A partner of the festival de Cannes since 2010, S.Pellegrino has forged close ties with the international film capital. A privileged setting for organizing the most unexpected events, combining its two passions: gastronomy and cinema.
La Cucina S.Pellegrino, Festival De Cannes Highlight
was last modified:
May 6th, 2015
by