La Verrière hosts the creators and business leaders from Nice in a bright and friendly coworking space, decorated with an Art Deco glass roof.
La Verrière is the third  coworking space in Nice, created by Valerie Ammirati. It is a shared workplace, in collaboration and conviviality, promoting exchange and openness and can also help to create a working network. Coworking is an evolution of workplace responding to the desire of breaking the entrepreneurs' loneliness and enable them to temporarily benefit from all the advantages of an office without having to bear heavy costs. Some valuable assets to thrive in addition to "coffee and wifi!"
Innovations and coworking in Nice
By his profession of accountant, Valerie Ammirati knows the expectations and constraints of entrepreneurs. It is in this spirit that she created La Verrière in Nice, in the former ballroom, with majestic dimensions, of the Majestic Hotel at the foot of Cimiez. The coworking space thus provides, in addition to numerous amenities, an exceptional architecture, whose most spectacular element is an Art Deco glass roof built in 1905, which floods the space with light.
In 2000, Valerie bought a large space in the Majestic building that was housing a swimwear factory. After turning it into her apartment, she has installed her business in the premises, the consulting and expertise firm Skynet. Having decided to convert this unique place in coworking space, Valerie went to New York in June 2014 to inspire and meet the leaders of the city's ten largest coworking spaces.
A former palace of the Belle Epoque
Located at 4 Boulevard de Cimiez in Nice, Le Majestic building is a former palace of the Belle Epoque, which after its closure, was divided into apartments and shops. In what was once the hotel's ballroom, La Verrière occupies two floors on an area of 600 square meters.
The open space of 300 square meters on the second floor, is topped by a stunning stained glass Art Deco rooftop, hence the name of the coworking space.
The area offers many opportunities for work and various rooms. It has 34 seats – and as many seat made of pilates balls – including 10 in the "silence"area, for calm and discretion. Five meeting rooms with names that evoke the dancing and prestigious past of the place: L'extravertie, La précieuse, La discrète, La bavarde et La studieuse, enable to entrepreneurs to conduct their business appointments.
A spacious kitchen of 70 square meters and two lounge areas are also available to entrepreneurs.
Four more or less full-bodied subscription packages
La Verrière offers four subscription packages to work in a friendly, stimulating collaborative dynamic, offering flexibility, simplicity and… savings. The packages are named after the theme of coffee, symbol of conviviality and nod to the history of the place.
Depending on their needs, entrepreneurs will be able to choose between the Espresso, Macchiato, Cappuccino and Lungo subscriptions.
But before the cafe, La Verrière will propose you for lunch the services of Livreur Chic, a start-up that delivers the dishes from the best Niçoises addresses, all tested and selected for their quality and the use of fresh products. The selection of dishes helps ensure optimal tasting for hot food, orders being delivered promptly.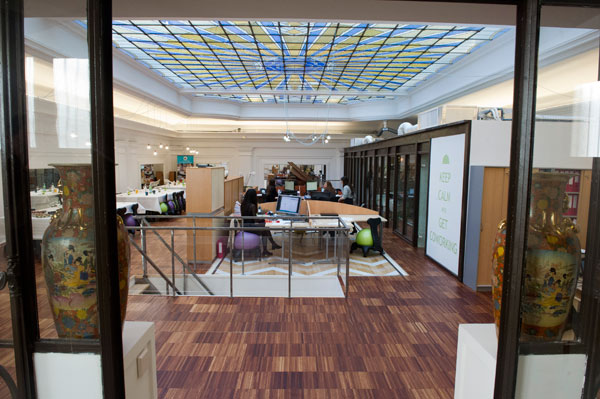 A real place of life
Every Friday, La Verrière opens its doors to all who wish to discover the places and try the coworking. Entrepreneurs, independent workers will be able to test the collaborative work for free and without obligation. To take advantage of this trial offer, it is essential to book.
La Verrière will also offer events, conferences, breakfasts, workshops, aperitifs and evenings, as well as non-work related activities, such as meditation courses and Qi Gong. More than a coworking space, La Verrière is indeed meant to be a real place of life.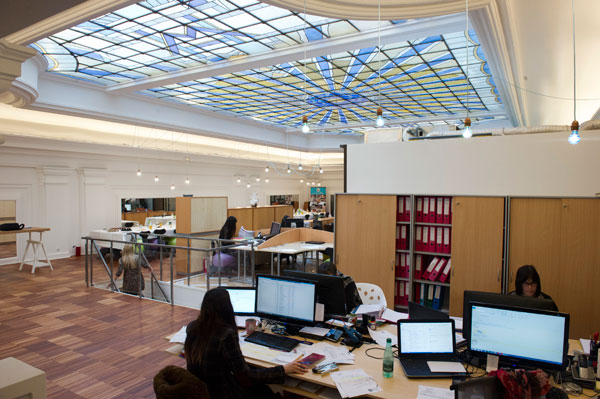 Click on pictures to enlarge – ©YesICannes.com – All rights reserved
La Verrière in Nice: Coworking and Soul Supplement
was last modified:
March 31st, 2016
by