At the gastronomic restaurant Le Clos Saint Basile in Mougins, the young chef Maître Restaurateur Matthieu Lestrade and his wife Elien diffuse waves of happiness and flavors through their culinary and epicurean art, combined with the quality of the place and the excellence of the hospitality.
Le Clos Saint Basile in Mougins is a restaurant between sky, land and mountains. On the fragrance road to Grasse, at the foot of the picturesque old village of Mougins, the medieval arcades of Valbonne, close to Cannes, the Cité des Festivals, and the pine forests of Sophia-Antipolis, Le Clos Saint Basile conceals as much gastronomic and epicureans happiness that of well-being in an enchanting setting.
A perfume of happiness in the heart and the palate
By roaming the lands of Mougins on your whim, along a Provençal road, you will certainly pass in front of this pretty stone building adorned with wrought iron. At first, you will be attracted and seduced by the pretty flowered terrace that opens its arms to you and the intriguing sign: Le Clos Saint Basile. But this little paradise of greenery is worth more than just a glance, it deserves to stop for a gastronomic stopover that will leave you in the heart a perfume of happiness and the palate sparkle with olfactory and gastronomic flavors.
An unsuspected treasure
The dining room is elegant, both bright and intimate, in soft warm tones of beige ceruse, where the immaculate tablecloths and the transparency of the glasses weave a cozy atmosphere conducive to good gourmand moments. The eye lingers on the superb modern paintings melting with the pastel walls.
This address hides an unsuspected treasure hidden from view: a shady, secret and intimate garden planted with ancient olive trees and Provençal essences, perfumed with lemons, jasmine and aromatic herbs, where the ear is caressed by the murmur of a nearby fountain. At the first rays of sunny days, this green setting is an invitation to linger around beautiful tables to enjoy the specialties of the house.
Perfect harmony and gastronomic awards
At Le Clos Saint Basile, Elien and Matthieu Lestrade propose a Restaurant and Wines concept, based on two complementary personalities: Matthieu, a chef who perfected his talents at the nicest gastronomic addresses and Elien, a passionate sommelier, who welcomes her customers with her warm smile and the freshness of accent. A perfect agreement that seduced the Michelin Guide, which awarded an Assiette and 2 Fourchettes to the establishment of these lovers of Peynet. This charming duo was also rewarded last year with the delicious title of Maître Restaurateur and has just been honored by the red guide with a Grappe de raisin which rewards the wine list with 150 references carefully selected by the couple along the exploration of epicurean discoveries.
Unforgettable gastronomic experiences
Matthieu and Elien met each other in Antibes where Elien was doing a sommelier course at Les Pêcheurs in Juan-les-Pins near Cap d'Antibes while Matthieu was working in the kitchen. Since then, they have not left each other and in 2014, the couple took over Le Clos Saint Basile in Mougins, where Elien radiates in the dining room as a skilled hostess and thoughtful sommelier. In the kitchen, Matthieu creates a menu punctuated by the products of the seasons. His cuisine du marché, both tasty, simple and elegant, sublimates many authentic local products. Delicate and inventive combinations of flavors and textures, artistically set in beautiful porcelain plates, magnified by food and wine pairing, offer unforgettable gastronomic experiences for pupils and taste buds.
The geatest houses
Matthieu Lestrade originates from Nice and learned the basics of the profession at the Lycée Paul Augier in Nice. He then began his initiation journey in the geatest houses that led him to immerse himself into the philosophy, gesture and techniques of very great Michelin-starred chefs. Alain Parodie (Le Cigalon in Valbonne), Sébastien Broda (Le Park 45 in Cannes), the Trois Gros brothers in Roanne, Francis Chauveau (Les Pêcheurs in Cap d'Antibes), Eric Briffard (Le George V Paris) or Stéphanie Le Quellec (Le Prince de Galles in Paris). Matthieu was one of the brilliant challengers, with Fanny Rey, Ronan Kernen and Ludovic Turac, at Top Chef 2011, brilliantly won by Stéphanie Le Quellec.
A range of food and wine pairings
We invite you to discover chef Matthieu Lestrade's delicious gastronomy, accompanied by the wines of the sommelier Elien, which has been including in her vinotheque a nice collection of unusual and confidential treasures that can also be enjoyed "by the glass".
Aperitif: Beetroot Trilogy: Milkshake; Parmesan Tile, Beet Jelly, Goat Cheese Mousse with Cumin; Roll of Beet and Salmon. This original trilogy with mouthwatering colors highlights the sweet earthy flavors of beetroot in savory salty combinations.
Amuse-bouche: Trout from La Siagne marinated in Gravlax, Crème de Cresson, Lemon Whipped Cream, Kumquats from the garden. Fished in the local river, sublimated by the spices of gravlax, the trout combines with the fruity watercress, enlivend by the delicious note of freshness of lemon and kumquat, picked up in the family garden. combines with the fruity of watercress, enlivend by the delicious note of freshness of lemon and kumquat, picked up in the family garden.
Champagne Collet "Brut Art Deco"
Cold entrée: Vitello Tonato version 2018, Pelamel Tartar cylinders, Sucrines, Capers & Parmesan. A nod to the cuisine of Piedmont with this dish with powerful flavors, which impetuously awakens the taste buds by its contrast between the sweetness of meat and capers and tuna sauce.
Bellet Wine: Domaine Clos Saint Vincent – Red Cuvée 2015
Hot entrée: Sautéed Foie Gras Escalope, confit Pork Shank, Black Garlic Condiments, Herb Salad and Radish with Sesame. A real masterpiece of flavors and texture for this soft, subtly perfumed foie gras, served in its crispy robe, enhanced by the touch of genius confit of pork knuckle with its salty note that envelops the unctuousness of foie gras.
Riesling from Domaine Gustave Lorentz, Grand Cru d'Alsace, Altenberg de Bergheim.
Fish: Rouget Barbet wrapped into Lard Colonnata, work around the Carrot, Sucs like a Bouillabaisse, Sweet Onions. The tasty marriage of the fine flesh of Mediterranean rouget with the bacon refined in the marble caves of Carrara. This colorful culinary mix between land and sea, frolics in waves of cooking sucs – in the way of a Bouillabaisse – that give their full marine dimension to the dish where onions and carrots remind the sunny terroir of our Provence.
Red Sancerre – Domaine Daniel Crochet in Bué
Meat: Australian Wagyu Beef Rumsteack, Beetroot Gnocchi, Smoked Beets, Spinach Sprouts. The Grail in beef! A product from local traditions, much like the products Matthieu is working with. The rumsteak melts on the palate, accompanied by vitamined spinach, surprising and delicious beetroot gnocchi and an equally surprising smoked and scented beet, perfect with grilled meat.
Château d'Estoublon red – La Réserve d'Ernest (Unique tribute to Ernest, founder of the domain) AOP Les Beaux de Provence
Dessert: Seasonal Citrus Fruits, Tea Financier Biscuit, Blood Oranges, Sorbet with Lemon from Grasse. The temptation of gourmandise is expressed in the finesse of the "grand cru" cocoa composition combined with the very fragrant sweetness of the Martin Sec pear, which exudes in freshness in the sorbet.
Moscato d'Asti: Bricco Quaglia – La Spinetta
Dessert: Belle Hélène Pear revisited, Ganache Macaé, confit Martin Sec Pears, Pear Sorbet. The lemon of Grasse becomes famous and takes a great place in Matthieu's gourmande plate where the colored vitamins of the dessert, all freshness and lightness, is crowning as apotheosis a generous and original gastronomy.
Madeira Barbeito "Bual 5 years".
Take-away wines from Clos Saint-Basile
Elien has more than 4000 bottles in the Clos Saint-Basile cellar and now offers the epicureans its nectars to savour at home at cellar prices. Among this wide choice, many rare and confidential wines, some bottles ranging from € 15 to € 40 on average to a few hundred euros for exceptional crus.
Le Clos Saint Basile
351, avenue DSaint Basile
06250 Mougins
Tél. 33 (0)4 92 92 93 03
Opening : 12h-14h15, 19h30-22h
Closing: Tuesday, Wednesday, Saturday noon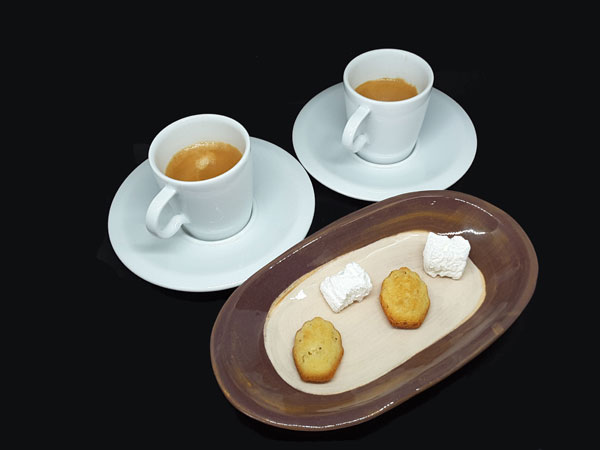 Menus: 19 and 24 € (lunch), 39 and 54 €
Carte: 49 €
Lunch formulas, except Saturday and Sunday lunchtime and public holidays
Plat du marché + 1 glass of wine 15cl 19 €
Starter, main course or main course, dessert 22 €
Starter, main course, dessert 27 €
Menu du Clos 44 € (3 courses) + food and wine pairing 20 €, 56 € (4 courses) + food and wine pairing 26 €
Menu dégustation 65 € (5 courses) + food and wine pairing 33 €.
Le Clos Saint Basile, House of Happiness in Mougins in pictures
Click on pictures to enlarge – ©YesICannes.com – All rights reserved
Le Clos Saint Basile, House of Happiness in Mougins
was last modified:
February 15th, 2018
by