On the first day of Cannes Lions 2015, the rock star Marilyn Manson talked about the authentic man behind the controversial confident Goth celebrity.
Grey Music Legends Seminar is unique in his knack of featuring controversial characters, both survivors of sex, drugs and rock n'roll lives and gifted with a long-lasting disruptive creativity. In its ninth tenure, a major global artist, Marilyn Manson (transplant of Marilyn Monroe on killer Charles Manson) gave Cannes Lions delegates a glimpse of the man behind the star provocative artist in the limelight for much of the last 20 years.
An artist in the global limelight
Brian Hugh Warner, most commonly known as Marilyn Manson, is musician, rock singer, painter and poet. He is globally known as the leader of the "industrial" heavy metal rock band bearing his name, that issued ten albums since 1994. He is also a contemporary painter – his aquarelles series "Genealogies of Pain" include titles like Baphomet, There's no AIDS in Space… He stepped away from music for a testimony in Michael Moore's Bowling for Columbine and an appearance in his firend David Lynch's Lost Highway. He is now involved as a recurring character on the series Sons of Anarchy's final season, playing a white supremacist…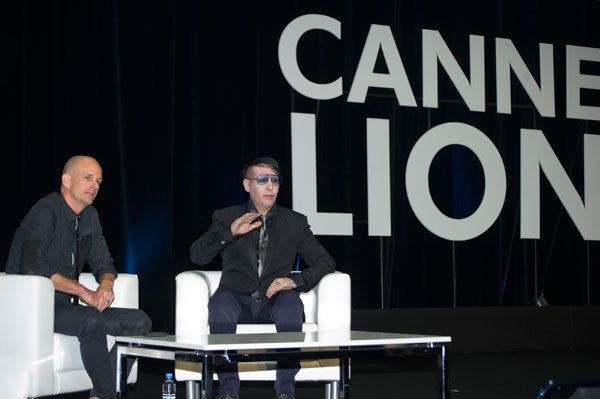 Gold-capped teeth and scratched hands
46-year-old Marilyn Manson took to the stage of a fully-packed Grand Auditorium wearing a black suit, a black shirt with a black tie around a turned up collar, along with eyeliner and lipstick. While sporting shaved temples, a lock of hair regularly swept his sunglasses when talking with Tor Myhren, Grey Group's worldwide Chief Executive. A bunch of jokes let Manson's gold-capped teeth shine, and when speaking with his hands, he showed rings at every finger, hands covered in scratches and tattooed wrists.
"I don't like being a celebrity"
Manson, who "doesn't like being a celebrity", said: "I hate what I have become to escape what I hated being… I don't want to be the caricature of myself." But he explained that he had maintained his 26-year career by remaining true to himself.
Manson's convincing freakishness on the din of death metal Antichrist Superstar, caused him to be blamed for inciting violence, putting him in trouble as the two Columbine shooters in 1999 were allegedly fans of his music – which was wrong.
Despite his global success, Manson said he isn't the confident character he looks like: "People don't expect someone like me to be awkward and shy, but I hide my fears with sarcasm." He, who feels "ritualistic" the performance on stage, added: "I'm worried that my music will overshadow my image."
Appeal for new audiences
Manson also revealed that, in 2014, he changed the way he worked: previously, 3 a.m. used to be his peak hour for creativity, but now he works in the studio at 3pm instead.
He said: "I don't believe you can ever get lazy enough about your fan base. I want to appeal to new fans! I want people who didn't like me before to listen to my music."
30 pictures depicting his life
In last part of the seminar, Tor Myhren proposed Marilyn Manson to comment in a few words 30 pictures evoking important moments in his life.
It was the opportunity for Manson – who is now dating the photographer Lindsay Usich – to evoke his ex love relationships: a "mistake" with actress Evan Rachel Wood, the longest yet relationship (one year) with ex-wife Dita Von Teese…
His father – a former helicopter pilot in Vietnam – gave him this advice when he was young: "When you are with a woman, squirt lemon juice on her. If she screams, don't have sex with her: she has a disease."
Click on pictures to enlarge – ©YesICannes.com – All rights reserved
Marilyn Manson At Cannes Lions
was last modified:
June 30th, 2015
by