The Mash Machine by The Mo'Joes captivated Midem 2015 delegates by its creativity, ease of use for musical expression and the emotions it conveys.
Listening to music is a great experience, but is not comparing with the thrill of performing your own tunes and rhythms, keeping an audience spellbound, dancing on what your fingers create. Unfortunately, mastering most of the instruments is a long learning curve and takes a lot of time and practicing.
Well, this was true prior to the Mash Machine, presented at the new Midem Discovery Zone!
Music at your finger tips
To instantly create your own music, you just have to handle tangible drums, basses, melodies and vocals on the table of the Mash Machine to control and master any music genre within minutes, regardless of your age and music skills. With 40 controllers to mix and move with your finger tips on the luminous device that stands out, you are able to create exciting pieces that can fit many type and size of events, from birthday parties to festivals.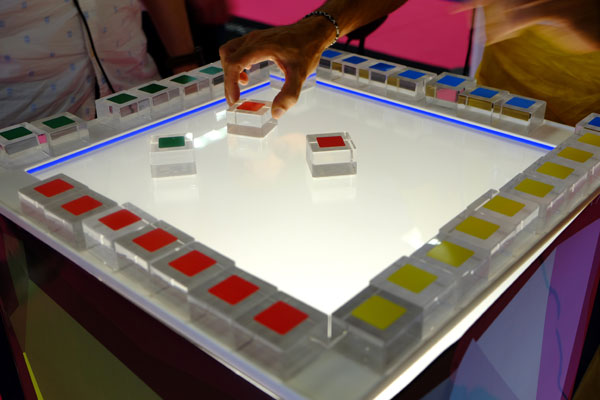 Interacting directly with music
The Mash Machine enables you to create some highly visible and energetic music by combining its 40 controllers – 10 for each category: drums, bass lines, melodies and vocals. The party starts as soon as the first controller hits the surface of the table. You build a beat, mash up the music and prepare your next drop, interacting directly with music by moving the controllers from one corner to the other, applying real DJ effects to spice up your creation: reverb, delay, high-pass or low-pass filter.
In constant evolution
The Mash Machine is controlled via Web Browser, therefore, any device like smartphone, tablet or computer can be used as a remote. Mash Machine is powered by the sounds of great artists and is in constant evolution as the Mo'Joes are making deals with a variety of artists, bands, labels and producers like Mr. Bird, Happy Endless, Little Italy, Funky Beats, Rudolph Christmas… providing new music and sounds files to an Internet depository.
About The Mo'Joes
The Mo'Joes young, extremely ambitious core team is operating in Tallinn in Estonia, a young nation that, once freed from the Soviets, confidently banked on the digital for its development, soon reaching high level thanks to short decision-making process.
The Mo'Joes team collaborates with carefully selected audio, video and graphical artists to ensure that the services will fully fit its customers' requirements and aims to soon become a reference point for interactive solutions in Estonia and in Europe.
Mash Machine Vibes at Midem 2015
was last modified:
June 12th, 2015
by