On January 27, 2013, at the 47th Cannes Midem, the Medal of Arts and Letters ceremony by Aurélie Filippetti, Minister of Culture and Communication was held at the Palais des Festivals et des Congres where Nelly Querol, President of the Central Body of Music Publishing, Michael Kurtz, founder of Record Store Day USA, and virtuoso pianist and international superstar Lang Lang were awarded.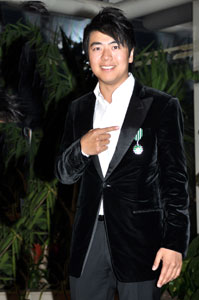 Aurélie Filippetti said about Lang Lang: "Thanks to you, classical music also has its rock star. Enthusiastic crowds are cheering you, hordes of screaming Chinese teenagers shout out your name at the end of concerts and you arouse vocations with thousands of young pianists. A charismatic, highly publicized, sponsored pianist, a true human bridge between Eastern and Western cultures, after a remarkable, unusual career from your childhood with tremendous determination and iron self-discipline, Lang Lang you certainly haven't finish to make us hear of your prowess!
At the direction of the CSDEM (Chambre syndicale de l'édition musicale), a legendary music publisher, Nelly Querol is a woman of head and heart. At a time when the music industry is facing many challenges, the Minister stressed that her expertise and commitment were crucial: "For more than 25 years, you have been working for the collective defense of copyright and the music publishing. From SACEM to the Chambre syndicale de l'édition musicale of which you are the President since 1998, you commited yourself to represent your profession while ensuring the promotion and appreciation of music and its authors.
Then it was Michael Kurtz, founder of Record Store Day USA, who was decorated. The Minister honored him as follows: "There are names that are readily associated with strokes of genius: yours is one of them. What started as a bright intuition over coffee with friends in Baltimore became a musical event with a seldom equaled consequences. Praised by the biggest names in music worldwide, the Record Store Day you cofounded brings to the fore a vital link in the music industry: the independent record stores. phenomenon The Record Store Day phenomenom though owes nothing to chance because your career is under the aegis of music stores. Between tours and rehearsals of your group Three Hits, you work at a record store, as many artists before and after you, who testify that this special link on the occasion of the Record Store Day. At the end of the second edition of Record Store Day, more records are sold on a single day that during the Christmas period… The concept is is exported throughout the world: the French version "Disquaire Day", was born in 2011 thanks to French Independent Labels Action Club (CALIF). A hundred French stores participated in the operation with the support of many artists, majors and independents who associate themselves heartily in this celebration of record stores."
Click on pictures to enlarge
Medal of Arts and Letters Ceremony by Aurélie Filippetti
was last modified:
July 13th, 2013
by