Monica Lewinsky advocated at Cannes Lions 2015 for a safer social media environment and a more compassionate Internet in a moving plea against cyber-bullying.
At just 24 years old, because she fell in love with her boss, Monica Lewinsky went unwillingly overnight from being an anonymous White House intern to a public pariah on the global stage. At the Ogilvy & Inspire Lecture, she told the Cannes Lions delegates how being the Patient Zero of online shaming, in the centre of a legal, political and media maelstrom, ruined her life and nearly destroyed her.
She urged the collective creativity to foster a more compassionate society.
Put in the Internet pillory!
Lewinsky became known to the public in 1998, when the whole world learned of her intimate relationship with US President Bill Clinton. She then experienced an Internet  "naming and shaming" campaign, becoming the "Patient Zero", pilloried online like a criminal was in ancient time, standing up on the shame pole, laughed at and thrown at with rotten food… In addition to being on the front pages, Monica Lewinsky was the first victim of a new online form of shaming.
"On the Internet, hate is without limit"
Monica experienced the phenomenon of hate, the destruction of a life through a modern way of lynching a person through the Internet. She said: "In 1998, I lost my reputation and my dignity. I lost almost everything and was almost humiliated to death." She informed the audience that 17 years ago, she had been named "tart", "slut", "whore", "bimbo" and "that women"! She was the victim of people who use Internet anonymity to shame and humiliate a person they've never met.
Being one's own brand
At the beginning of her emotional speech, Monica Lewinsky said: "Not a day goes by that I am not reminded of my mistake, and I regret that mistake deeply." She was once asked: "If you were a brand, which one would you be? Imagine the brand is you, your name, your history, your values, your soul…"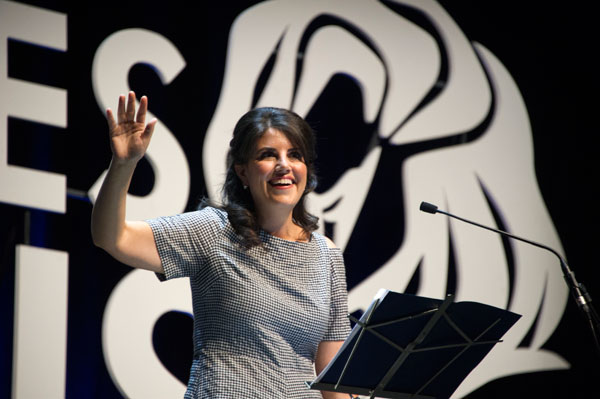 Online shaming is nowadays common
For Monica Lewinsky, cyber-bullying is nowadays common and she cited the death of Tyler Clemente, a student who jumped from the Washington Bridge after his roommate posted a film showing him with another man. She continued with the leaked naked personal photos of Jennifer Laurence and Caitlyn Jenner's struggle for being accepted as a transgender.
Be an upstander
Monica denounced the "traffic of shares", the paparazzi and hackers. "The more shares, the more clicks, the more advertising money!" she added regretfully, calling for a cultural revolution: " Shame can't survive empathy! Even empathy from on person counts." She invited people to be "up-standers rather than by-standers" and support ONGs like Bystander Revolution.
A long standing ovation
Monica Lewinsky ended her powerful advocacy with an appeal to all those who feel involved about "creating a world without thorn"; addressing a packed Grand Auditorium at Cannes Palais des Festivals, she said: "You are the creative engines that will drive forward our culture. Will you help me?"
As an answer, all the delegates stood up to give her a long standing ovation and rounds of applause.
Monica Lewinsky's Moving Advocacy at Cannes Lions
was last modified:
July 4th, 2015
by