Superstar Natalie Imbruglia performed at Cannes Lions a fictional music partnership negotiation scene at Ketchum Sounds' The Art of The Deal:Live panel.
Australian actress, singer et songwriter Natalie Imbruglia, world famous for her global hit Torn, played perfectly her part as a famous singer approached to be involved in a partnership with the (real) premium tequila brand Avion, owned by the beverage marketer Pernod Ricard. The brunette radiant beauty grace the stage dressed in a chic elegant grey floral dress, and in the end, she sang two songs to the great pleasure of the audience.
An educational peek under the hood
At the invitation of Ketchum Sounds, the music marketing services company, Brand Synergy Group's Jeff Straughn represented Imbruglia's interests against Pernod Ricard's Jeffrey Moran and Ketchum Sounds' Marcus Peterzell. Over a heated negotiation, the panelists provided an unprecedented and highly educational "peek under the hood" revealing all the minutiae of artist's fees deal, music rights, as well as digital and social extension.
Amplify the brand's lifestyle image
Avion is a 5-year-old fast-growing brand of award-winning Tequila "hecho en Mexico". The (real) integration into the Entourage series instantly achieved brand awareness and catapulted its lifestyle aspect with millions of customers – although they had to be convinced the tequila was real! To face a stiff competition with traditional and new brands, Avion wants to continue to amplify the brand's life style image with a music partnership with a world renowned artist like Natalie Imbruglia.
20 minutes to strike a deal
The negotiation engaged, that had to be sealed within 20 minutes. Natalie Imbruglia said the partnership was a good opportunity to promote her new (real) album Male while Avion wished to use her sophisticated image to promote the brand to a wider and young public.
The creative platform was thus based on using Natalie's cover of Instant Crush (Daft Punk) as synch for a new TV Campain, while Avion would sponsor the album launch and tour. As Natalie is an enthusiastic charity campaigner and philanthropist, 5% of the marketing budget will be earmarked for philanthropy.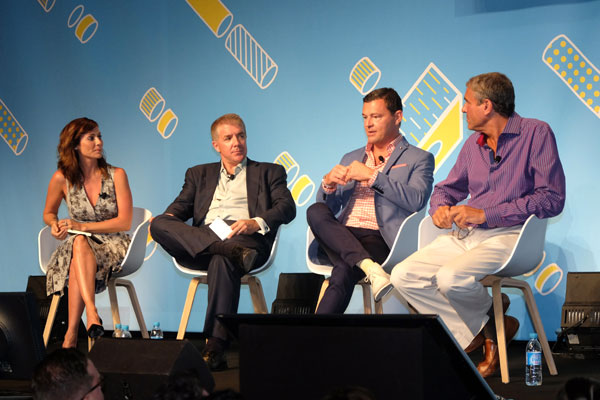 Compromises made by all parties
Many points were thereafter discussed, each parties had to make compromises; the term: Avion wanted one year but the deal was to be signed for 3 years as "Natalie brings many hats to the table" (Imbruglia said she stayed with L'Oréal for over five years). As for the territory: all territories where Avion is available and the brand was to be launched in Australia… A point was particularly discussed: Pernod Ricard wanted Natalie to be seen with no other alcohol beverage that tequila Avion, but she argued that she took part in too many charities or events sponsored by competitive brands. She had to agree not to hold other competitive product in public setting.
Inbruglia enchanted the audience with songs
During 20 minutes, both parties explored all aspects of the partnership: social media and PR, music clearances, artist approval in the creative dialogue, and at least, the compensation, whose amount was communicated to the artist's party written on a piece of paper (grr… the most interesting!) and fiercely negociated. The deal was eventually sealed and celebrated with a gulp of tequila Avion. Natalie Imbruglia was then kind enough to treat the Cannes Lions delegates with two songs, accompanied by a guitarist.
About "Male"
Natalie Imbruglia has returned to the world scene with her first album since 2009, called "Male". The album features covers of songs that Natalie's favourite male artists have made famous over the years, ranging from the iconic Neil Young to French phenomenon Daft Punk.
Click on pictures to enlarge – ©YesICannes.com – All rights reserved
Natalie Imbruglia's Art of Deal at Cannes Lions
was last modified:
July 4th, 2015
by