The inauguration of the new Nice-Tel Aviv airline by Sun d'Or was celebrated in Cannes at the sumptuous Villa Domergue on the invitation of the municipality.
On April 17, 2015, building on the strong relationship established between Cannes and Tel Aviv since the signing of the Pact of Friendship between the two cities in 1993, the city of Cannes wanted to be associated with  the official launch of the new flight Nice-Tel Aviv by Sun d'Or, a subsidiary of El Al. The inaugural flight Nice-Tel Aviv landed on March 29 on the Nice Côte d'Azur International Airport.
An idyllic setting for an exceptional inauguration
The very private Villa Domergue bequeathed in 1973 to the city of Cannes by the painter Jean-Gabriel Domergue, opened its doors for this flying event of great significance for both business and leisure tourism.
Designed by the artist and decorated by his wife, the sculptor Odette Maugendre, this small Venetian Palace has delighted guests with its gardens with centennial trees, its central avenue lined with cypress trees, its fountain and cascade similar to the Villa d'Este, the artificial caves, statues and the breathtaking views of the Cannes area.
Many personalities and travel agents
The celebration of the inauguration of the new airline were attended by Mickaël Strassburger, President and CEO Sun d'Or, Dominique Thillaud, President of the Nice Côte d'Azur International Airport, Delphine Le Sec'h, Head of Marketing at Nice Côte d'Azur Airport, Barnea Hassid, Consul General of Israel in Marseilles and Franck Chikli, Deputy to Tourism in Cannes, representing the Mayor of Cannes, David Lisnard, and a delegation of twenty leading travel agencies from Israel.
Air traffic steadily increasing
To cope with the increase of travelers between France and the State of Israel in recent years and the Israelis' renewed interest for the French Riviera, El Al and its subsidiary Sun d'Or set up a direct line between the city of Nice and the Israeli capital Tel Aviv, with two flights a week towards each destination.
The schedules offered by the company Sun d'Or towards the two cities offer many stays options with a wide range of activities: romantic weekends, short breaks or city break getaways as well as weekly stays.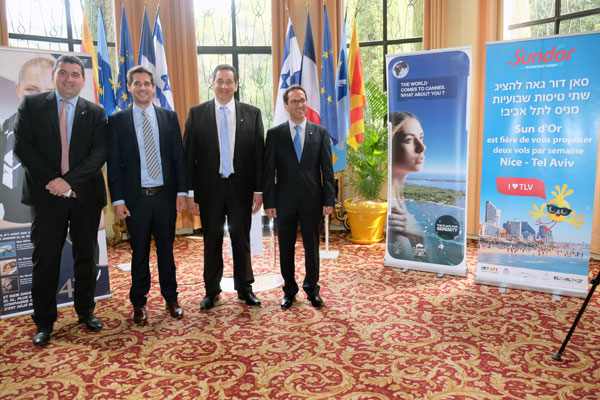 Nice and Tel Aviv, two top destinations
The French Riviera is a popular destination for Israeli tourists and induced the constant demand to set up a secure, comfortable and direct airline without having to make a long detour to Paris. Many tourists choose from the French Riviera choose to spend their vacation in Tel Aviv, Jerusalem and Nazareth with their beautiful beaches, their Kibbutz and the desert with its ochre sand crisscrossed on camel back for the exotic experience.
In addition, many Azuréens and Israelis have family on both sides of the Mediterranean and it is important for them to keep their emotional attachment. Many businessmen, traveling for shows or fairs or other events, will also benefit from such an improvement.
Two weekly flights
Sun d'Or will provide two weekly flights from Nice, on Thursdays and Sundays nights at 22:30 and from Tel Aviv Ben Gurion on Sundays and Thursdays at 18:00 (local time). Passengers will connect their destinations in 4 hours, aboard a Boeing 737-800 with 185 monocabine seats.
Sun Gold and EL AL also open new destinations in Europe, including Naples and are to increase flight frequencies towards Lisbon.
Tourist attractions
Many activities have enlivened this festive morning with the presence of a stand from the house of Grasse perfume, Fragonard, where the guests could compose their jasmine-based perfume and keep a little bottle as gift.
During the inaugural speech, Sun d'Or's Mickaël Strassburger said he was proud of this opening, stating that "it would be the starting point for a fruitful trade cooperation between Israel and the French Riviera."
About Golden Sun
The Israeli company Sun d'Or was created in October 1977 and has its headquarters at Ben Gurion Airport. Sun d'Or is a subsidiary of El Al, originally created under the name of El Al Charter Services to become in 19981 the company Sun d'Or.
Click on pictures to enlarge – ©YesICannes.com – All rights reserved
Nice-Tel Aviv Sun d'Or Airline Stopover in Cannes
was last modified:
April 21st, 2015
by