The Nuits Musicales de Notre Dame de Vie, dedicated to great music, took place from August 5 to 8 at Notre Dame de Vie chapel in Mougins.
The land of Mougins is proud to have hosted in the past world famous artists such as Picasso, Rostropovich, Chaplin, Cocteau and many others. For two years, Mougins organizes in collaboration with artistic director Gabriel Tacchino, the Festival Les Nuits Musicales de Notre Dame de Vie, at the renovated chapel which deploys its beauty, serenity and its heritage value. The classical music festival highlights promising young talents and established artists who share the stage for rich and diverse artistic moments with particularity of inviting each year a young winner of an international competition.
An idyllic setting under starry nights
The recent restoration of the Notre Dame de Vie chapel and its lighting in its idyllic setting of greenery, gives to this historical place all its nobility. This Mouginois jewel with a serene atmosphere became for two years the ideal setting for the Nuits Musicales de Notre Dame de Vie, with its quality and original selection enabling the event to attract a large audience of music lovers.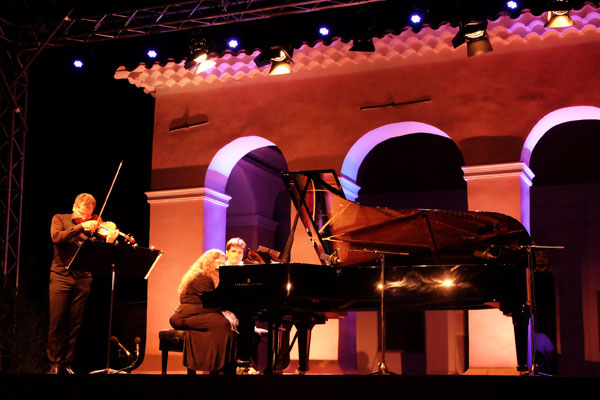 Violin and piano on the program
On August 7, the concert of Russian virtuoso violinist Dmitri Makhtin and Plamena Mangova on piano enchanted the many music lovers who came to listen to the sonata for violin and piano The Spring by Beethoven, Mandelson's Sonata for violin and piano in F major and Brahms' sonata for violin and piano No. 3 in D minor.
Plamena Mangova, a sought-after chamber musician
Bulgarian pianist Plamena Mangova studied with Professor M. Kapatsinskaya at the Music Academy of State in Sofia as well as at the Music High School Queen Sofia in Madrid. Revealed in 2007 by her 2nd prize at the Queen Elisabeth Competition, she is a is sought-after chamber musician achieving an international career. She notably played with Boris Berezovsky, Augustin Dumay and Mihaela Martin and with renowned orchestras such as the Rotterdam Philharmonic Orchestra and the Johannesburg Philharmonic Orchestra.
The virtuoso Dmitry Makhtin
A native of Saint Petersburg, Dmitri Makhtin begun his musical education at age 4 in 1981 by entering the exceptionally gifted children's Music Conservatory. In 1989, he won the first prize at the National Competition for young violinists in Novosibirsk, Russia. He is then invited to give recitals and performed as soloist with the St. Petersburg and Novosibirsk Philharmonic Orchestras. Winner of the Kloster Schontal International Violin Competition, Premio Paganini and Louis Spohr, Tibor Varga International Competitions in Montreal and the Sibelius Competition in Pretoria, South Africa, the violin virtuoso is invited by many prestigious orchestras to play on most major international stages.
Gabriel Tacchino, Artistic Director of the Festival
Gabriel Tacchino is a pianist. After being Francis Poulenc's only pupil, Gabriel Tacchino, he began an international career when Herbert Von Karajan hired him to play with the Berlin Philharmonic Orchestra, the Orchestra of La Scala in Milan and the Wiener Festwochen. This exceptional meeting sparked a collaboration with the major contemporary conductors. He followed simultaneously a soloist career for the most prestigious international orchestras while pursuing his career of chamber musician with artists he likes such as Isaac Stern, Mstislav Rostropovich, Jean Pierre Rampal, Pierre Amoyal, Patrice Fontanarosa, Gary Hoffmann, Manfred Stilz…
Besides Plamena Mangova and Dmitri Makhtin, the Nuits Musicales de Notre Dame de Vie saw the participation of Jean-Philippe Collard and Philippe Bianconi who gave piano recitals.
The opening evening "Carte Blanche à Gabriel Tacchino" brought together the musicians Philippe Bender, Manfred Stilz, Lisa Kerob, Gianluca Belfiori Doro, Maurizio Moretti, Cecilia Curti and Emmanuelle Stephan.
Nuits Musicales de Notre Dame de Vie in Mougins
was last modified:
August 10th, 2015
by