The 100th edition of the Tour de France, the biggest cycling race in the world, will find the Riviera's capital after thirty-two years of absence, when returning to the continent after the departure given for the first time in Corsica. As a prelude of the festival of cycling, will take place on June 23, the first tour of the Metropolis Nice Côte d'Azur: the Tour de Nice Metropole.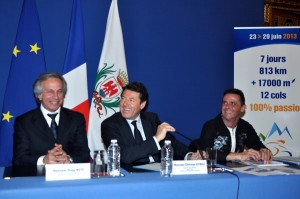 Mr Christian Estrosi, Deputy-Mayor of Nice and President of Nice Côte d'Azur Métropole, announced on March 6 at the Villa Massena before an audience of journalist the launch of the first edition, surrounded by Mr Pierre Girard, Director of the Race and Mr. Daniel Pelle, Director of the Cavical Nice Cycling, race organizer.
An enchanting and challenging course.
The Tour de Nice Métropole is a rally raid that will last seven days and will include the rise of 12 mythical passes, with 17,000 meters of difference in height for a total of 813 km. Connoisseurs are already considering it among the most beautiful cyclosportive currently existing races. It will also have the particularity to offer cyclists a timed ascent per day. The tour begins with a stage designed in the hinterland of Nice with the ascent of the Col de Turini, then the runners will cross the border via the Col de la Lombarde for a stage finish in Italy, at the Baths of Vialdéri.
During their stay, the entire territory of the Mercantour Park will be followed by cyclists with a sequence of balanced stages including the legendary ascent of the Col de la Bonnette, allowing them to discover the exceptional tourism potential metropolitan highlands. The whole caravan will return to the Nice territory on June 29, arriving with a trumpetted arrival on the Promenade des Anglais, after seven days of cycling on a magical and demanding journey.
Une grande soirée de clôture présidée par M. Christian Estrosi sera l'occasion de revoir les moments forts de votre parcours et de recevoir votre trophée.
A great closing party chaired by Mr Estrosi will be the opportunity to review the highlights of the race and present winners with their trophies.
For the launch of the first edition, enrollment will be limited to 200 participants. Each participant will have to pay around 800 euros, including its registration, incurring its accommodations and meals for the duration of the race. A budget of 200,000 euros has been invested in this race and the coverage of the participants. The federation plans for next year 300 additional appliances.
Tour de Nice Metropole 2013: the little queen flies upon mountain passes
was last modified:
December 12th, 2020
by