A Heavent Meetings highlight, the Trophees de l'Evenement, co-organized by Heavent and the Groupe Evénement(s), rewarded 2014's best outstanding events
The 9th Trophees de l'Evenement (Event Awards) organized by Heavent Meetings and the News Evénement(s) provided a prestigious evening in the main auditorium of the Palais des Festivals et des Congrès de Cannes, attended by over 800 guests. The trophies were awarded to the best events of the year 2014 and included the Personalities Trophies, to honor the actors who take the profession forward.
Must-have awards
A short-list of 39 candidates (from 82 propositions) divided in 9 categories and 8 personalities were nominated to win the prestigious awards given in the very Auditorium where is awarded the Festival de Cannes Palme d'Or. The candidates presented and defended their operation in 2014 before the jury whose vote counted for 60%. The remaining 40% were determined by the guests at the prize giving ceremony who activated a voting box after a short presentation film for each event and personality finalists.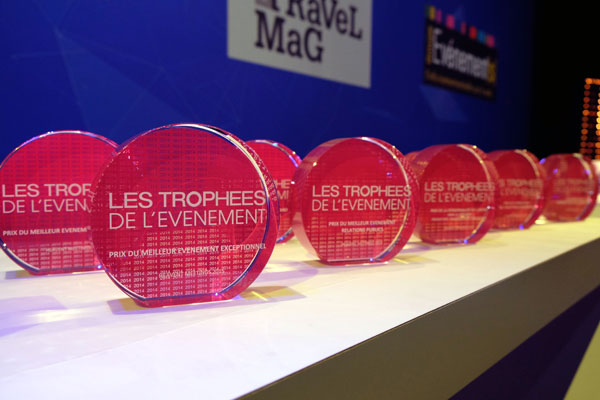 9th Trophees de l'Evenement, and the winners are
Exceptional Event category
Texas Aggies Go To War – Luc Petit Creation agency
General Public Event category
Planet Cards: My Best Memory – VeryWell agency
Internal Event category
Provencia Group – Publicis Activ Event agency
Public Relations Event category
Tweet & Down, launch of Audi TT – Double 2 agency
Event Scheme category
Grolsch, Pop around the choice of opening – Conceptory agency
Event Technical Scheme category
Balmain Fashion Show – Novelty Company / La Mode en Images agency
Evening/Event Reception category
Gala Dinner of 30 years of Tax Free association – Helen Traiteur / Creative Spirit agency
Structure/Decor Event category
BNP Paribas Masters Tennis 2014 – GL Events Services
Seminar/Incentive Event category
The sky is the limit, New York – Mars Petcare & Food/A'tipic agency
Personality of the Year in design, creation and scenography
Béatrix Mourer and Yvan Hinnemann for the Commemoration of D-Day
Personality of the Year in production, organization and realization
Olivier Maurey for the production of the Grand Palais ice ring
Jury's Grand Prize
Exhibition France is in the air, Air France – Auditoire agency
The Jury of Trophees de l'Evenement 2015
Le Jury was chaired by Philippe Lemasson, Communication Director of Airbus Group.
Pascal Baher – Peugeot – Direction Marketing, Communication & Sport
Stéphane Chave – Mairie de Paris – Direction of Communication
Céline Chedru-Guigan – Dassault Systèmes – Sénior Manager, Corporate and Eurowest Events
Jennifer Madiot – PMU – Promotion & Sponsoring
Valentine Bissuel – Sage France – Directrice de la Communication
Marie-Raphaëlle Robinne – Areva – Direction de la Communication
Béatrice De Boer – EDF – Direction of Communication
Bertrand Biard – President of l'ANAé
Patrick Fromentin – President of Synpase
Matthieu Rosy – Managing Director UNIMEV
Romuald Gadrat – President Tarsus France/Heavent Meetings
Muriel Chapuis – Publishing Director Le Groupe Evénement(s)
Jean-Benoît Fournier – Company Conduites Accompagnées
Click on pictures to enlarge – ©YesICannes.com – All rights reserved
Trophees de l'Evenement 2015 at Heavent Meetings
was last modified:
March 31st, 2015
by