The restaurant La Bastide du Clos Des Roses unveiled the domain's new 2014 Vintage at a food and wine pairing by the chef Julien Ragusa.
Located on the terroir of Fréjus, at the foot of the Esterel's red hills, the Clos des Roses cultivates its vines on volcanic soils. The 10-hectare estate of vines, grown with only natural products used in organic farming, mainly produces Rosé but also White and Red, in appellation Côtes de Provence (AOC) and Vin de Pays des Maures (PGI).
High quality wines
Since its purchase in 2006, the complete rehabilitation of the Clos des Roses, from vines to cellar, and the Barbero family's will to set up a quality vineyard, has produced premium wines, rewarded with 10 medals in 2014.
In February 2015, the Concours Général Agricole in Paris – which rewards the best French wines – awarded the Côtes de Provence Rosé 2014 and the Côtes de Provence 2014 White, respectively with a bronze medal and a silver medal.
A 2014 vintage of outstanding quality
In 2014, the vines, with favorable weather – mild and well watered winter, long and sunny summer – had a nice development. Copper, sulfur, silica, nettle and horsetail purée have reinforced the vine's natural defenses, providing it with a remarkable state of health and a good balance between sugar and acidity, a guarantee of quality for the new vintage.
Food and wine pairing at La Bastide
The tasting of the new Clos des Roses 2014 vintage took place around a food and wine pairing by Chef Julien Ragusa. The many and varied flavors of the served dishes exalted the taste quality of the wines from nine varieties, including: Grenache, Mourvèdre, Cinsault, Syrah, Rolle, Viognier, Cabernet, Sauvignon Blanc and Merlot. Nathalie Millo, wine production Officer and Julien Ragusa managed to find the perfect harmony between wines and dishes.
Cuvée "Mademoiselle Rose" – White 2014
This  appellation Vin de Pays des Maures White, from 90% Viognier and 10% Sauvignon Blanc, is aromatic, frank, tasty and fleshy, with floral notes of exuberant discretion that end in beautiful harmony. It is ideal as an aperitif, with goat cheese assortment for example, but can turn towards world cuisine. It was paired with a Bluefin Tuna Seared with Basil Oil, Tomato Confit with Curry.
"Clos des Roses" Rosé – AOC Côte de Provence, 2014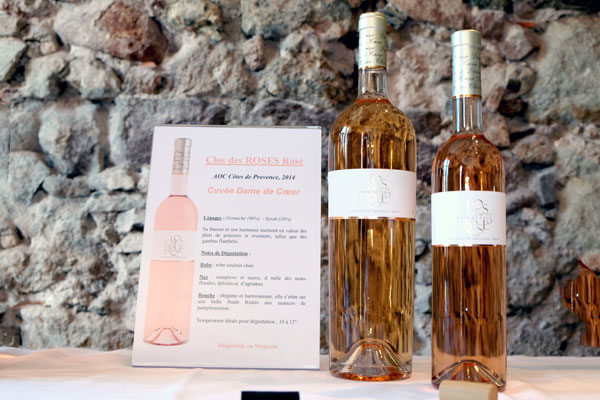 Composed of Grenache (90%) and Syrah (10%), the Cuvée Dame de Coeur is named after a rose. With a lovely freshness on the palate, its finesse and harmony will enlighten dishes of fish and shellfish, such as gambas. It was enjoyed with snacked Red Mullet "Barbet", Foccacia and Onions Confit.
Cuvée "Clos des Roses" White – AOC Côte de Provence, 2014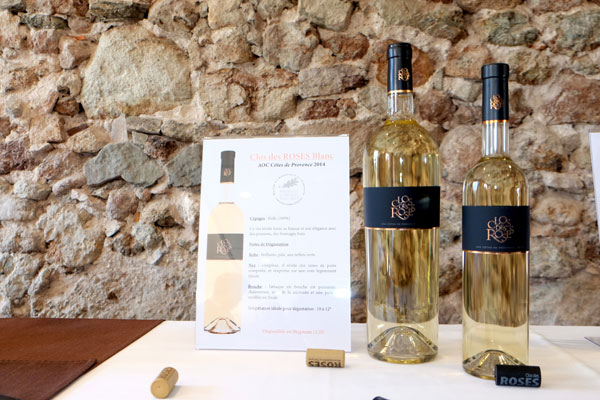 This white wine is made from 100% Rolle grape variety, the "Chardonnay de Provence". This elegant wine goes excellently with fish and fresh cheeses. All its finesse and complete harmony in nicely refreshing acidities were exalted with a Carpaccio of Saint-Jacques from Guilvinec, Mango chips and lemon caviar.
Cuvée "Mademoiselle Rose" – Rosé, 2014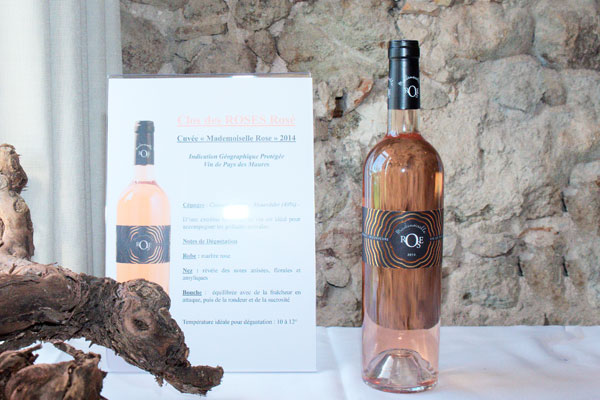 This Rosé appellation Vin de Pays des Maures is mainly composed of Cinsault, completed with Mourvèdre. This light salmon colored wine expresses friendliness and Dolce Vita. Its great freshness is ideal to accompany summer barbecues and meats. It was paired with Iberian top-of-the-range dried and cured meats.
Cuvée "Clos des Roses" Rosé – AOC Côte de Provence, 2014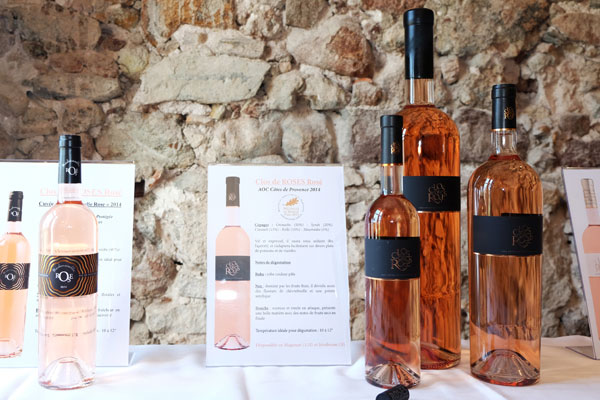 This Rosé is an "assemblage" of Grenache (50%) – Syrah (20%) – Cinsault (15%) – Rolle (10%) and Mourvèdre (5%). Lively and expressive, its seduces as appetizer and can fit fish and meat dishes. This wine is the Rosé gateway to world cuisine as it can accompany exotics dishes. It was savored with Farm Chicken Aiguilettes marinated with Ginger and Lemongrass.
Cuvée "Clos des Roses" Red – AOC Côte de Provence, 2014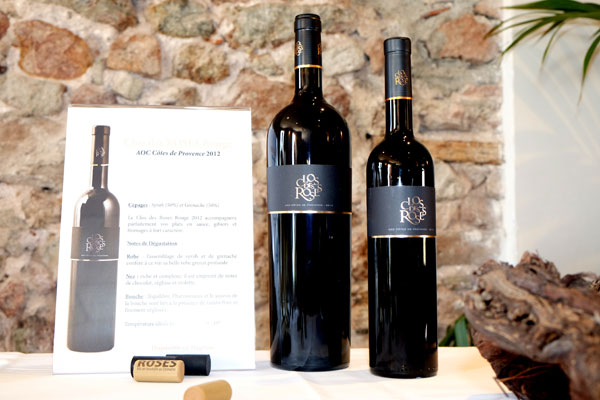 This wine, coming from young vines – planted in 2007, combines the strength of Syrah (50%) and the subtlety and velvet of Grenache (50%). It was raised in 600-liter vats so that the wood's vanilla doesn't override the fruit flavors – plum, black cherry. It will perfectly accompany dishes in sauce, game and strong character cheese. It was tasted with a Acquarello Risotto with Black Truffle.
Tribute to Rose
The name of the domain Le Clos des Roses is a tribute to the owner's mother, named "Rose". For the Barbero family, giving the name Clos des Roses to the domain, means both evoking a terroir of flowers, the family and the wine of the same color. A summary of sorts of what is making the wine quality: nature, terroir and know-how.
Click on pictures to enlarge – ©YesICannes.com and Clos des Roses – All rights reserved
Clos Des Roses 2014 Vintage Presentation
was last modified:
April 4th, 2015
by