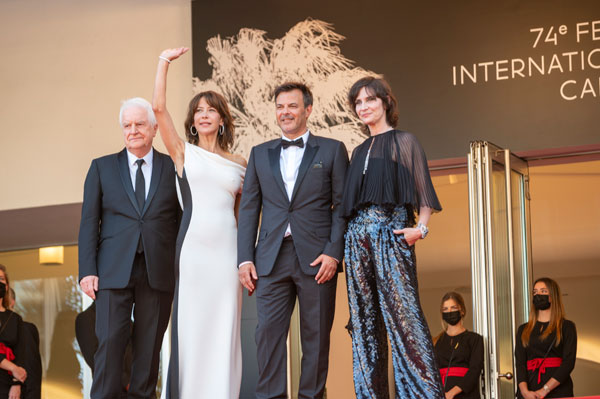 The stars of  Everything was fine ©YesICannes.com
The race for the Palme d'Or at the Festival de Cannes, launched yesterday by Leos Carax's Annette, continued with Israeli director Nadav Lapid's Ha'Berech and Frenchman François Ozon's Everything was fine.
Director Nadav Lapid, born in Tel Aviv, Israel, presented his film Ha'Berech in the Cannes Official Competition after The Star in the Festival's Special Screenings in 2019. In his fourth feature film, partly autobiographical, Nadav Lapid portrays a filmmaker facing censorship in his country.
For his fourth film in Competition, François Ozon has adapted the novel Everything Went Fine by Emmanuèle Bernheim, who died in 2017 and wrote a book about the euthanasia her father demanded.
Ahed's Knee, a true story?
Upon arrival in a remote village at the end of the desert for a screening of one of his films, an Israeli filmmaker, "Y." (Avshalom Pollak) meets Yahalom, a Ministry of Culture official who questions the subject of his work. He then throws himself desperately into two lost battles: one against the death of freedom in his country, the other against the death of his mother.
In this film, the director also writes the script and the dialogue of a brutal story, full of sadness and violence. In this way, he tries to mourn his mother – who was also his film editor – who died of an illness a month and a half after the screening of The Teacher in a village in the Israeli desert, and thus, in a way, to mourn his country.
Synonyms, 2019 Berlinale Golden Bear
Nadav Lapid was born in Tel Aviv, Israel, in 1975. After publishing his first novel Continua Bailando in 2001, he graduated in 2006 from the Sam Spiegel Film School in Jerusalem. The Policeman, developed at the Cinefondation Residence, won the Best Project Award at the 2007 Thessaloniki Film Festival Co-Production Forum. Synonyms, his first French film, won the Golden Bear at the 2019 Berlinale.
Nadav Lapid has previously presented his works at the Festival de Cannes: The Star in the Special Screenings of the 2012 festival; La petite amie d'Émile (Cannes 2006 Cinefondation) and Mahumud Works In The Industry (Cannes 2004 Cinefondation selection).
The story of euthanasia
An 85-year-old man, hospitalized after a stroke, finds himself very diminished and dependent. While he was curious of everything and in love with life, he asks his daughter Emmanuèle to help him to die. This is novelist Emmanuèle Bernheim's story (Sa Femme – Gallimard, Prix Médicis 1993), a friend of François Ozon, who has collaborated on four of his scripts, including Swimming Pool in Competition in 2003. Sophie Marceau plays the role of Emmanuèle. André Dussollier, Géraldine Pailhas and Charlotte Rampling complete the main roles.
The Festival is on YesICannes.com: yesicannes.com/category/festival-de-cannes
The Red Carpet of Everything was fine in pictures
Click to enlarge – ©YesICannes.com – All rights reserved
True Stories at Festival de Cannes
was last modified:
July 7th, 2021
by