A rich line-up of world-famous TV stars came to the Croisette to promote the the new sensational series they star in and celebrate MIPCOM 30th birthday.
To mark the milestone of MIPCOM's 30 years of dedication to TV entertainment, the artists took part to photo sessions with official photographers on La Croisette with the luxury yachts of the Old Port of Cannes as a backdrop.
Matador (eOne) with Nicky Whelan
An El Rey adventure, action-packed series starring Tony "Matador" Bravo, a DEA agent who investigates for the CIA the LA Riot soccer team undercover as one of their players. Nicky Whelan played TV parts on Scrubs, Melrose Place and Franklin & Bash.
Click on pictures to enlarge – ©YesICannes.com – All rights reserved
100 Code (Red Arrow International) with Dominic Monaghan, Michael Nyqvist and Bobby Moresco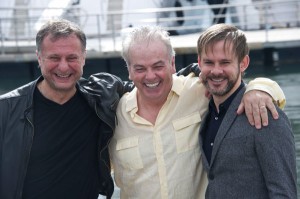 Created by Academy Award winner Bobby Moresco, the new scandicrime series 100 Code features Hollywood icon Dominic Monaghan (Lost) as NYPD detective Conley who travels to Sweden to investigate a string of shocking murders. In Stockholm, he will be associated to Swedish cop Eklund, played by Michael Nyqvist.
Click on pictures to enlarge – ©YesICannes.com – All rights reserved
The Librarians (Eectric Entertainment) with Rebecca Romijn
The Librarians focuses on an ancient organisation hidden beneath the Metropolitan Public Library that is dedicated to protecting an unknowing world from the secret, magical reality hidden all around.
Click on pictures to enlarge – ©YesICannes.com – All rights reserved
The Royals (Lionsgate) with Elisabeth Hurley, William Moseley & Alexandra Park
SEE: our dedicated article on The Royals with Elisabet Hurley Queen of MIPCOM 2014
Le Berceau Des Anges with Ricardo Trogi, Marianne Fortier, Sébastien Delorme, Sylvie Roy
In Montreal, in 1954, Police officers are investigating black-market sales of illegitimate babies. Meanwhile,  a young unwed mother shunned by her family lives in exile in the big city. Driven by the hope of keeping her baby, she unwittingly finds herself mixed up in a sordid affair of baby trafficking.
Click on pictures to enlarge – ©YesICannes.com – All rights reserved
Murdoch Mysteries with Yannick Bisson, Christina Jennings
At MIPCOM 2014, Murdoch Mysteries, a one-hour drama series set in Toronto at the dawn of the 20th century, was celebrating 8 seasons and 100 episodes. The series focuses on William Murdoch (Yannick Bisson), a methodical and dashing detective who pioneers innovative investigative techniques to solve some of the city's most gruesome murders.
Click on pictures to enlarge – ©YesICannes.com – All rights reserved
Intruders (BBC) with Mira Sorvino, John Simm and Glen Morgan
BBC Worldwide presented at MIPCOM 2014 Intruders, the brand new paranormal thriller by BBC Worldwide Productions for BBC America. Set in America's Pacific Northwest, Intruders  is a haunting contemporary story about a secret society devoted to the search for immortality, featuring Oscar-winner Mira Sorvino (Mighty Aphrodite) and John Simm (Life on Mars, Prey). The series is written by Glen Morgan (The X-Files) and is based on Michael Marshall Smith's novel, The Intruders.
Click on pictures to enlarge – ©YesICannes.com – All rights reserved
Spotless with Marc-André Grondin, Denis Ménochet, Miranda Raison and Brendan Coyle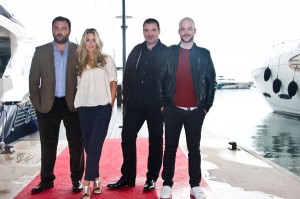 Spotless is set in London, telling the story of a troubled man whose tidy life is turned upside down when his outlaw brother, a libidinous wanderer, crash lands into his world, and gets both of them fatally entangling them in the deadly dynamics of organized crime.
Click on pictures to enlarge – ©YesICannes.com – All rights reserved
Pirate's Passage with Donald Sutherland
SEE our article on Pirate's Passage with Tandem 15th Anniversary
Jonathan Strange and Mr Norrell (Endemol) with Eddie Marsan, Bertie Carvel and Nick Hirschkorn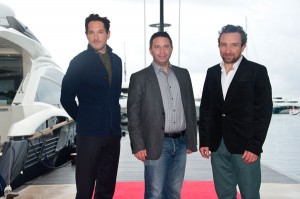 The highly anticipated new BBC drama is based on a book, the British author Susanna Clarke's first novel. This masterpiece won the Locus award for best first novel in 2005, and the Hugo Award for Best Novel and the World Fantasy Award for Best Novel, the same year.
At the dawn of the nineteenth century, two very different magicians, one confirmed, but retired, and one fast-learning, self-taught young apprentice, try to change England's history of magic, evoking long-asleep spirits and fairies.
The series feature award winning British actors Eddie Marsan (Best of Men, Ray Donovan) and Bertie Carvel (Restless, Hidden) along with producer Nick Hirschkorn.
Click on pictures to enlarge – ©YesICannes.com – All rights reserved
Tumble (BBC) with Nadia Comaneci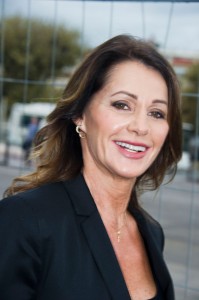 At MIPCOM 2014, BBC Worldwide launched the entertainment format Tumble, produced by BBC Entertainment, staging celebrities being paired with experts to take part in gymnastic challenges and being pushed to their physical limits.
The legendary five-time Gold Medal Olympic gymnast Nadia Comaneci, head judge of the UK version, was in Cannes to promote the family TV show which is bringing together music, glamour, celebrities and competition inspired by the world of circus and gymnastics.
Click on pictures to enlarge – ©YesICannes.com – All rights reserved
Fortitude (Sky Vision) with Richard Dormer (Game of Thrones), Luke Treadaway (Clash of the Titans), Sienna Guillory (Helen of Troy)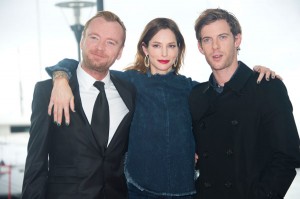 Surrounded by the savage beauty of the Arctic landscape, Fortitude is one of the safest towns on earth where there has never been a violent crime. But ten a murder occurs that changes the life of this close-knit community. As the cold Arctic darkness gives way to endless summer nights, this apparently idyllic community struggles to make sense of the murderous horror that has been let loose in its heart
Click on pictures to enlarge – ©YesICannes.com – All rights reserved
 Illusions of Grandeur (Peacock Alley Entertainment) with Zack Mirza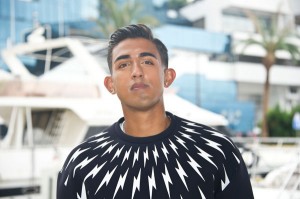 Zack Mirza is a young magician on a 'magic pilgrimage' in cities like Toronto, New York, Austin, Vegas and Detroit. Zack wows locals on the streets with his close-up magic. He also digs into each city's magic past and puts his own spin on what he learns, providing a never-before-seen stunt.
All of Zack's tricks are performed live, without the use of camera tricks or post-editing manipulation. Viewers of the show at home are captivated by the genuine reactions from spectators on the street.
Coliseum with Gene Simmons
KISS rock legend Gene Simmons was at MIPCOM 2014 pitching and offering his unique talent services for local versions worldwide of Coliseum. Created by Simmons and Philip, Coliseum challenges multiple contestants from all musical genres and backgrounds to form bands and create an unique and unforgettable 'act' and will reveal which ones have not only a voice, but also the entire performance.
The Missing with Tcheky Karyo, James Nesbitt, and Frances O'Connor
SEE our article The Missing to Appear on TF1
Kingdom (Endemol) with Frank Grillo, Nick Jonas and Byron Balasco
The original series is starring Frank Grillo (Warrior, Captain America: The Winter Soldier), Nick Jonas (Smash, Jonas), alongside showrunner Byron Balasco. The family saga Kingdom focuses on a small family involved in the Mixed Martial Arts business, trying to keep their gym alive.
Click on pictures to enlarge – ©YesICannes.com – All rights reserved
Wayward Pines (Fox) with Matt Dillon and M. Night Shyalmalan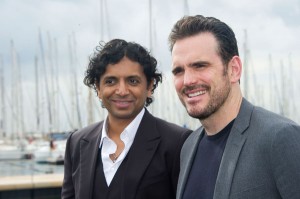 The new Fox International Wayward Pines is a 10-episode thriller based on the best-selling novel by Blake Crouch starring Academy Award nominee Matt Dillon.  In the series, Dillon is Secret Service Agent Ethan Burke, who visits Wayward Pines to find two missing federal agents. The show also features Academy Award winner Melissa Leo ("The Fighter"), Emmy Award nominee Toby Jones ("The Hunger Games"), Academy Award nominee Terrene Howard ("The Butler") and Academy Award and Emmy Award nominee Juliette Lewis ("August: Osage County"). M. Night Shyamalan directed the premiere episode.
Click on pictures to enlarge – ©YesICannes.com – All rights reserved
Messmer
Messmer is a Canadian artist who practice hypnosis on stage since 1990. In September 2007 he began his first tour show Messmer Fascinateur in Montreal. His name reminds of Mesmer, a scientist who studied the animal magnetism and natural fluid.
Messmer has been is used to mesmerize people with his gaze, and fascinating them by plunging them deep into the depths of their subconscious. The Fascinator gives his subjects extraordinary experiences, on stage or during one of his popular television programs aired in Canada and Europe. He presented his new series of a new genre, Les Hyp-Gags de Messmer.
TV Stars on La Croisette at MIPCOM 2014
was last modified:
October 25th, 2014
by