Vins et Gastronomie magazine celebrated its annual festival dedicated to gastronomy and art de vivre with talented chefs and great wines to magnify their creations.
Vins et Gastronomie, the magazine launched in 1985 by Yves Sacuto, celebrated last year it 30th birthday. The luxury quarterly magazine is distributed in 27 French-speaking countries and Japan. For the annual gastronomic festival, Yves Sacuto and Pierre Jamar, deputy editor, called upon the talent of 20 local chefs who created many gourmand itineraries to treat the 500 guests at Antibes Juan les Pins Palais des Congrès.
A moment of sharing the art de vivre
Since its inception, the magazine has imposed its originality to successfully attract the gastronomes from France and abroad. Vins et Gastronomie Magazine/Tourism International went through the culinary years without a wrinkle. Best wines alongside enticing culinary specialties offer a journey through the world of gastronomy and wine pairing and offers a moment of sharing the art de vivre.
In charge of Vins et Gastronomie development since 2010, Pierre Jamar introduced the 20 chefs from the region, some boasting one Michelin-star or two, others MOF (Meilleur Ouvrier de France), and the partners to this beautiful culinary festival who showcased their products of excellence.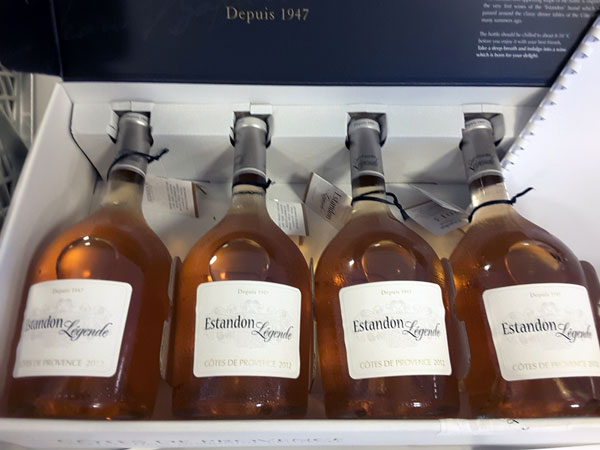 Gastronomy and wine pairings
On the theme of gastronomy and wine pairings, the guests could stroll along the tasting booths where the chefs were concocting live their specialities. The gourmets' palates could enjoy the savory culinary creations with Champagne, Rosé, Red and White wines. To finish off the evening, Armagnac and cigars were enjoyed under a starry sky on the terrace, facing the famous Pinède where the internationnaly-renowned Jazz à Juan festival brings together the world's best Jazzmen in July.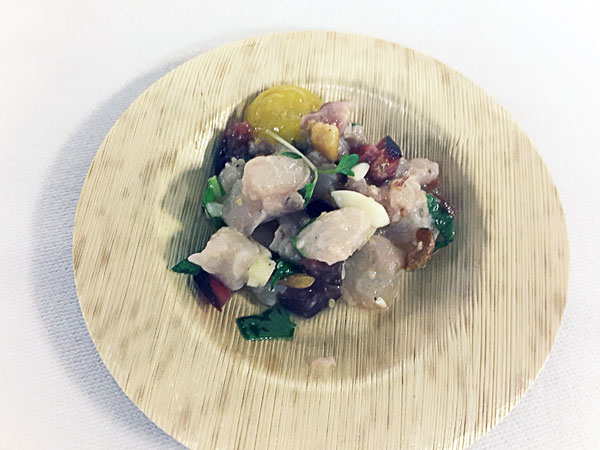 The prestigious talented chefs of the evening
Thomas Gillepsie (Bistrot Le Donjon – Bar sur Loup), Basile Arnaud (Le Jardin, Hôtel de Mougins), Hermance Carro and Quentin Joplet (Le Castellaras – Fayence),  Mario d'Orio (former chef of Hotel 3,14), Christian Morisset (Le Figuier Saint Esprit – Antibes), Rauf Choudhury (Noori's – Nice), Stéphane Furlan (L'Essenciel – Le Splendid à Nice), Lyes Abidi (L'Angélus – Thalazur Baie des Anges – Antibes), Jacques Chibois (La Bastide Saint Antoine – Grasse), Yannick Franques (La Réserve de Beaulieu), Patrick Cuissard (Colette – Hôtel Segg), Jérôme Czaplicki (Les Oliviers – Hôtel Ile Rousse Thalazur – Bandol), Yoric Tieche and Steve Moracchini (La Passagère, Hôtel Les Belles Rives), Alain Llorca (Hôtel Restaurant Alain Llorca – La Colle sur Loup), Mathieu Moléro (La Palme d'Or, Hôtel Martinez), Nicolas Perez (Vallauris Plage – Golfe Juan), Jérôme Roy (Le Cloître – Le Couvent des Minimes – Mane).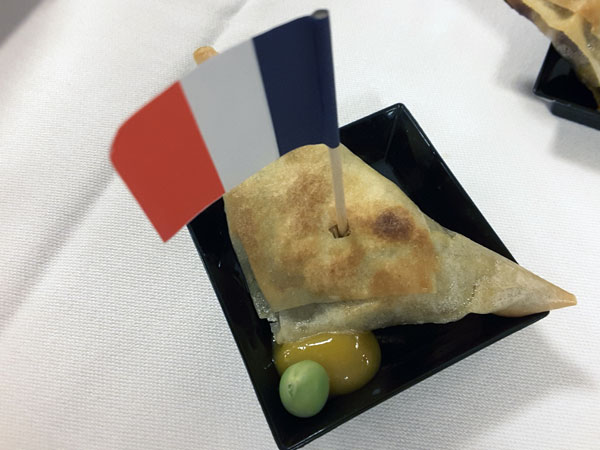 About Juan-les-Pins convention center
The Vins et Gastronomie night was the opportunity to discover the new Palais des Congrès of Juan-les-Pins. At the heart of the legendary seaside resort, famous for its Jazz à Juan festival in July, close to the sea and the prestigious Cap d'Antibes, the building combines functionality and aesthetics in a contemporary and harmonious architecture.
Built in the famous Pinède (pine forest) in Juan-les-Pins, its central location and its ensemble of shops and restaurants offers an exceptional unity where everything is within walking distance. On the top floor of the Palais, a panoramic dining area opens onto a large terrace overlooking the bay of Juan-les-Pins.
Click on pictures to enlarge – ©YesICannes.com – All rights reserved
Vins et Gastronomie: Art de Vivre In Juan les Pins
was last modified:
July 5th, 2016
by