Le Mas Candille, five-star Relais & Châteaux in Mougins, is opening a new page of its starred gastronomic history by welcoming Xavier Burelle in its kitchens. The former chef at La Table du Mas restaurant in Joucas succeeds Michelin-starred chef David Chauvac.
Le Mas Candille is an old 18th century Provençal mas nestled at the foot of the medieval village of Mougins. A few minutes from the shores of the Mediterranean, Cannes – Capital of Cinema – and Grasse – Capital of Perfumes – the village, renowned for its cultural and artistic heritage, has become the Capital of Gastronomy thanks to Les Étoiles de Mougins which brings together every year hundreds of international chefs. This summer, Xavier Burelle, the new chef of the restaurant Le Candille, will enrich the International Festival of Gastronomy with his talent.
Gastronomic experience and sumptuous setting
This haven of peace and luxury in the heart of a 4.5-hectare Provençal park offers its guests oldfashioned charm combined with a refined, attentive, discreet service and a high-end culinary tradition. The gastronomic restaurant Le Candille opens onto a panoramic view of the Grasse valley and the pre-Alps. In this idyllic and elegant setting, Chef Xavier Burelle's table proposes a Mediterranean-inspired gourmet trip, following culinary discoveries orchestrated in a symphony of tastes.
Intuitive and elegant gastronomy
Since February 2018, Xavier Burelle has taken over the Candille kitchen. The "maestro des fourneaux" has refined his talents alongside the greatest, including Alain Ducasse at Plazza Athénée, Philippe Legendre at Georges V in Paris, Arnaud Poëtte at Eden Roc in Cap d'Antibes or Michel Del Burgo at Chantecler at the Negresco in Nice before leading the brigade of La Reserve in Nice and later that of Le Mas des Herbes Blanches in Joucas.
With the support of Maxime Fontvieille, his brilliant second, Olivier Roth his pastry chef, Stéphano Butti, the cooking master, and a cohesive brigade with a great team spirit, Xavier Burelle is developping an intuitive, elegant and refined, subtly mastered gastronomy. Perfect cooking, right seasonings and original associations of flavors impose his talent with a generous and sensual delicacy.
Tasty harmony between land and sea
Xavier Burelle's dishes are composed like a piece of music with reliefs, quotes, chords and notes. Despite the ephemeral side, everything is done so that the memory remains eternal. This passionate chef is drawing his inspiration from the subtle marriages of flavors from the South and the world, sublimated via the most noble products. Under the colors of the Provençal terroir, his plates express the plenitude of the seasons flavors and availability on the markets. Vegetables, fruits and flowers come from Marius Auda in Nice, lemons from Menton, yusu from Grasse, seafood from La Pêcherie Azuréenne in Mouans Sartoux, meat from Boucherie Formia in Monaco, Italian products from La Cambuse in Vallauris, caviar from Petrossian and chocolate from Maison Duplanteur in Grasse.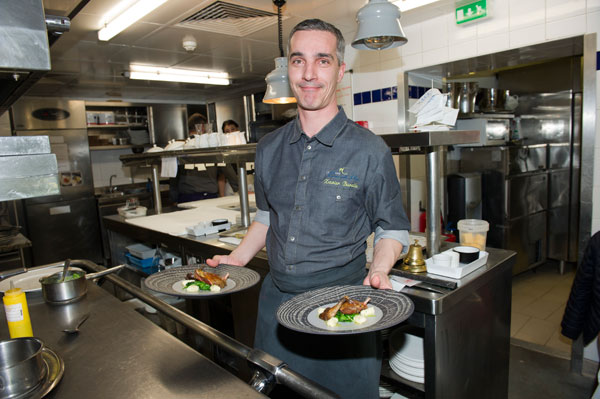 Sensory journey and happiness of the palate
From the selection of products to the choice of assortments, through the composition of the plate, everything is done to ensure that the encounter is perfect. Every detail counts, every movement has an impact, each element brings a stone to the composition. The melody tuned in the kitchen is guided by this conductor, to develop dishes that are forging the chef's culinary identity.
For the creation of his new symphonies at Le Mas Candille, Xavier Burelle is interpreting a score of flavors without false note, seeking his inspiration and balance through subtle and innovative variations or skillfully revisiting some classics, always with talent and mastery and perfection in the dressage of his dishes.
Wide range of menus and wines
The "carte" of Le Mas Candille by Xavier Burelle offers a wide gastronomic range. At lunch, you can enjoy the Market Menu at 49 € excluding drinks, 64 € with drinks or 86 € with Champagne cuvée Mas Candille. Discovery Menu at 98 € and Signature Menu at 135 euros will let you enjoy the full scope of the chef's talents.
For food and wine pairings, Julien Leroux, the young Chef Sommelier who has been practicing his art for three years at Cap Estel Hotel 5* in Eze before joining the cellars of Mas Candille, is seducing the most demanding palates with a rich and eclectic wine list. You can taste exceptional Bordeaux, wines from the Valleys of Loire and Rhône, Burgundy, white wines from New Zealand, South Africa, Austria, Hungary, reds from Italy, Argentina, Chile, from Spain or Georgia. Wine tasting by the glass is also available.
The Signature Menu, a menuet of masterpieces
Amuse bouche: Vegetables Makis with Ginger; Provençal Pissaladière; Quail Egg, Creamy homemade Tapenade, Pistou and Roquette
Memories from my time in Marseille, with warm and chilled of my versions of my own Bouillabaisse seafood: Fennel, Tomato, Potato, flass-seared Saint Pierre and Rouget and Espuma de Rouille, bathed in Hot Fish Soup. An explosion of marine flavors with a sunny saffron!
Wine suggestion: Côtes de Provence, red 2016, Domaine Gavoty, Cuvée Clarendon 2016.
Le Puntoun farm Foie Gras "Opera cake" with Foie Gras Confit, Lemon Jelly, Parsnip and Vanilla Pear Cream, Brioche chips: a sublime Foie Gras as a nod to Menton Lemon with a heart of Lemon Marmalade and Italian Meringue. A remarkable combination of rich creaminess sublimated by the notes of lemony freshness.
Suggestion: Blanc – Pouilly-Fumé, cuvée 2016, Domaine de Maltaverne.
Plancha seared Dublin Bay Prawns, Enokitake Mushrooms with Pistachio, Coconut and Lime emulsion. This crustacean with delicate and firm flesh is deliciously scented by the exotic note of pistachio and coconut milk. The lime brings a zest of freshness that tantalizes the taste buds.
Suggestion: Red – Domaine de Jean-Michel Gerin, La Loye, Condrieu 2015.
John Dory flash-seared in Butter, Artichokes cooked in Orange juice and Coriander, Taragna Polenta, Argan oil. The fine flesh the perfectly cooked Saint Pierre is sublimated by the small orange butter in explosion of flavors in company of vegetables with crisp texture.
Suggestion: White – Gavaisson, cuvée Emotion 2014. (Vinified in an egg-shaped bowl to bring depth and lightness to the wine).
Petit Trou Normand (Something to refresh your taste buds): White Cheese Sorbet, Wild Strawberry Jelly, Wild Strawberry Liqueur. The freshness of the fruit combines nicely with the sweetness of the fromage blanc and the wild strawberry liqueur stimulates the taste buds.
Roast Pigeon, thigh confit in Olive Oil and Rosemary, Potato Gnocchi, sauteed New Zealand Spinach, Salmis sauce. The full-bodied juice gives all its dimension ofe exceptional product to tender roasted pigeon. Simply divine!
Suggestion: Grand Rouge, Domaine de la Revelette, Peter Fischer Winemaker, Vintage 2012.
Selection of cheeses from our cheese specialist.
Chocolate medley from local chocolate specialist Maison Duplanteur, accompanied by a Port wine, Ramos Pinto, RP.LBV, year 2012.
A journey among the greatest
Xavier Burelle was born in Auvergne. His passion for cooking comes from his mother, a fine cordon bleu. At the age of 15, he asks his mother, who tells him: "Do your cuisine and you'll see well". He joined a hotel school to get a Cuisine and Pastry diploma. He makes his debuts with renowned chefs, to learn, grow and feed his talent from their know-how: Alain Ducasse and Jean-François Piège at Plazza Athénée, Georges V in Paris with Phlippe Legendre or with Frédéric Simonin with whom he won a Michelin star. With these experiences, he became chef at the restaurant La Reserve in Nice. There he picked up his first Michelin star. Today, at only 40 years old, Xavier Burelle shows an exemplary career in the South: Gérard Passedat in Marseille, Arnaud Poëtte at Eden Roc or Michel Del Burgo at Chantecler at Hotel Negresco before taking off at Colombus in Monaco.
Le Mas Candille, luxury and well-being
The Mas Candille offers 38 rooms and 7 suites with traditional and refined decoration, a spa located in the heart of a Japanese garden, three swimming pools, two Jacuzzis, a fitness area, a sauna, and even a petanque court. In partnership with the Cannes Mougins Country Club, Le Mas Candille offers for weddings tailor-made dinners concocted by Chef Xavier Burelle. Close to the Sophia-Antipolis technology park, the city of Cannes and Nice Côte d'Azur International Airport, the Mas Candille is an ideal venue for organizing business seminars, conferences and meetings.
Le Mas Candille
Boulevard Clément Rebuffel
06250 Mougins
Tel: +33 (0)4 92 28 43 43
Xavier Burelle at Mas Candille, Music for the Taste Buds in pictures
Click on pictures to enlarge – ©YesICannes.com – All rights reserved
Xavier Burelle at Mas Candille, Music for the Taste Buds
was last modified:
April 5th, 2018
by