Les Chefs au Sommet d'Auron welcomed Frédéric Ramos and Christian Cottard for a high gastronomy dinner at La Brasserie de L'Endroit.
Chefs au Sommet d'Auron: from 15 to 20 January 2022, the 10th edition of the Mountain Gastronomy Festival offers memorable gastronomic experiences to tourists and locals. In addition to the show-cooking, every evening, renowned chefs officiate in the restaurants of the Haute Tinée resort and offer sumptuous gastronomic dinners at the unique and privileged price of 55€ per person.
Mountains of sweetness and authenticity
On Wednesday 19 January 2022, Chef Frédéric Ramos from the Azzura Kitchen, the restaurant of the Novotel Hotel in Monte Carlo, and Chef-Patissier Christian Cottard – Pâtisserie Cottard in Antibes transposed their delicious culinary experiences into the warm, wooded, mountainous chalet decor of La Brasserie restaurant at the Edelweiss Hotel in the heart of Auron.
Ten years already!
The Mountain Gastronomy Festival is celebrating its tenth anniversary. This year, this flagship event once again brings together some fifteen talented chefs and pastry chefs from the Côte d'Azur to share an authentic moment of culinary pleasure and conviviality in the heart of the sumptuous mountains of the Mercantour. Concocted by the chefs in previously unknown kitchens, the menus composed of an amuse-bouche, a starter, a main course and a dessert thrill the gourmet taste buds every evening.
Gastronomic dinner at La Brasserie de l'Endroit
Chef Frédéric Ramos has been practising his art behind the stoves of the Novotel Monte-Carlo for 13 years. This talented chef learned his trade and how to play with pots and pans by observing the greatest. He can pride himself on having worked in some of the great restaurants such as La Ferme des trois canards in Peschadoires, La Bonne Auberge alongside Jo Rostang in Antibes, the Picadoro in Cagnes-sur-Mer with Vincent Miraglio, Les Vieux Murs… In 1992, he joined the famous Jacques Maximin as chef de partie at the restaurant Le Diamant Rose in La Colle-sur-Loup.
A disciple of Jacques Maximin
Alongside one of the most spirited talents of his generation and a great adept of Mediterranean cuisine, the adventure continued in Juan-les-Pins in the kitchens of the Eden Casino where Frédéric Ramos has beeen Jacques Maximim's assistant for two years. Then, Frédéric Ramos brilliantly took over the reins of La Jarre (today Le Figuier de Saint Esprit run by Christian Morisset) on the ramparts of Antibes, then Le Grill, still in Antibes, before joining Monaco. For the past ten years, Frédéric Ramos has brought his experience and know-how to the Novotel Monte-Carlo. Today, this maestro of the ovens has relaunched the sporting and convivial event, La Pétanque des Toqués, initiated by Jacques Maximin, which each year brings together a superb group of chefs accompanied by their brigade.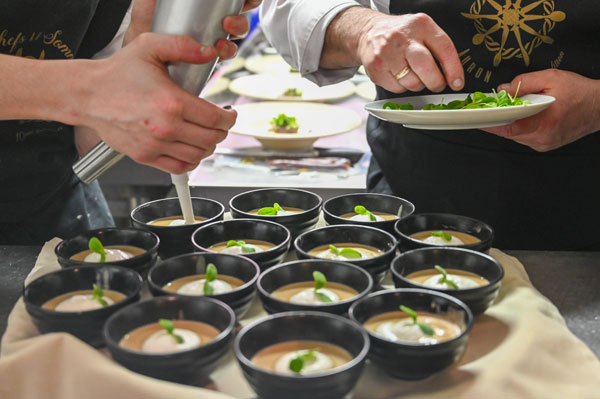 Colours and flavours of Provence
In his Azzura Kitchen, Frédéric Ramos' dishes are mainly inspired by the Mediterranean and Provence, and local, fresh and seasonal products are always favoured. The chef also likes to take his guests on a trip around the world, from Nice to Corfu, via Liguria or California. His menu is based on "the colours and flavours of the Provençal region" and is an ode to good food. At La Brasserie oh hôtel Edelweiss in Auron, Frédéric Ramos surprised us with the finesse and authenticity of his low-temperature roasted lamb from the Penne region, lamb sweetbread gratin with Tuber Mélanosporum truffles, Kale cake with Penne sheep's cheese and a few small vegetables of the moment.
The Pastry Artist !
For 25 years, Christian Cottard, master craftsman, pastry chef, Champion of France of the dessert, puts all his sensitivity to fill the inhabitants of Antibes and numerous customers – often coming from far away – with all kinds of sweets. After an apprenticeship in Menton in his parents' pastry shop, Christian Cottard continued his training in Paris at Hellegouarch's. Then came the United States, L'Oasis in La Napoule, Le Louis XV in Monaco with Alain Ducasse where, together, they were awarded three stars. Since these beautiful and fruitful culinary escapades, Christian Cottard, whose values are quality, respect and tradition, is a pastry artist who claims the classic and the right taste in his creations.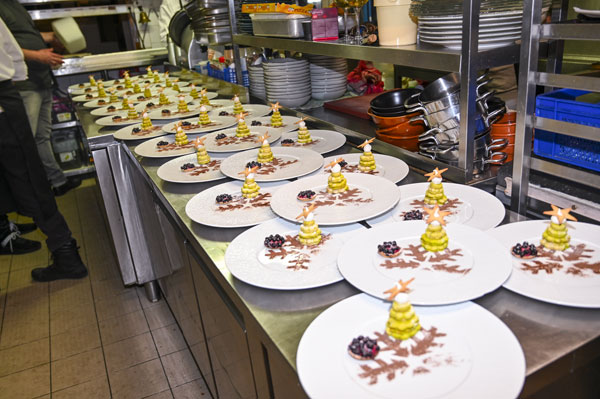 Sparkling eyes, mischievous smile
At the tea room/pastry shop/restaurant La Closerie, boulevard Dugommier in Antibes, Christian Cottard, as a tireless artist, treats a crowd of gourmets who would die for his mille-feuille, his tropézienne, his apple pie and many other delicacies. The star chef likes to search, learn and combine raw materials. In addition to his pastry shop where the great classics are always present, Christian Cottard has opened a Pastry School with his wife Andréa, where the public can follow his courses. Pâte à chou, tuiles, financiers, éclairs, gougères and pastry cream will no longer hold any secrets for you. Not to mention his involvement in the Union des Artisans Pâtissiers Chocolatiers Glaciers des Alpes-Maritimes.
Quality, respect, tradition
His installation, about twenty years ago, in a new district was not easy, because the building, built by a chocolate maker (!) was in a poor condition. Everything had to be rebuilt, including a 160m2 laboratory for the pastry shop, under the house. Since he moved to this new neighbourhood some twenty years ago, a restaurant, opened later by his partner Andréa, has taken up residence in a small garden around a palm tree overgrown with ivy. It is in this soothing and green environment, on the rue Dugommier or in the interior room, that Christian Cottard and his chef Mathias Metge offer authentic and tasty cuisine. At Les Chefs au Sommet d'Auron, Christian, assisted by his charming wife Andrea, unanimously conquered the eyes and taste buds of La Brasserie's guests with his tasty dessert which pays homage to the illustrious Auguste Escoffier: Like a puffed crêpe Suzette, with a taste of the mountains, cristalline of fir buds.

Menu tasted at La Brasserie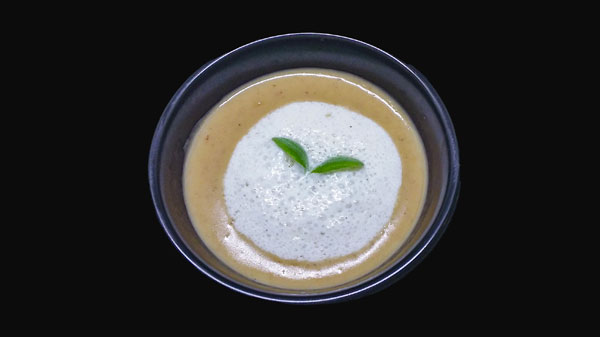 Fresh chestnut velouté, staciatella emulsion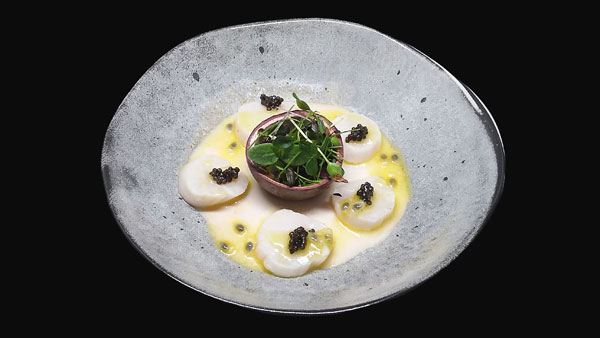 Carpaccio of fresh scallops and Aquitaine caviar, passion fruit vinaigrette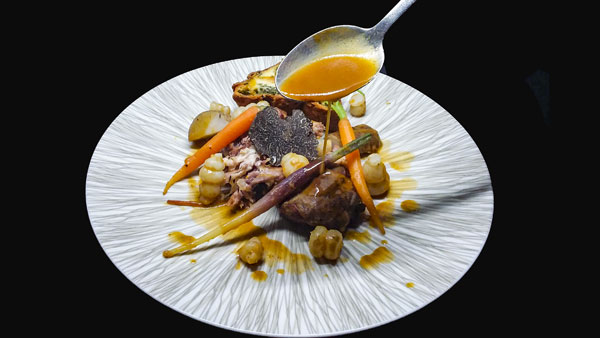 Lamb from the Penne region roasted at low temperature, gratin of lamb sweetbreads with Tuber Melanosporum truffle, Kalé cabbage cake with Penne sheep's cheese and some small vegetables of the moment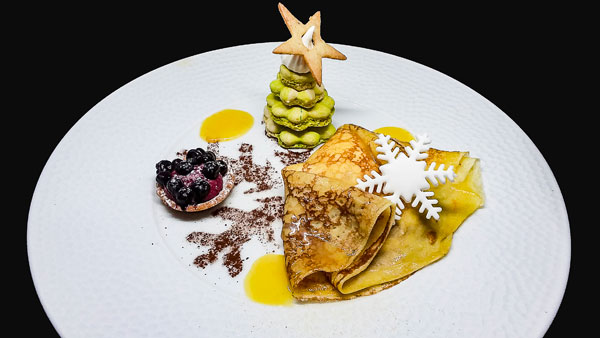 Like a puffed crêpe Suzette, with a taste of the mountains, cristalline of fir buds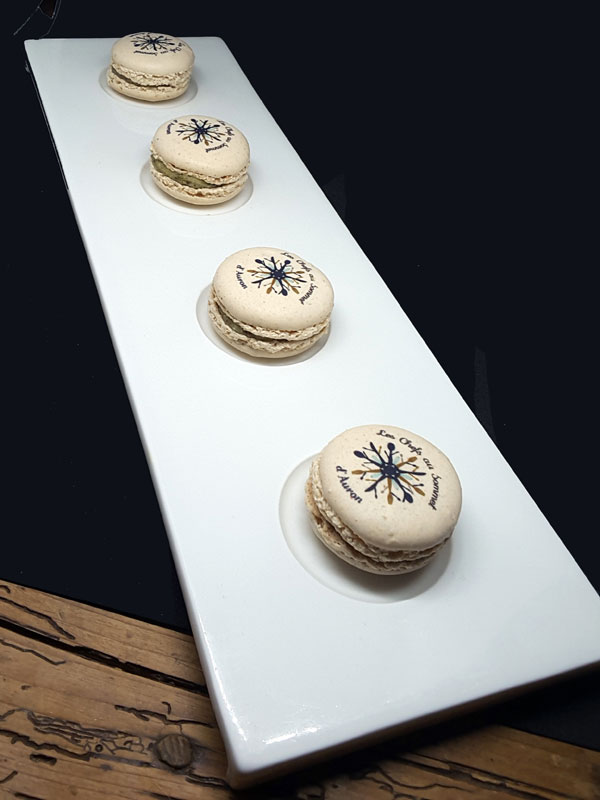 Mignardises: Macarons MicMac Macarons signed Bruno Laffargue
La Brasserie de L'Endroit
Located in the centre of the Auron village, just opposite the cable car, the bar-restaurant La Brasserie de l'Endroit at the Edelweiss hotel has a comfortable setting and a sunny, protected terrace (with a fireplace and removable roof) which is the ideal place to have a drink or share a meal in a warm, family atmosphere. The traditional, tasty and varied cuisine, based on Provencal and mountain culinary traditions, is prepared using fresh seasonal produce. Depending on the time of day (or even the season), La Brasserie de l'Endroit boasts several facets. In the afternoon, you can enjoy a hot chocolate (or ice cream) in a quiet, family atmosphere at snack time before continuing with an aperitif. Then, from 7pm onwards, you can sit down at the table and discover tasty stewed recipes, excellent meat dishes, large and beautiful mixed salads, pasta with all kinds of sauces… The whole cooked with love.
Mountain Gastronomy Festival
The Mountain Gastronomy Festival Les Chefs au Sommet d'Auron reflects all that the hinterland of Nice and the Mercantour offers with generosity, in addition to the splendid mountain landscapes: authenticity, conviviality and sharing. Values to which the chefs are sensitive because they lavish them daily. This is why a loyal team of starred and renowned chefs come to celebrate gastronomy in the setting of the magnificent snow-covered mountains of the Alps by delighting the taste buds of gastronomes and holidaymakers on the ski slopes.
Photos ©YesICannes.com (photos taken with respect to the barrier gestures)
Les Chefs au Sommet d'Auron
From 15 to 20 January 2022
Restaurants in Auron, St Étienne de Tinée and St Dalmas-le-Selvage
Information: Auron Tourist Office
Tel: +33 (0)4 93 23 02 66
Chefs au Sommet d'Auron: Frédéric Ramos and Christian Cottard at La Brasserie
was last modified:
January 20th, 2022
by