The Chefs au Sommet d'Auron welcomed Stéphane Furlan and Marc Payeur for a high gastronomy dinner at Les 3 Marmottes in Saint-Dalmas-le-Selvage.
Chefs au Sommet d'Auron: from 15 to 20 January 2022, the 10th edition of the Mountain Gastronomy Festival offers memorable gastronomic experiences to tourists and inhabitants of the region. In addition to the chefs' show-cookings in the Rovery room, every evening, renowned chefs officiate in the restaurants of the Haute Tinée resort and offer sumptuous gastronomic dinners at a unique and privileged price of 55€ per person. Chef Stéphane Furlan from the restaurant Le Sansot in Tourrettes-sur-Loup and pastry chef Marc Payeur from Pains et Pâtisseries Carabacel in Nice delighted the taste buds of fine gourmets at restaurant Les 3 Marmottes in Saint-Dalmas-le-Salvage.
Ten years already!
The Mountain Gastronomy Festival is celebrating its tenth anniversary. This flagship event once again brings together many of the Côte d'Azur's top chefs and talented pastry chefs to share an authentic moment of culinary pleasure and conviviality in the heart of the sumptuous Mercantour mountains. Concocted by Chefs in previously unknown kitchens, the menus composed of an amuse-bouche, a starter, a main course and a dessert for a privileged price of 55€ per person thrills the gourmet taste buds every evening.
Gastronomic dinner at Les 3 Marmottes
Les 3 Marmottes, a partner restaurant of the event with an intimate, wooded and warm décor, hosted a gastronomic dinner – which was sold out – on Tuesday 18 January 2022 in the kitchens of Laurent Lequemenec and Estelle Rénier hosted by piano virtuoso Stéphane Furlan from the restaurant Le Sensot in Tourrettes-sur-Loup and pastry chef Marc Payeur, Pains et Pâtisseries Carbacel in Nice, who brought their delicious culinary experiences to this warm venue in the square of Saint-Dalmas-le-Salvage facing the majestic village church.
A traveller without borders
A native of the Val d'Oise, Stéphane Furlan studied cooking in Alsace before continuing his gastronomic journey by managing the kitchens of the Sofitel Hotels in Brussels, Minneapolis and Houston. On his return to France, he became the right-hand man of two-star chef Christian Willer at the Martinez in Cannes, before opening his first restaurant, La Litote, which was awarded a BIB Gourmand in 2012. He was named Chef Espoir Gault&Millau Côte d'Azur the same year. He then opened two restaurants, Côté Jardin and Les Petits Tabliers, also in Vence, before managing the kitchens and catering at the 4* hotel Le Splendid in Nice. Today, this exceptional chef is at the head of the gastronomic restaurant Le Sansot, whose terrace opens onto the breathtaking panorama of the perched village of Tourrettes-sur-Loup.
An unforgettable gastronomic experience
At Le Sansot, you will experience an unforgettable gastronomic experience, orchestrated by the talented Stéphane Furlan. On the menu, traditional local dishes made from products that go straight from the neighbouring fields to the plate. The menu combines local produce and Mediterranean flavours with finesse. The vegetables and fruits the chef puts on his menu have the advantage of not having been damaged by cold rooms and transport, since they come from small producers in Tourrettes. Once in the kitchen, the chef plays "the piano" to concoct a simple and tasty cuisine, with perfect seasonings and elegant layouts. His dishes are delicate, colourful and fragrant. This passionate chef likes to "feel" the product and bring out all its flavours without rushing it. He lives an intimate, passionate and natural tête à tête with the ingredients of the Provençal soil that he magnifies in his beautiful and generous plates that smell of herbs, fresh picked in his garden at the back of the restaurant.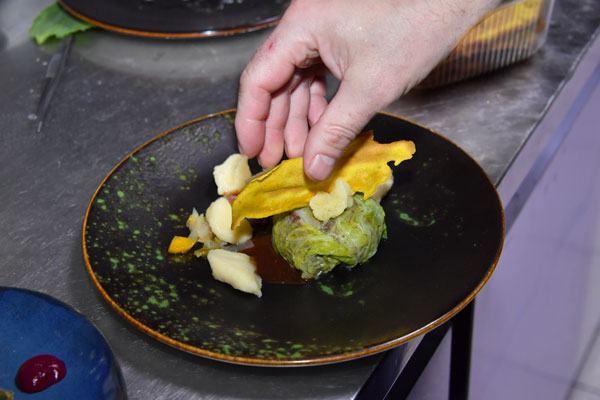 Local products at the forefront
This maestro of the stoves, who advocates local economy and common sense, mainly buys his products from small suppliers in the area around Tourrettes-sur-Loup, the Cannes basin and Nice. For this emphasis on freshness, quality and taste of the products, the chef calles on the Deloye Marée fishmonger's in Carros for the seafood and on the Balicco company for the vegetables and the Cannes aquaculture farm for the exceptional fish. Biocop, partner of the Chefs au Sommet d'Auron event, supplied the fruit and vegetables, groceries and dairy products used by Stéphane Furlan.
Honouring locavore and seasonality
Amuse-bouche: pour les Chefs au Sommet d'Auron, Stéphane Furlan a composé un menu gourmand, élégant et raffiné, Amuse-bouche: for the Chefs au Sommet d'Auron, Stéphane Furlan has composed a gourmet, elegant and refined menu with Mediterranean inspiration. In a spirit of terroir, the products of the Côte d'Azur were sublimated by a cuisine of extreme precision, with seasonings that would make your taste buds soar to seventh heaven and juices that speak for themselves. For his Velouté de Courge de Nice au Chou kale, émulsion à la truffe, the chef was inspired by the advice of a local producer. Cooked on the basis of a butternut and pumpkin cream, this absolutely sublime new creation has been refined by adding onion, leek, potato. Finally, to enhance the taste and make this dish more festive, Stéphane added a truffle emulsion from the Signorini house in Vence, and, to honour the season, a little borage flower.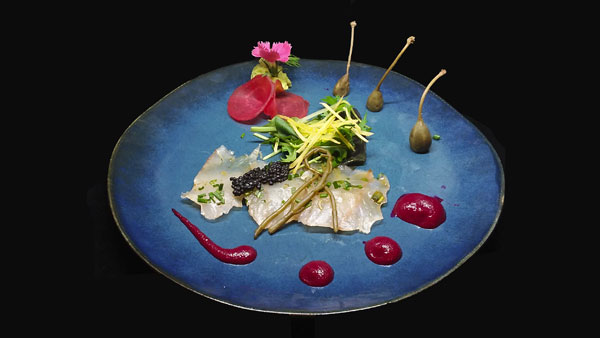 For his Loup de Cannes marinated with ginger and soy, smoked herring roe and avocado mousse, Stéphane Furlan – under the advice of Deloye Marée – used a bass of excellent quality produced by an aquaculture farm located between the Cité des Festivals and Juan-Les-Pins. The chef first marinated the fish flesh gravlax-style with coarse salt and sugar. He then prepared a second marinade with yuzu, garlic, coriander, ginger, dill and herring roe. To finish, mesclun, spinach and avocado shoots, country flowers and a colourful beetroot coulis completed the decoration of this gastronomic masterpiece.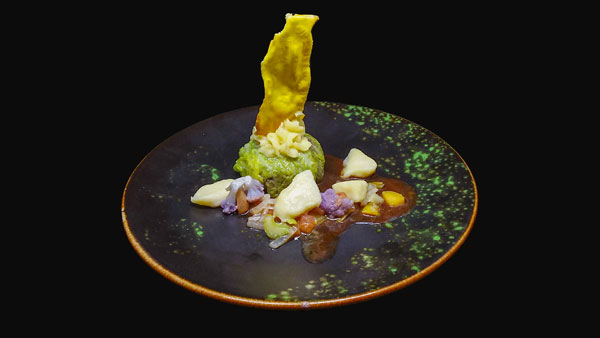 To make his Port Braised Paleron, gnocchi with roots vegetables, the Chef braised the meat for long hours at low temperature. He then used Port and red wine to reduce its full-bodied juice. The cabbage and vetetables were drained, chopped, seasoned, the flavourful whole completed with chard and condiments. The chef then formed the spheres with previously blanched and baked cabbage leaves. Complemented with gnocchi concocted with potatoes and parsnips, this kingly dish topped with a turmeric tuile entranced the most demanding palates of the gastronomes gathered at Les 3 Marmottes.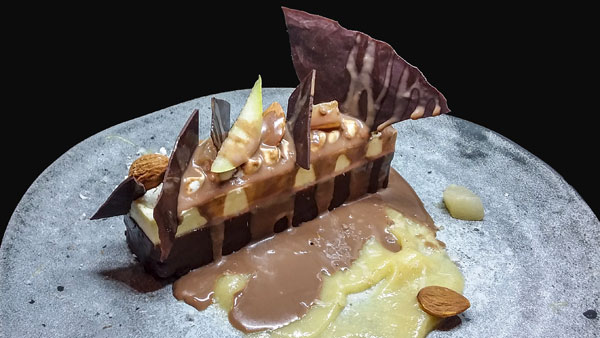 Sweets and exceptional breads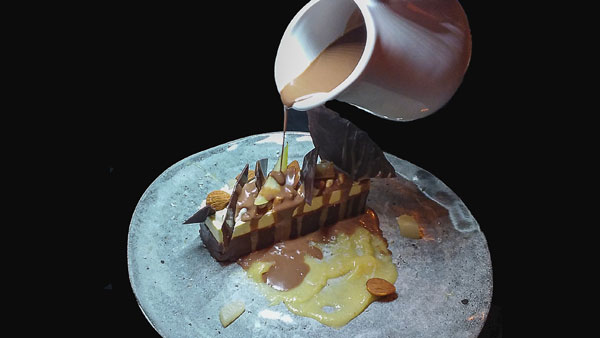 Marc Payeur's dessert, Finger Poire Chocolat façon belle Hélène under the inspiration of Auguste Escoffier, all gluten-free, composed of chocolate sweets, counterbalanced by fruity and sparkling notes, and topped off with milk chocolate, delighted both the pupils and the taste buds of the gourmands. Also a baker, the Pastry Chef proposed a trilogy of breads to match Stéphane's dishes, offering a deliciously crisp and fragrant note to crown this succulent meal. The Pastry Chef works mainly with the flours of the Soufflé House. This trilogy was composed of a durum wheat semolina bread (Moulin du Dadou in Occitanie), a Khanousian bread (Iranian organic flour and lemon) and a Baguette Tradition (Label Rouge flour).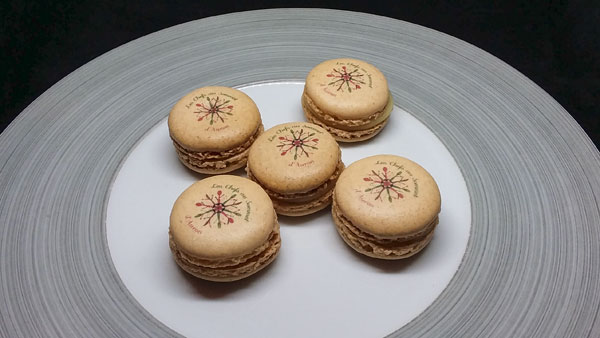 Mignardises: macarons MicMac Macaron by Bruno Laffargue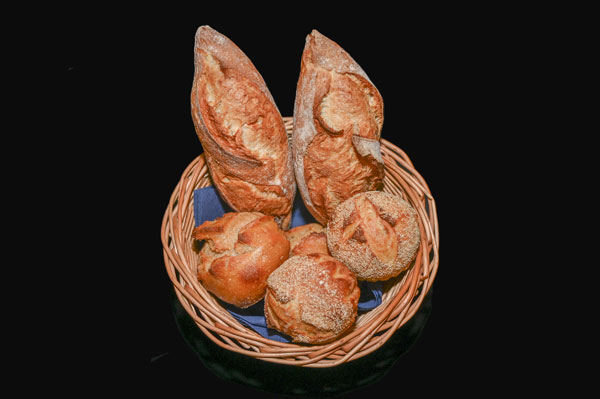 Trilogy of breads by Marc Payeur – Pains et Pâtisseries Carabacel
Marc Payeur, a modern vision of traditional desserts
After a C.A.P. in pastry, chocolate, confectionery and ice cream, Marc Payeur perfected his talents in great establishments: the Hôtel de Paris Monte-Carlo with pastry chef Pierre Foucher, the Hostellerie de l'Abbaye de La Celle with chef Benoît Witz. He then worked at Fauchon in Paris with Christophe Adam before joining the Plaza Athénée in Paris with the pastry chef Christophe Michalak. Back on the Côte d'Azur in 2010, Marc works as Pastry Chef at the starred restaurant Lou Fassum in Plascassier before assisting Pastry Chef Patrick Mesiano at Hotel Métropole Monte-Carlo in Monaco in 2011 alongside Joël Rebuchon. He then worked in two prestigious establishments on the Côte d'Azur, the Royal-Riviera, a 5-star hotel in Saint-Jean-Cap-Ferrat with Marcel Ravin, and the Blue Bay, a starred restaurant at the Monte Carlo Bay. Marc Payeur likes to share with gourmets his modern vision of traditional desserts, without colouring agents, evolving with the seasons. Six months ago, Marc Payeur opened his Pains et Pâtisseries Carabacel establishment at 9, rue Pastorelli in Nice.
Les 3 Marmottes, gourmet cuisine and a warm welcome
Chef Laurent Lequemenec comes from a family of restaurateurs. He fell into the cooking pot at the age of 13, and at 16 he left to apprentice in a pastry shop. At 18, he joined the Navy where he stayed for ten years. At the end of this experience, he left for Reunion Island to work as a cook in Japanese, Italian and traditional restaurants and in a bakery. After two years in the tropics, he returned to France and became a caterer. It was then that he met his future wife, Estelle Renier, who ran a pizzeria. After six years, they took over the stoves of the restaurant Les 3 Marmottes in Saint-Dalmas-Le-Selvage. For the past 30 months, this couple of passionate restaurateurs has been offering authentic bistronomic cuisine, with good products and heart in the plate, enhanced by a warm and family welcome.
Mountain Gastronomy Festival
Les Chefs au Sommet d'Auron, the Mountain Gastronomy Festival reflects all that the hinterland of Nice and the Mercantour offer with generosity, in addition to the splendid mountain landscapes: authenticity, conviviality and sharing. Values to which the chefs are sensitive because they lavish them daily. This is why a loyal team of starred and renowned chefs come to celebrate gastronomy in the setting of the magnificent snow-covered mountains of the Alps, delighting the taste buds of gastronomes and holidaymakers on the ski slopes.
Photos ©YesICannes.com & ©Christophe Giraudeau (photos made in respect of barrier gestures)
Les Chefs au Sommet d'Auron
From 15 to 20 January 2022
Restaurants in Auron, St Etienne de Tinée and St Dalmas-le-Selvage
Information: Auron Tourist Office
+33 (0)4 93 23 02 66
www.facebook.com/Les-3-marmottes-109719340535999/
Chefs au Sommet d'Auron, Stéphane Furlan et Marc Payeur aux 3 Marmottes in pictures
Click to enlarge – ©YesICannes.com – All rights reserved
Chefs au Sommet d'Auron, Stéphane Furlan and Marc Payeur at Les 3 Marmottes
was last modified:
January 20th, 2022
by