Les Chefs au Sommet d'Auron welcomed Gaël and Mickaël Tourteaux and Thomas Hubert for a haute gastronomie dinner at Les Pivotes in Auron.
Les Chefs au Sommet d'Auron: from 15 to 20 January 2022, the 10th edition of the Mountain Gastronomy Festival offers memorable gastronomic experiences to tourists and locals alike. In addition to the chefs' show-cooking at the Rovery hall, every evening, renowned chefs officiate in the restaurants of the Haute Tinée resort and offer sumptuous gastronomic dinners at the unique and privileged price of 55€ per person. Composed of an amuse-bouche, a starter, a main course and a dessert, the menus concocted by the chefs in ephemeral kitchens thrill the gourmet taste buds of fine gourmets.
Gastronomic dinner at Les Pivotes
The two-starred piano virtuosos, Gaël and Mickaël Tourteaux from the restaurant Flaveur in Nice and Thomas Hubert from the restaurant Olive & Artichaut also in Nissa La Bella, delighted the taste buds of the fine gourmets at the restaurant Les Pivotes of hotel L'Ecureuil, directed by Catherine and Michel Guillot. The talented and engaging World Barista/Cocktail Champion, World Champion "Coffee in good spirits", creator of La Cuisine des Boissons, Victor Delpierre proposed his Riounet, the emblematic drink of the resort.
10 years of haute gastronomie at the foot of the slopes
For 10 years now, the Mountain Gastronomy Festival has been bringing together many of the Côte d'Azur's top chefs and talented pastry chefs to share an authentic moment of culinary pleasure and conviviality at the foot of the slopes in the heart of the sumptuous Mercantour mountains. During the Festival, great names from the culinary world will perform true gastronomic feats each evening by creating dinners on previously unknown "pianos". On Sunday 16 January 2022, Gaël and Mickaël Tourteaux and Thomas Hubert transposed the delicious culinary experiences of Flaveur and Olive et Artichaut to the wooded, warm and mountainous setting of Les Pivotes in Auron.
A story of passion and family
The Tourteaux brothers are above all a family story. Inseparable; same hotel school in Nice (with exams in the same room!) and since 2011, they have been working as a duo at the head of Flaveur. Their virtuosity at the piano was rewarded in 2011 by the red guide, which awarded them a first star, then a second in 2018. The same year they were awarded 4 toques by Gault &Millau, a sign of their immense talent.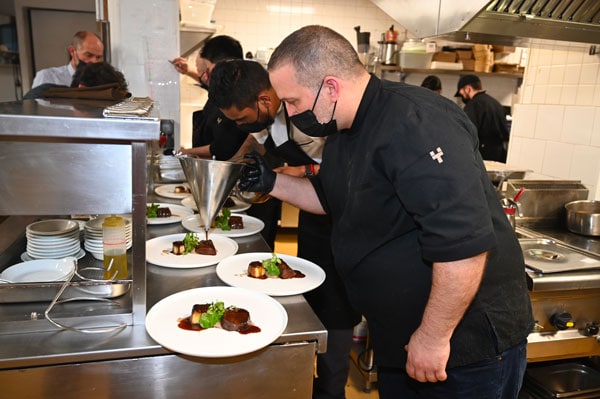 Journey to the heart of a beautiful starred house
In their gastronomic lair, like accomplished conductors, Gaël and Mickaël play a delicious four-handed score like Siamese twins. Both different and complementary, they have both made their mark in great gastronomic establishments such as the Negresco alongside Alain Llorca or in Michel Del Burgo's teams. Nourished by a childhood in Guadeloupe and a taste for travel, the Tourteaux brothers, as passionate chefs, dare to create all kinds of flavour melodies. With their creations such as Entre Deux Vallées: Céréales et Foie Gras or La Rencontre de Deux Territoires: Cerf de Chasse et olives taggiasche delivered in honour of the tenth anniversary of the Chefs au Sommet d'Auron, reveal with mastery the thousand and one facets of their incomparable talent.
Two Michelin stars, 4 Gault &Millau Toques
The Tourteaux brothers, Gaël and Mickaël, have the same desire to work on good, true, tasty food. Their know-how and their creative and warm cuisine are reinvented season after season. The marriages of flavours are perfect, each one clearly discernible, brilliant to the palate, but forming a harmonious whole of alliances and contrasts. The dishes concocted at the restaurant Les Pivotes have highlighted the noble products of the land, inspired by the organic and locavore values advocated by the Chefs au Sommet d'Auron. These quality products, accompanied by succulent, full-bodied juices made from long reductions of ingredients, are a real treat for the taste buds. The two brothers took the gourmets on an extraordinary and succulent culinary journey of exploration of the regional terroirs, with a foray into Italy.
Thomas Hubert, Chef of the restaurant Olive & Artichaut
Thomas Hubert, Chef of the restaurant Olive & Artichaut in Nice has worked with renowned chefs such as: Pascal Lac, Luc Salsedo and in Alain Ducasse's group with Benoît Witz at the Abbaye de la Celle. He also worked with Pascal Bardet at the 3 Michelin macaroon restaurant, Le Louis XV in Monaco. Thomas Hubert also worked in Montreal with chef Jean-Baptiste Marchand at La Fabrique. Today, he is at the head of his own restaurant, mentioned in the prestigious Michelin Guide, where he sublimates Mediterranean cuisine and desserts such as those made at Les Pivotes on the occasion of the Chefs au Sommet d'Auron: Les Vergers de Beaux, Pommes Anciennes et Thé Blanc and Le sommet sucré: Différentes Textures. This palette of flavours, in turn sparkling and refreshing, then warm and comforting, offered to the gastronomes was the image of the know-how of this talented chef.
Le Riounet as an aperitif
The warm evening opened with, as an aperitif, the invigorating notes of the tasty Riounet, the cocktail of the talented and endearing Victor Delpierre, World Barista/Cocktail Champion, who imagined the beverage – which has become the official drink of the resort – during the Chefs au Sommet d'Auron 2018. This harmonious nectar of the summits can be sipped cold after a beautiful summer walk in the mountains, or enjoyed as a toddy or mulled wine after a day on the snowy slopes, or after skiing to comfort yourself. Supplemented at 50% with a bubble, Champagne, Crémant or Prosecco, the cocktail becomes a great aperitif to accompany the most beautiful festive moments.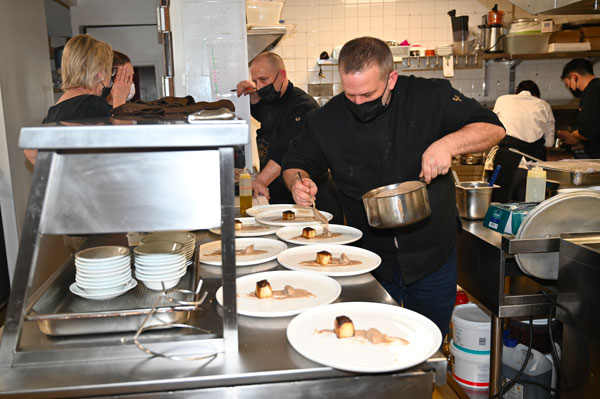 Menu tasted at Les Pivotes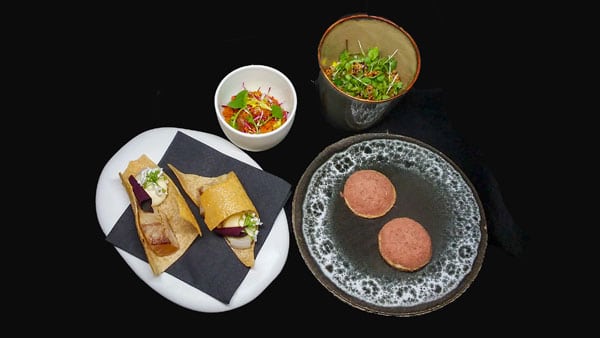 Amuse-bouche – Le Terroir Maralpin: Iodine and spices. Rice chips with sherry vinegar accompanied by a lisette (young mackerel), marinated in a fermented soy sauce. In the white pot: trout in a paprika crumble, celery sauce and sake. A game of textures on a base of potato, dried sardine and quinoa. Coriander, garlic and walnut shortbread, with, on top, dried beef from Entrevaux.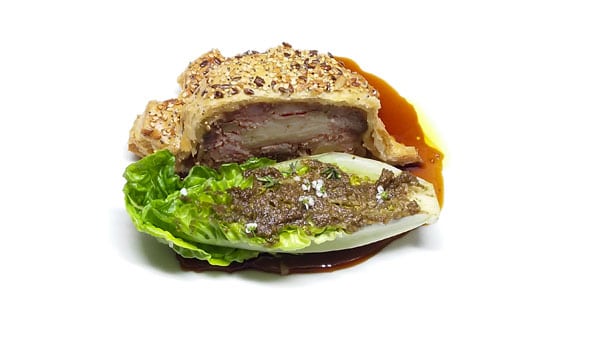 Entre Deux Vallées: Cereals and Foie Gras: Pie made with duck, foie gras and pig, small reduction of meat juice, sucrine with a sherry vinaigrette and pumpkin flower dressing.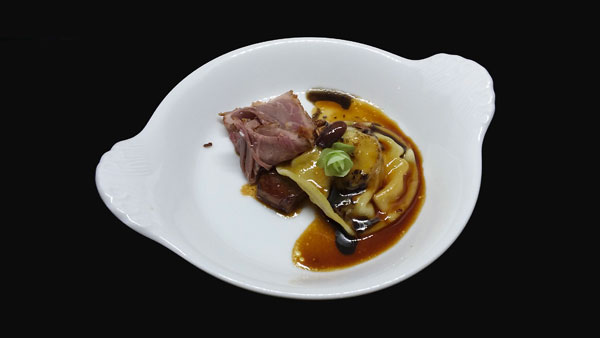 La Rencontre de Deux Territoires: Ravioles stuffed with Piedmontese fond vines, beef cheek, beef pastrami and Saumur aubergine consommé.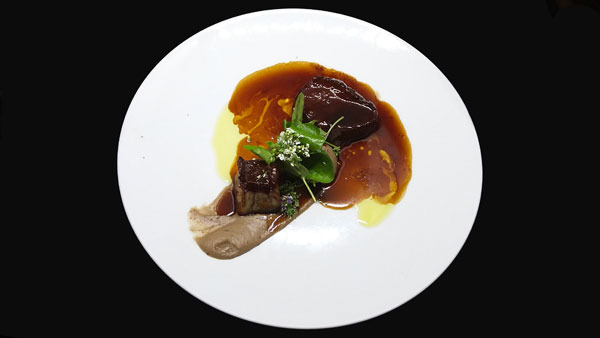 La Rencontre de Deux Territoires (2): Venison and taggiasche olives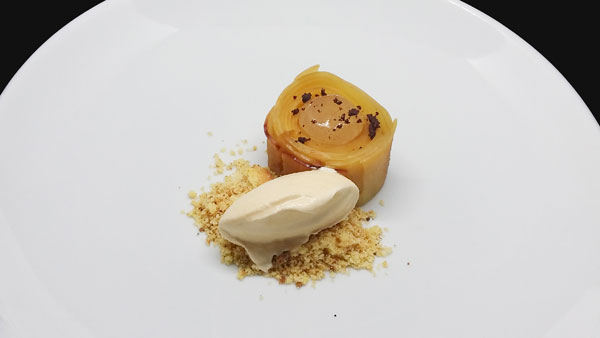 Les Vergers de Beaux: Old apples and white tea
The sweet summit: Different textures
Mignardises : Macarons from Mic Mac Macarons by Bruno Laffargue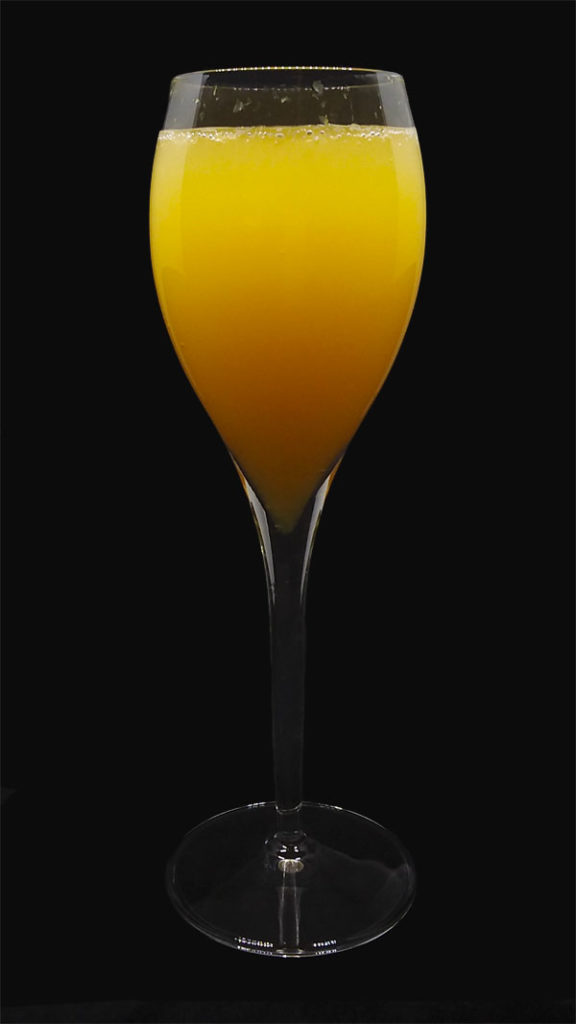 Le Riounet. Official Cocktail of the Resort imagined by Victor Delpierre, World Champion.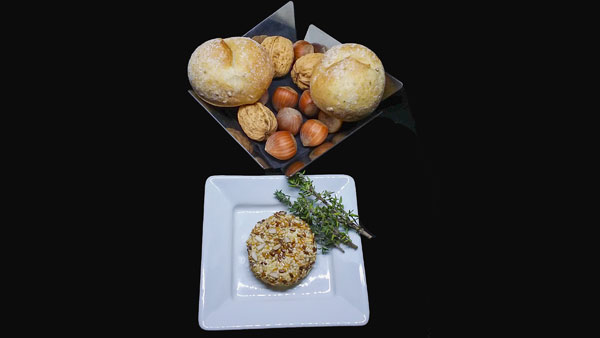 Ginger and coriander bread. Salted butter with cereals.
L'Hôtel L'Écureuil, a charming and gourmet hotel
In the heart of the very popular resort of Auron, Princess Stéphanie of Monaco's city of choice, the three-star mountain hotel L'Écureuil cultivates a warm chalet atmosphere, offering a friendly and attentive welcome all year round to savour a green mountain in summer and a white one in winter. 
Every evening, Les Pivotes restaurant comes alive around its wood stove (on winter evenings) and offers its seasonal semi-gastronomic cuisine, "à l'ardoise", offering the great classics of mountain specialities but also the revisited dishes of our childhood.
 The Hotel Restaurant L'Écureuil is managed by Catherine and Michel Guillot, President of the Tourist Office of the Tinée Resorts and organiser of the Chefs au Sommet d'Auron.
Photos ©Christophe Giraudeau & ©YesICannes.com (photos taken with respect to the barrier gestures)
Les Chefs au Sommet d'Auron
From 15 to 20 January 2022
Restaurants in Auron, St Étienne de Tinée and St Dalmas le Selavage
Information: Auron Tourist Office
+33 (0)4 93 23 02 66
Chefs au Sommet d'Auron: Gaël and Mickaël Tourteaux, Thomas Hubert at Les Pivotes in pictures
Click to enlarge – ©Christophe Giraudeau & ©YesICannes.com – All rights reserved
Chefs au Sommet d'Auron: Gaël and Mickaël Tourteaux, Thomas Hubert at Les Pivotes
was last modified:
January 18th, 2022
by