Les Chefs au Sommet d'Auron welcomed Alain Llorca, chef of Restaurant Alain Llorca in Saint-Paul de Vence for a high gastronomy dinner at La Bergerie.
From 18 to 24 January 2020, Les Chefs au Sommet d'Auron – 9th edition – offered memorable gastronomic experiences to tourists and locals alike. Every evening, in addition to the cooking-shows at the ice rink, renowned chefs officiate in the restaurants of the Haute Tinée resort and offer sumptuous gastronomic dinners at a unique and privileged price of 45€ per person. Michelin-starred chef Alain Llorca from Hôtel-Restaurant**** Alain Llorca in Saint-Paul de Vence and Jean-Michel Llorca, his brother pastry chef, have delighted the taste buds of fine gourmets at La Bergerie restaurant in Auron.
High gastronomy at the foot of the trails
For the past nine years, the Mountain Gastronomy Festival has been bringing together many great chefs and talented pastry chefs from the French Riviera who share at the foot of the slopes an authentic moment of culinary pleasures and conviviality in the heart of the sumptuous mountains of the Mercantour. During the Festival, great names from the culinary world perform real gastronomic feats every evening by holding dinners on previously unknown "pianos".
On Monday, January 20, 2020, Alain Llorca transposed the delicious culinary experiences of Restaurant Alain Llorca into the warm, wooded, mountain chalet decor of La Bergerie restaurant at the foot of the trails.
Alain Llorca, contemporary Mediterranean cuisine
After his studies at the Lycée hôtelier Paul Augier in Nice, Alain Llorca, from Catalan origin, honed his culinary talents with great chefs: Christian Métral at L'Auberge du Jarrier in Biot, Christian Morisset at Hôtel Juana in Juan-les-Pins, Jacques Maximin and Dominique Le Stanc at Hôtel Négresco, Alain Ducasse at Le Louis XV – Hôtel de Paris in Monaco. At the age of 30, he is the owner of the restaurant Les Peintres in Haut-de-Cagnes where he was awarded a first Michelin star. In 2003, the chef returned to Le Chanteclerc at Le Négresco where two stars rewarded his talent and creativity in contemporary Mediterranean cuisine. He then succeeded the mythical chef Roger Vergé at Le Moulins de Mougins where he maintained his two stars. In 2009, after a season at La Passagère of Hôtel Belles Rives in Juan le Pins, Alain opened his establishment in La Colle-sur-Loup, which bears his name and will be awarded one star in 2012.
Jean Michel Llorca, a visionary of gourmet cuisine
In Alain'z restaurant in La Colle Sur Loup, the desserts are signed by pastry chef Jean-Michel Llorca, his brother, an artist known for his famous praline-chocolate "tête au carré", made in collaboration with the sculptor Sosno. Jean-Michel Llorca has worked with some of the greatest: Alain Ducasse, Frédéric Robert, Christian Camprini. After a period at the Hotel Juana in Antibes and then at the restaurant La Passagère of Hotel Belles-Rives in Juan les Pins, he is now playing his part with rigorous work and attention to detail at the Restaurant Alain Llorca in La Colle Sur Loup, ending his brother's culinary delights with a firework display of desserts.
The tasted dishes (photos YesICannes.com)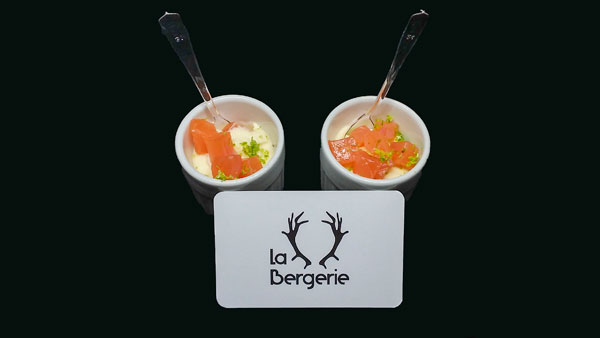 Amuse bouche: Small cream of cauliflower and smoked salmon. A creamy symphony of flavours from land and sea where the cauliflower enhances, with its powerful perfume, the smooth and firm sweetness of the salmon.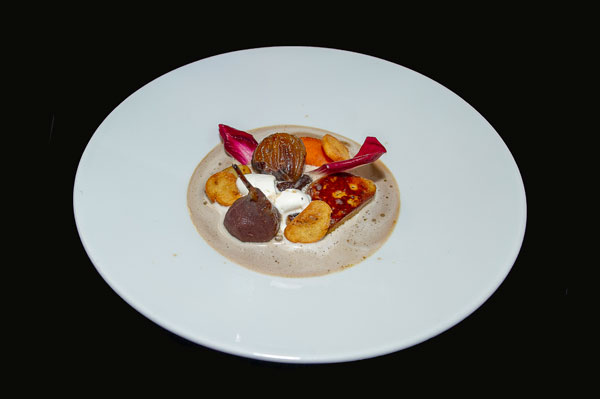 Entrée: Velouté of chestnut grilled over a wood fire, winter vegetables, martin sec pear, celery, squash, chestnuts, prunes cooked in a casserole, slice of roasted foie gras. You will enjoy this island of pan-roasted foie gras bathed in its chestnut velouté, decorated with a farandole of different seasonal delicacies: poached pear, chestnut, pumpkin, prune!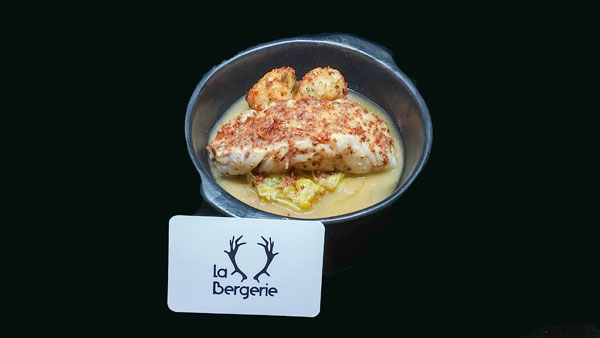 Dish: Thick roasted cod steak glazed with mustard, leeks cooked in peasant bacon, broth of leeks cooked in reduction. The soft flesh of the fish in its broth is a caress on the palate, seasoned with mustard, relayed by the melting and fragrant leeks.
Dessert: Exotic crown of ivory lime, white chocolate, coconut shavings, cocktail sorbet. In this exotic-accented delicacy, we alternate delicious bites between sorbet and soft and fragrant cake.
La Bergerie, the resort's oldest restaurant
At the foot of the slopes of the popular resort of Auron, in the heart of the Mercantour mountains, La Bergerie opens its terrace overlooking the slopes, very pleasant in winter when the sun invites itself at lunch. It is the oldest table in the resort, a real sheepfold transformed into a restaurant. The chef Alain Monge offers a 100% "home-made" cuisine, from fresh pasta to roast meats or Niçoises specialities. The wine list gives pride of place to the nectars from Provence.
Les Chefs au Sommet d'Auron
From 18 to 24 January 2020
Restaurants of Auron, St Étienne de Tinée and St Dalmas Le Selvage
Information: Auron Tourist Office
+33 (0)4 93 23 02 66
Les Chefs au Sommet d'Auron, Alain Llorca at La Bergerie in pictures
Click to enlarge – ©YesICannes.com – All rights reserved
Les Chefs au Sommet d'Auron, Alain Llorca at La Bergerie
was last modified:
January 30th, 2020
by