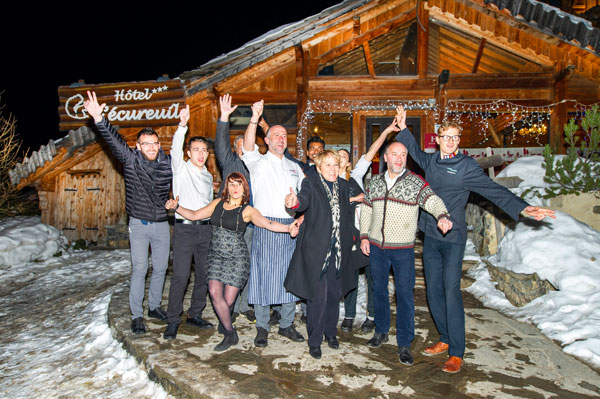 Jean-François Bérard brought joy with him at Les Pivotes! ©YesICannes.com
Les Chefs au Sommet d'Auron welcomed Jean-François Bérard, starred chef from L'Hostellerie Bérard in La Cadière d'Azur (Var) for a high gastronomy dinner at Les Pivotes in Auron.
From 18 to 24 January 2020, Les Chefs au Sommet d'Auron – 9th edition – offered memorable gastronomic experiences to tourists and locals alike. In addition to the chefs' cooking shows at the ice rink, every evening, renowned chefs officiate in the restaurants of the Haute Tinée resort to offer sumptuous gastronomic dinners at a unique and privileged price of 45€ per person. Jean-François Bérard, starred chef from L'Hostellerie Bérard in La Cadière d'Azur in le Var, has delighted the fine gourmets's taste buds at Les Pivotes restaurant of Hôtel L'Écureuil.
High gastronomy at the foot of the trails
For the past nine years the Mountain Gastronomy Festival has been bringing together many great chefs and talented pastry chefs from the French Riviera who share at the foot of the trails an authentic moment of culinary pleasures and conviviality in the heart of the sumptuous mountains of the Mercantour. During the Festival, great names from the culinary world perform real gastronomic feats every evening by making dinners on previously unknown "pianos".
On Tuesday 21 January 2020, Jean-François Bérard transposed the delicious culinary experiences of L'Hostellerie Bérard into the warm, wooded, mountainous setting of Les Pivotes in Auron.
Jean-François Bérard, a star on the mountaintop
After a career in prestigious houses (Le Moulin de Mougins, Le Grand Hôtel du Cap in Saint-Jean-Cap-Ferrat, Le Pré Catelan in Paris), Jean-François Bérard hab been continuing the fine tradition of the family's table, L'Hostellerie Bérard, founded by his father René and his mother Danièle in 1969 at La Cadière d'Azur. The establishment has just celebrated 50 years of success, love of customers and passion for gastronomy. Jean-François Bérard is committed to perpetuating his heritage of culinary delights, which he happily dispenses in a spirit of good humour and communication with epicureans.
The "jus" virtuoso
Passionate about the sunny scents of Provence, the chef sublimates the excellent products provided by his network of small local producers, while the kitchen garden of this chef gardener generously lavishes herbs and spices (37 species of basil!), flowers (of zucchini), vegetables and even fruit. These quality products are enhanced by virtuoso and succulent, often full-bodied juices coming from long reductions of ingredients, including many herbs.
The Riounet as an aperitif
The warm evening opened with an aperitif and the invigorating notes of the tasty Riounet, the cocktail of the talented and endearing Victor Delpierre, Barista/Cocktail World Champion, who created this beverage, which has become the resort's official drink, for the 2018 Chefs au Sommet d'Auron. This harmonious nectar from the summits can be sipped cold after a nice summer walk in the mountains, or enjoyed as a grog or mulled wine after a day on the snowy slopes, or as an after-ski drink to comfort oneself. Complete at 50% with a bubble, Champagne, Crémant or Prosecco, the cocktail becomes a great aperitif to accompany the nicest festive moments.
Jean-François Bérard's delicious creations could be enjoyed with food and wine pairings, which you will find illustrated in the photo gallery at the end of this article.
Chef Bérard's menu (photos YesICannes.com)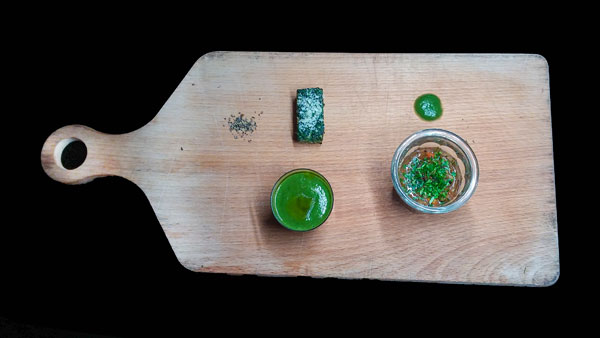 Amuse bouche around the chard: Creamy chard soup, snow of mountain cheese, snails, warm trouchia, parmesan cheese. This creative masterpiece of snails in a Provencal "suççaréllo" gives an explosion of flavors in the mouth with its sauce based on olive oil and all the scents of a garden in the garrigue! The chard in all its forms!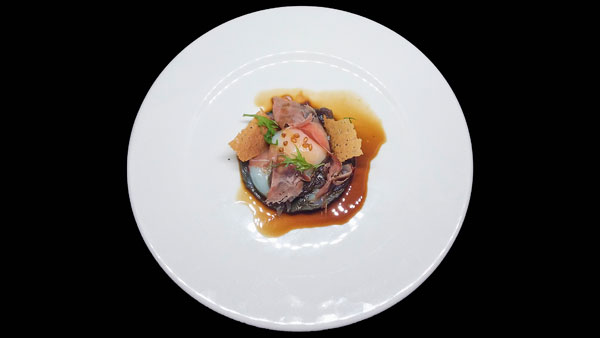 Starter: Organic egg from La Ferme du Poussinet, lentils with vegetable charcoal, onion confit, crumble of roasted cereal seed, ham lace, poultry juice. The vegetable charcoal helps the digestion of this "perfect" egg delicacy, cooked at 63° and interpreted in a mountain spirit, with grilled buckwheat and small spelt and enhanced with a juice of which you would make your ordinary!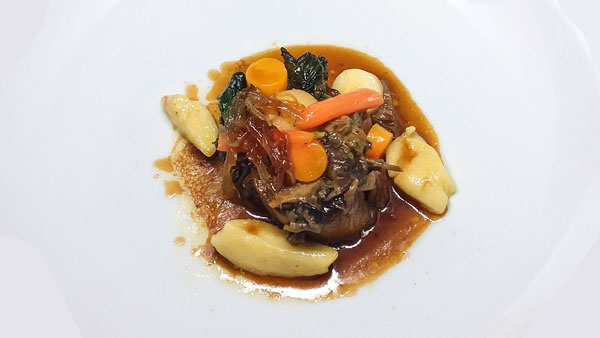 Dish: Veal shank confit, root vegetable, gnocchi, gremolata with Menton lemon, thyme, sage, mushrooms of the moment. Jean François Bérard proves again that the best meat "is around the bone"! Slowly cooked during eight hours, the shank exhales all its aromas, sublimated by the confit of shallots and a full-bodied juice that gives a divine dimension to this generous dish.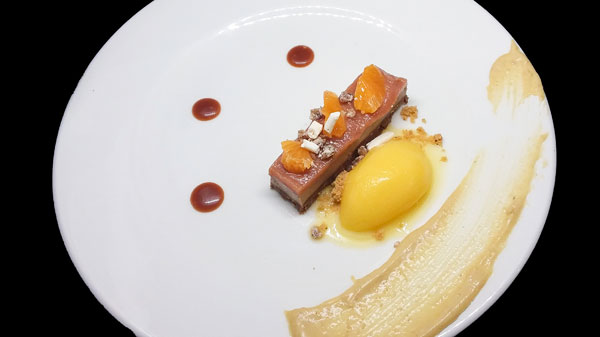 Dessert: Jivara Chocolate Crisp, Quince, Chestnut, Mandarin Freshness, Caramel Sauce, Tonka Bean, Vanilla. The chef deploys all his gourmande creativity in this dessert with chocolate flavours and hazelnut accents, enhanced by the light acidity of citrus fruits. A sweetness in apotheosis!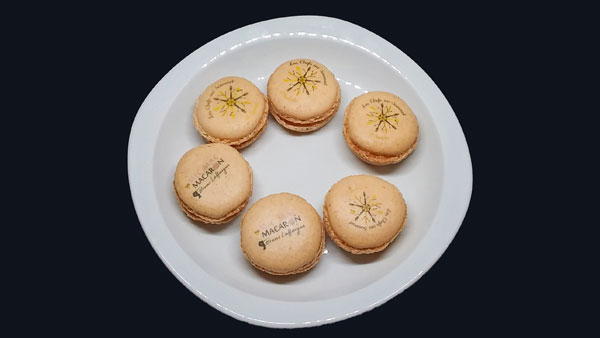 Mignardises: tasty Mic Mac Macaroon macaroons, signed Bruno Laffargue, decorated with the logo of Les Chefs au Sommet d'Auron.
L'Hôtel L'Écureuil, hazelnuts of charm and gourmandise
In the heart of the popular resort of Auron, Princess Stephanie of Monaco's chosen city, the three-star mountain Hotel L'Écureuil cultivates a warm chalet atmosphere, offering a friendly and attentive welcome all year round to enjoy a mountain that is green in summer and white in winter.
Every evening, the restaurant Les Pivotes comes alive around its wood stove (on winter evenings) and offers its seasonal semi-gastronomic, à l'ardoise cuisine, offering the great classics of mountain specialities but also the revisited dishes of our childhood.
The Hotel restaurant L'Écureuil is managed by Michel Guillot, President of the Tourist Office of the Tinée Resorts and organizer of Les Chefs au Sommet d'Auron.
Les Chefs au Sommet d'Auron
18 to 24 January 2020
Restaurants in Auron, St Etienne de Tinée and St Dalmas le Selvage
Information: Auron Tourist Office
+33 (0)4 93 23 02 66
Les Chefs au Sommet d'Auron, Jean-François Bérard at Les Pivottes in pictures
Click to enlarge – ©YesICannes.com – All rights reserved
Les Chefs au Sommet d'Auron, Jean-François Bérard at Les Pivotes
was last modified:
March 16th, 2020
by