Chefs au Sommet d'Auron hosted Basile Arnaud, chef of the restaurant Le Jardin at Hotel de Mougins and pastry chef Fabrice Didier from the restaurant Le Chantecler at Hotel Négresco in Nice, for a gastronomic dinner at Le Régalivou in Saint Étienne de Tinée.
From January 20th to 26th, 2018, Les Chefs au Sommet d'Auron – 7th Edition – offered memorable gastronomic experiences at a unique and privileged price. In addition to show-cooking by chefs at the ice rink, the renowned chefs officiate each evening in the restaurants of the Haute Tinée resort and offer sumptuous gourmet dinners at a price of 45 per person to tourists and locals. Basile Arnaud, chef at Le Jardin restaurant at Hôtel de Mougins and pastry chef Fabrice Didier at restaurant Le Chantecler – Hôtel Négresco in Nice, delighted the gourmets' taste buds at restaurant Le Régalivou.
Haute gastronomie at the foot of the slopes
For seven years the Festival of Mountain Gastronomy has been bringing together many talented chefs and pastry chefs from the French Riviera who share an authentic moment of culinary pleasures and conviviality in the heart of the sumptuous Mercantour mountains. During the Festival, the renowned chefs make every night real gastronomic feats by performing dinners on "pianos" unknown before.
On Friday, January 26, 2018, chef Basile Arnaud and pastry chef Fabrice Didier have transposed the delicious culinary experiences from Le Jardin and Le Chantecler into the wooded, warm and mountain setting of Le Régalivou.
Basile Arnaud, a traveler in the heart of gastronomy
A native of Cannes, Basile Arnaud graduated from the Lycée Hôtelier Paul Augier in Nice. After traveling the world – USA, Australia, Asia … – he forges his philosophy of fine gastronomy by training alongside great talented chefs. He was chef de partie sauces with Keith Podmore at the Boodle's Club in London, then worked as chef de partie alongside Pierre Chambrin (Maître Cuisinier de France) in Saint-Louis in the United States in 2006.
In 2008, his passion for beautiful flavors makes him discover Australia. But his love of Provence is stronger than the call of the outside world, and Basil decides to return to his native region. In 2009, he joined Serge Gouloumès' team with David Chauvac at Le Mas Candille in Mougins. In 2014, he will become Arnaud Tabarec's 1st Sous-Chef at Le Sea Sens in Cannes, just before taking over the kitchens of Le Jardin restaurant at L'Hôtel de Mougins.
Fabrice Didier, the excellence of pastry
For a year, Fabrice Didier has been in charge of the pastry brigade of the two-star restaurant Le Chantecler at Le Negresco, succeeding Fabien Cocheteux (now at L'Elysée), whom he was the second for four years. After a complementary mention of Cuisinier en Dessert, obtained in 2006, he perfected his talents in prestigious establishments such as L'Eden Roc – Hôtel du Cap in Antibes or the two-star restaurant Le Grand Véfour with Guy Martin.
Fabrice Didier is a pastry chef who has the art of mastering all the subtleties of pastry, acquired in each of his professional experiences. Strawberry, chocolate, honey and citrus are his flagship products, some noble products he sublimates with the utmost respect for the happiness of his guests.
Two chefs at the peak of their art
For Les Chefs au Sommet d'Auron, Basile Arnaud has composed a sumptuous menu with a sparkling and sunny cuisine, composed with finesse and creativity. Honoring the flavors of the season, combining tradition and contemporary spirit, the dishes were showcasing the noble products from the local terroir, inspired by the Bio and Locavore values advocated by the theme of the 7th edition of the Chefs au Sommet d'Auron. The gastronomy of Basile Arnaud and Fabrice Didier are rooted in the products developed by small passionate producers and lovers of their terroir.
The honey comes from the Ruchers de Sallagriffon – a village of 40 inhabitants, the lemon comes from Menton, the goat cheese comes from Jean-Philippe and Dominique Girod, la Bergerie du Gourdan, and the lamb was raised on la Ferme de La Barlatte. Authenticity and quality are at the rendezvous: colorful plates full of freshness, many vegetables and herbs that daily make up Basile Arnaud's basket accompany a top quality meat.
Amuse Bouche: Risotto of Spelt and Truffles, Saint Jacques smoked with Pine Needles. The spelt, cooked in the manner of a risotto surprises by its originality. This delicious cereal wonderfully marries with the carnal perfume of the Black Diamond and the fine iodized flavors from the Grande Bleue of the delicate scallop. The Provençal terroir is omnipresent in this shell subtly perfumed with pine needles.
Starter: Tube of Goat Cheese from Bergerie du Gourdan and Lavender Honey. Crémeux of Parsley, Condiment Tomato and Lemon. The French's second favorite cheese, the goat cheese, finely rolled in a puff pastry, exhales its fresh flavors enhanced by a Lavender honey.
Main course: Slow Cooked Lamb Shoulder from Ferme de la Barlatte, Parsnip Purée, Trumpet of Death, Truffled Juice. A melting lamb, with a fine garrigue taste, to which a full-bodied juice gives all its dimension. The parsnip with its mild aroma contrasts with the strong undergrowth flavors of the trumpets of death.
Dessert: Kumquat with Lavender Honey, Craquant of Dark Chocolate 70%. This citrus fruit with a sparkling orange color, from far horizon, brings a zest of vitaminized and perfumed freshness. Covered with an appetizing orange frosting, the heart opens on a light dome-shaped mousse, delicately placed on a melting pâte sabléee. The honey with the sweet scent of lavender is a nice nod to Provence and our taste buds deliciously excited by the voluptuousness of the dark chocolate bow crowning the whole, remind us with every mouthful some happy memories from our childhood.
About the Régalivou
Located at the entrance of Saint Etienne de Tinée, the Hotel Restaurant Le Régalivous is a pleasant place with a dining room nicely decorated in a mountain ambience. The Chef Eric Grosso offers a gourmet and gourmande cuisine with mountain specialties or pizzas and grilled meats, to enjoy in a warm atmosphere, on the terrace on sunny days or by the fireplace after a day of skiing. Also popular with hikers and bikers, the place is friendly with reasonable prices.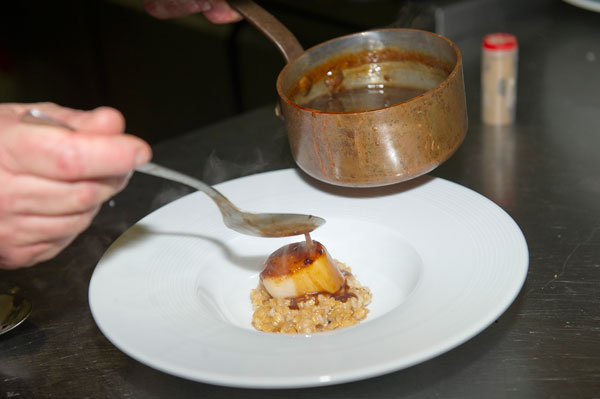 Memorable culinary experiences
With the sumptuous pristine mountains of Mercantour as a backdrop, Les Chefs au Sommet d'Auron is a gastronomic event in Auron, Saint Etienne de Tinée and Saint Dalmas Le Salvage. For seven years, the Mountain Gastronomy Festival has been offering gourmet meals at unique and very affordable price in the restaurants of the resort as well as many culinary activities. A team of talented chefs and pastry chefs from the Côte d'Azur offers an authentic moment of sharing of culinary pleasures and conviviality with holidaymakers.
Les Chefs au Sommet d'Auron
From 20/01/2018 to 26/01/2018
Salle Rovery – Plateau de Chastellarès
Restaurants in Auron, St Etienne de Tinée and St Dalmas-le-Selvage
Information: Auron Tourist Office
+33 (0) 4 93 23 02 66
Chefs au Sommet d'Auron, Basile Arnaud and Fabrice Didier at Le Régalivou in pictures
Click on pictures to enlarge – ©YesICannes.com – All rights reserved
Chefs au Sommet d'Auron, Basile Arnaud at Le Régalivou
was last modified:
February 8th, 2018
by