Chefs au Sommet d'Auron welcomed Dominique Nouvian, chef of Le Sensais restaurant in Monaco and pastry chef Clément Cottard from Maison Cottard in Antibes, for a gastronomic dinner at restaurant Le Bataclan.
From January 20th to 26th, 2018, Les Chefs au Sommet d'Auron – 7th edition – offered memorable gastronomic experiences at a unique and privileged price. In addition to chefs' show-cooking at the ice rink, some renowned chefs officiate every evening in the restaurants in the resort and the Haute Tinée and offer sumptuous gourmet dinners at the price of 45 € per person to tourists and locals alike. the region. Chef Dominique Nouvian from Le Sensais in Monaco and pastry chef Clément Cottard, son of the godfather of the 2018 edition, Christian Cottard from the Maison Cottard in Antibes, delighted the gourmets' taste buds at the restaurant Le Bataclan.
Culinary pleasures at the foot of the slopes
For seven years, the Festival of Mountain Gastronomy has been bringing together many talented chefs and pastry chefs from the Côte d'Azur who share an authentic moment of culinary pleasures and conviviality in the heart of the sumptuous Mercantour mountains. During the Festival, the renowned chefs make every night real gastronomic feats by performing dinners on "pianos" unknown before.
On Thursday, January 25, 2018, the starred chef Dominique Nouvian, his second for the day, Alexandre Emeric, resident chef of Le Bataclan, and pastry chef Clément Cottard transposed the delicious culinary experiences of the Le Sensais and Maison Cottard in the woody, warm and mountain decor of the restaurant Le Bataclan.
Dominique Nouvian, a starred smile
Originally from Picardy, Dominique Nouvian fell very early in the pot: his passion for cooking came from his mother, a cordon bleu who cooked delicious dishes for the whole family and introduced him to good cooking. At the age of 15, Dominique Nouvian entered apprenticeship at Château de Fère in Fère en Tardenois (2 stars, 3 Gault and Millau toques) and then perfected his talents at Les Bézards restaurant of Auberge des Templiers, Relais & Châteaux five-star hotel in Boismorand (2 stars, 3 Toques). He spent a year at the Royal Champagne in Eperney (1 star, 3 toques) and three years at the Restaurant Le Georges at the Hotel Spa Le Grand Monarque in Chartres (1 star, 3 toques). Arrived on the Côte d'Azur in 1987 at the Restaurant Borfiga in Eze Village, he obtained a Michelin star 2 years later. He then joined the restaurant La Rascasse (3 forks, 2 toques) in Monaco. Since August 2017, he has taken the stove of a new establishment created by Jean-Pierre and Alberte Escande, Le Sensais in Monaco.
Clément Cottard, pastry in herding
Clément Cottard is the son of the famous Christian Cottard from Pâtisserie Cottard in Antibes, the first pastry chef to become the godfather of the 2018 edition of the Chefs au Sommet d'Auron. After a BEP cuisine at Lycée Paul Augier Nice, he obtained a CAP pastry at CFA in Carros. He completed his apprenticeship at Pâtisserie Canet, "Creators of sweets in Nice since 1927", and obtains a complementary mention of Glacier, Chocolatier, Pastry, Confectioner. Diploma in hand, he returned to work in his father's pastry shop in Antibes for a year of learning before obtaining the title of Vaniller. He then works with Jacques Chibois in Grasse, Alain Ducasse in New York and at the Chabichou in Courchevel. Since 2011, he works at the family pastry alongside his father Christian Cottard.
Tasty and creative cuisine
Dominique Nouvian has delighted its guests by composing a delicious menu combining the flavors of the mountains and those of the shores of the Mediterranean, with a getaway to the perfumes from exotic lands, with a seasoning to take the taste buds to seventh heaven in a vitamin dynamism.
Amuse bouche: Capuccino of Celery with krispx Ham. You will take a good glass of this unctuous impatience, with an explosion of tastes supported by a hint of espelette pepper.
Starter: Risotto venere with Citrus fruits, Herbs Chips. A whole black rice, both crunchy and tender in the mouth, creamy with mascarpone, parmesan and cream, scented with olive and dried citrus zest, an ingredient whose only the chef has the secret… A delight!
Main Course: Roasted Ombrine back, Leek with Curcuma cooked at low temperature, Cress Butter. The fine flesh of this Mediterranean fish is sublimated by perfect cooking and melting vegetables where the iodized salad of seaweed on melting leeks responds to the richly vitaminized cress.
Dessert: Etoile des Neiges, My Loving Heart. Clément Cotard has put all his creativity to work for this artistic dessert covered with the snow of a light coconut shower. This perfumed, melting and unctuous dessert awakens with its colorful corolla of petals in cat's tongue.
About the restaurant Le Bataclan
At the foot of the slopes of Auron, the hotel restaurant Le Bataclan is famous – besides for its camel in zebra dress – for the comfort of its 33 rooms and the delicious gourmet gastronomy of chef Alexandre Emeric, who proposes a traditional homemade cuisine, or grilled meat and pizzas on a wood fire, fondues Bourguignonnes (with its real homemade sauces) or Savoyard, to taste in the vast dining room or on the large sunny terrace overlooking the snowy peaks. The wellbeing area with Spa, Hammam and Sauna awaits tourists and skiers after a day of sport before a relaxing evening by the fireplace at the bar or around the billiards.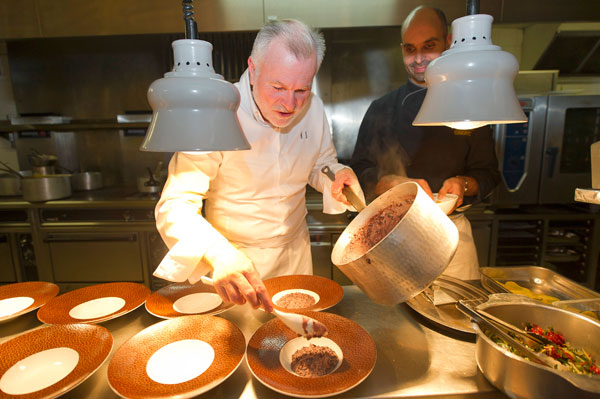 Memorable culinary experiences
With the sumptuous pristine mountains of Mercantour as a backdrop, the Auron Summit Chefs is a gastronomic event in Auron, Saint Etienne de Tinée and Saint Dalmas Le Salvage. For seven years, the Mountain Gastronomy Festival has been offering gourmet meals at unique and very affordable price in the restaurants of the resort as well as many culinary activities. A team of talented chefs and pastry chefs from the Côte d'Azur offers an authentic moment of sharing of culinary pleasures and conviviality with holidaymakers.
Les Chefs au Sommet d'Auron
From 20/01/2018 to 26/01/2018
Salle Rovery – Plateau de Chastellarès
Restaurants in Auron, St Etienne de Tinée and St Dalmas-le-Selvage
Information: Auron Tourist Office
+33 (0) 4 93 23 02 66
Chefs au Sommet d'Auron, Dominique Nouvian at le Bataclan in pictures
Click on pictures to enlarge – ©YesICannes.com – All rights reserved
Chefs au Sommet d'Auron, Dominique Nouvian at Le Bataclan
was last modified:
February 8th, 2018
by