Les Chefs au Sommet d'Auron welcomed Jacques Rolancy, chef of Le Rolancy's in Nice and pastry chef Philippe Brito from Cannes for a high gastronomy dinner at La Table du Chalet.
From 18 to 24 January 2020, Les Chefs au Sommet d'Auron – 9th edition – offered memorable gastronomic experiences to tourists and locals alike, with the sumptuous, pristine mountains of the Mercantour as a backdrop. Every evening, in addition to the chefs' show-cooking at the ice rink, renowned chefs officiate in the restaurants of the Haute Tinée resort and offer sumptuous gastronomic dinners at a unique and privileged price of 45€ per person. MOF chef Jacques Rolancy, chef at Le Rolancy's in Nice and pastry chef Philippe Brito, Pâtisserie Brito in Cannes, have delighted the taste buds of fine gourmets at La Table du Chalet, the restaurant of Le Chalet d'Auron Hôtel.
High gastronomy at the foot of the slopes
For the past nine years, the Mountain Gastronomy Festival has been bringing together many of the great chefs and talented pastry chefs from the French Riviera who share an authentic moment of culinary pleasures and conviviality at the foot of the trails in the heart of the sumptuous Mercantour mountains. During the Festival, great names from the culinary world perform real gastronomic feats every evening by creating four-handed dinners on previously unknown "pianos". On Sunday, January 19, Jacques Rolancy and Philippe Brito transposed the delicious culinary experiences of Le Rolancy's and Pâtisserie Brito to delight the guests' taste buds in the intimate, wooded and warm decor of La Table du Chalet restaurant, which was sold out for this exceptional dinner.
Jacques Rolancy, the French gastronomic tradition
The French gastronomic tradition is alive and well in Jacques Rolancy's family: his mother was the first woman Meilleur Ouvrier de France in 1982! Jacques did his apprenticeship with Pierre Orsi. He continued his training with Jean Vettard and then at L'Auberge du Père Bise before working with Philippe Jousse at Chapel. In Paris, he joins Joël Robuchon's brigade at Le Jamin where he works with Benoît Guichard, Eric Lecerf and Philippe Godet. Then he joined Le Taillevent where he worked with Christian Le Squer and Michel de Mattéis under the aegis of Claude Deligne and his second Philippe Legendre. Wishing to evolve, he spent four years at Le Laurent, including two years as a chef before taking over the kitchens of L'Auberge des Templiers in Les Bézards for three years. In 1983, the Hilton hotel chain entrusted him with the position of executive chef at the Hilton Park Lane in London with the aim of bringing a star to the establishment. Meilleur Ouvrier de France in 1996, the chef now practices his art in his dual-purpose establishment in Nice: the gastronomic restaurant Le Rolancy's and the bistro, Le Bistrot des Viviers.
Philippe Brito, passionate about chocolate
Philippe Brito likes to share his love of the profession, his experience and his uniqueness as a pastry artist. Before opening the Pâtisserie-chocolaterie Philippe Brito in Cannes in March 2011, Philippe took his first steps at the Maison Olcina in Cannes and perfected his talent in prestigious establishments such as the former Noga Hilton in Cannes, Alain Ducasse's Bar & Bœuf and the Monte-Carlo Bay Hotel in Monaco.
His cakes and sweets reflect his background and personality: traditional in taste and original in form and design. Renewing his creations according to the seasons to give the best to his customers, Philippe Brito makes it a point of honour to privilege flavours and originality in his creations. As for Philippe Brito's chocolates, they stand out from other chocolates thanks to their cubic aspect which has earned him the nickname of "pastry chef with square chocolates".
Flavours of sun, sea and land (Photos YesICannes.com)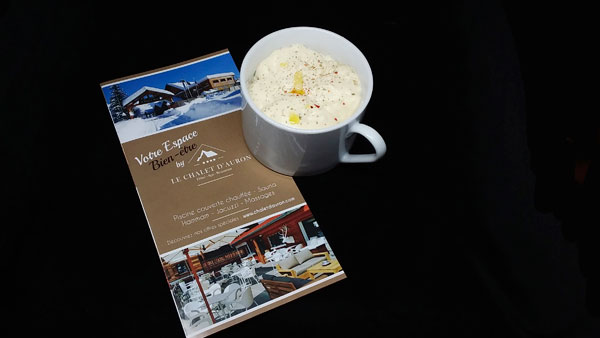 Chickpea Salad and Pagre Tartar, an Emulsion inspired by Oriental Hummus. The land and the sea are honoured in this tasty recipe with a sunny vegetable a little forgotten on our plates: chickpeas to accompany the delicate with a pronounced taste flesh of pagre.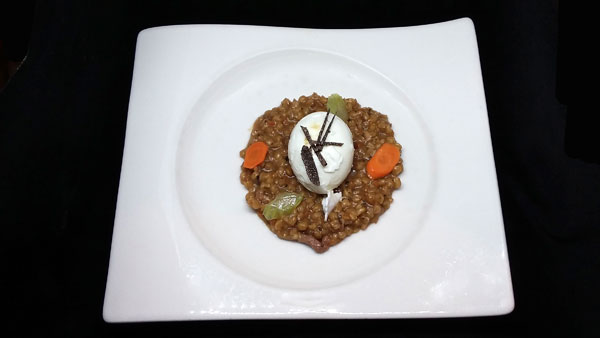 Soft boiled Egg and Small Spelt Stew with Truffles. A tasty egg from our mountains on a nest of orangey small spelt of altitude, half crunchy, half melting, with hazelnut aromas sublimated by the carnal perfume of the Truffle, the winter's Black Diamond.
Capon supreme enriched with its candied leg, young vegetables and Black Truffle Chips (tuber melanosporum 1%). A tender and tasty festive poultry, accompanied by its vitaminized and crunchy vegetables, ennobled with a Truffle juice, which gives all its dimension to the dish.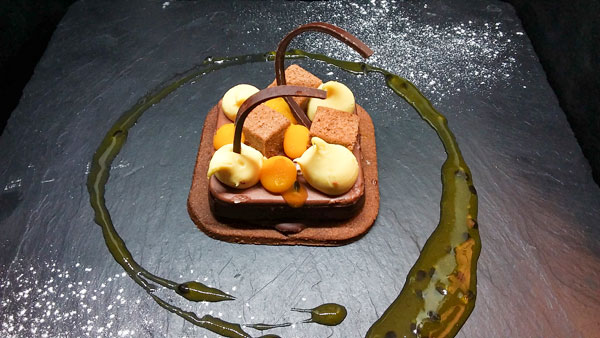 The Alliance between Chocolate and Passion. In a tangy, fresh and gourmande alliance, a delicious chocolate fondant, whose sweetness in the mouth preserves its full-bodied and bitterness, crowned with fine delicate mousses and cake cubes. A dessert with a sweet and crispy base, fresh in the middle and divine at the end with the chocolate caressed by the light acidity of the fruit.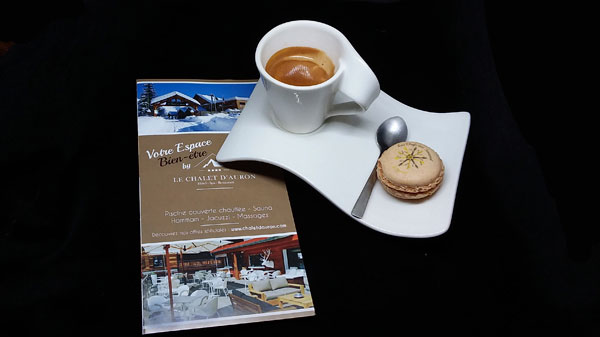 As mignardise, a delicious Mic Mac Macarons macaroon signed Bruno Laffargue with the logo of the Les Chefs au Sommet d'Auron.
About Le Chalet d'Auron
In the heart of the Mercantour mountains, in a traditional, friendly and warm chalet decor, with Pierre Frey's fabrics in the windows, the Hotel Restaurant Le Chalet d'Auron boasts a four-star rating. A panoramic terrace opening onto the snow-covered alpine peaks during the ski season, a heated swimming pool, a sauna and hammam and a semi-gastronomic table in the tradition of our mountains, complete a quality accommodation offer.
Authenticity, conviviality and sharing
The Mountain Gastronomy Festival Les Chefs au Sommet d'Auron reflects all what the hinterland of Nice and the Mercantour offer with generosity, in addition to the splendid mountain scenery: authenticity, conviviality and sharing. These are values to which the chefs are sensitive because they provide them daily. This is why a faithful team of starred and renowned chefs come to celebrate gastronomy in the setting of the magnificent snow-covered mountains of the Alps, delighting the taste buds of gourmets and holidaymakers on the ski trails.
Les Chefs au Sommet d'Auron
18 – 24 January 2020
Restaurants in Auron, St Étienne de Tinée & St Dalmas Le Selvage
Information: Office de Tourisme d'Auron
+33 (0)4 93 23 02 66
Jacques Rolancy and Philippe Brito at La Table du Chalet in pictures
Click to enlarge – ©YesICannes.com – All rights reserved
Les Chefs au Sommet d'Auron, Jacques Rolancy and Philippe Brito at La Table du Chalet
was last modified:
January 30th, 2020
by