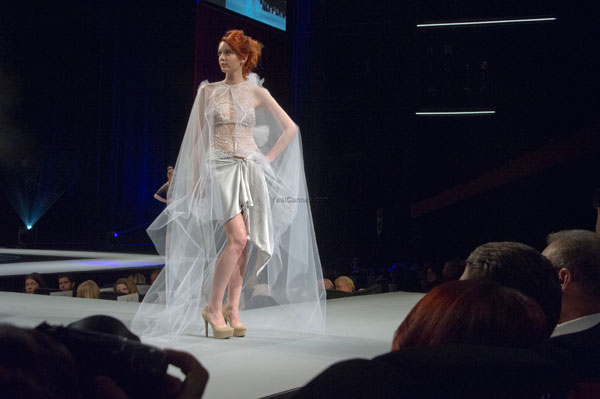 The future stylists from the Cours Aline Buffet delighted the Cannes Shopping Festival public on April 5, 2015, with creations showing all their creative talents.
The Cannes Shopping Festival has showcased 27 designers of tomorrow, the students from Cours Aline Buffet, the fashion school in Cannes, offering them their first fashion show before an audience of demanding amateurs. And that, on the largest cinema stage in the world, the Cannes Palais des Festival Grand Auditorium, which sees each year the greatest international cinema stars parade to receive their rewards, such as Brad Pitt, George Clooney or Angela Jolie.
A daily fashion creative work
The large audience had the pleasure to attend a splendid fashion, but also the great adventure of all these girls who have feverishly prepared for days the precious models they were to present at this first meeting with the public, their future clients. The first, the unforgettable, which would may be open in the future, the doors of great fashion houses.
Some students from Cours Aline Buffet have already made a name for themselves in fashion like Genesia Walle or Coralie Boisset-Stüben and Elodie Shadbolt who created their "griffe" NAASH or Karen Albertelli with Mademoiselle Croisette.
The stylists in the parade
Karen Albertelli (Mademoiselle Croisette), Lisa Banh, Caroline Bar, Nika Baranski, Alexandra Batailler, Mathias Beridon, Paloma Bernardot, Coralie Boisset-Stüben (NAASH), Hermine Bonvallet, Emilie De Lorenzo, Justine Gery, Myriam Habib, Aleksandra Laigle, Manon Mariotti, Laura Nataf, Alexia Nuttal-Barber, Virginie Périgard, Mariana Perrier, Typhaine Richer, Stéphanie Rigal, Elodie Shadbolt (NAASH), Alexia Solimeis, Charlotte Stephan, Véronica Tavares, Maëva Terrier and Genesia Walle.
See also about Cannes Shopping Festival 2015: Denis Durand's Couture Retrospective and Denis Durand's Dream Promenade
A high pace fashion show
Throughout the evening, on an upbeat musical rhythm, the lovely models from the Enjoy Models Agency succeeded at breakneck speed as the models to showcase were numerous. Dressed in turn in cocktail dresses or Grand Soir gowns, they let themselves be admired on each sides for the public to detail the presented outfits. In the end of the show, the sumptuous wedding dress designed by Aline Buffet and realized by the students from Cours Aline Buffet, reaped thunderous applause, concluding this exceptional evening dedicated to aspiring designers already at the peak of their art. We invite you to discover their gorgeous creations with the over 100 pictures below.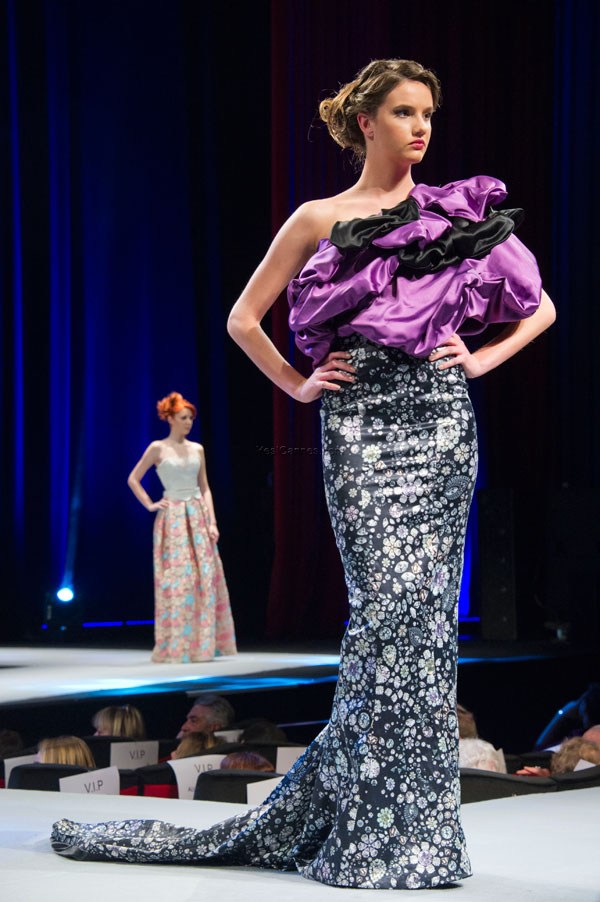 About Cours Aline Buffet
The fashion designer Aline Buffet is the director of the Fashion Private School Cours Aline Buffet in Cannes. The school provides a training based on the Haute Couture technique, favoring the creation and hand labor, guaranteeing a unique know-how. The students are trained to analyze the latest fashions and trends to better give every chance of success to their creativity.
Click on pictures to enlarge – ©YesICannes.com – All rights reserved
Cours Aline Buffet Outstanding Fashion Show
was last modified:
April 11th, 2015
by