At TFWA-WE 2015, Furla has unveiled iTs collection Spring Summer 2016, a journey in search of infinite shades of light and color across Italy.
The new Spring Summer 2016 Furla Collection is a source of energy and vitality, a journey through the Italy of elegance, lights and colors, dedicated to demanding women who want the finest materials in a contemporary and timeless style, all about luxury. The latest bags, clutch and totes were unveiled by the President of Furla, Eraldo Poletto, during a gala evening at the Hotel Majestic.
Sparkling lifestyle impregnated with vitamins
A sense of sparkling and vitamin permeates the collection, with a palette of fresh and bright colors where bright yellow, deep red and fresh news, like the lime green and turquoise, are dominating. This range, mixing with warmer tones keys, like saffron or ocher of Siena and neutral gray and beige, give a very sophisticated look to the entire collection. The collection is inspired by a dynamic woman who is constantly moving and connects to the Internet wherever she is, as much for fun than work. This modern globetrotter portrays a style that is both sporty and luxurious, a contemporary blend of elegance and freshness, chic and fantasy.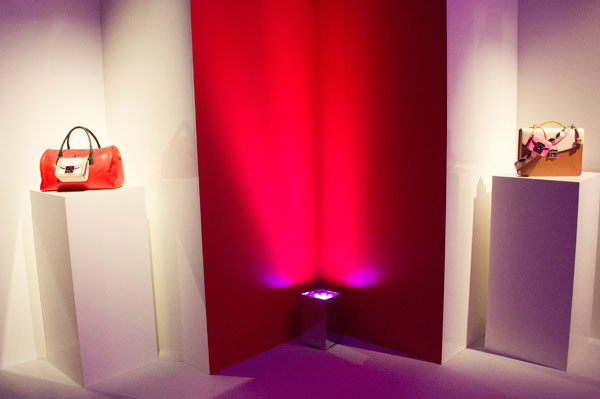 Ease, gaiety and chic
The Spring Summer 2016 collection expresses a lifestyle infused with Furla's ease, gaiety and chic and "Made In Italy" quality. Boasting Op Art artistic touches, burst of light and unstructured forms, the expertise of the brand's leather craftsmen gave the collection a practical inventiveness and versatility to the bags, which are equipped with mini detachable bags which can serve as extra pocket or stylish evening clutch. A way to cope with the busiest schedules and most varied outfits! Much attention was also paid to details and materials, with a focus on artisanat.
Bags for all occasions
Multifunction bags, in a contemporary, joyful and colorful, like the Furla Dama and the maxi clutch Furla Fantasia come with a detachable Metropolis bag on the outer flap and the Furla Artesia bag features a removable inner pannel with slots for the wallet, the Smartphone, coins and other everyday essentials. Vivid colors and bright patterns are worn on any occasion, for modulating one's look from morning to evening: in the office, as spacious maxi format associated with a removable mini Metropolis as extra pocket, as maxi clutch for a drink with friends (without the mini Metropolis), or in a glamorous version for an elegant night out, wearing only the mini-Metropolis.
About Furla
The house Furla, launched in 1927 by Aldo and Margherita Furlanetto in Bologna, designs, manufactures and distributes handbags, wallets, purses, small leather goods, shoes and accessories of outstanding artisan quality. Each collection offers some shapes and styles to suit all personalities, highlighting practical, innovative and trendy, elegant clean lines.
To support new creative talents, the house initiated some awards such as "Italy's Premier Award for Contemporary Art", the "Premio Furla Per L'Arte" and "Furla Talent Hub", making it possible for Italians and young designers from around the world to present their creative vision through products manufactured under the emblem of the company.
Click on pictures to enlarge – ©YesICannes.com – All rights reserved
Furla Feeling at TFWA WE-2015
was last modified:
November 11th, 2015
by