Gastronoma, the Salon of Gastronomie in Cannes, took place from April 8 to 11, 2016 at the Palm Beach, turned into palace of flavors and showcase of starred chefs skills.
Gastronoma, combining prestige and gourmandise, turned the Palm Beach – a mythical place of the Cannoise legend – into a temple of savors from the Southern territories where the artisan producers of diverse and varied gastronomic delights were giving some 30,000 visitors an appetite before they had the pleasure to taste the dishes prepared by starred chefs demonstrating their skills.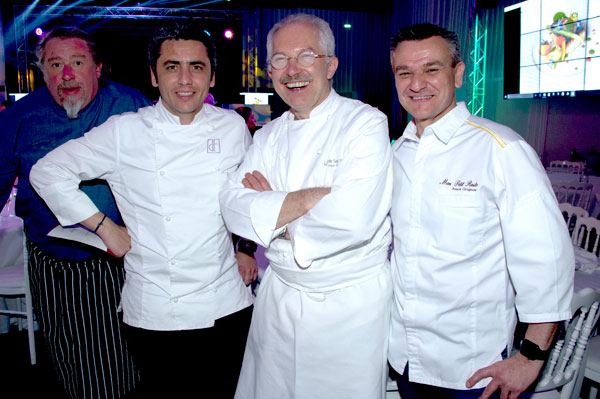 Cooking like a real chef
During the four days of Gastronoma, more than a hundred exhibitors offered on 5,000 m2 some products of excellence from the the French and Italian terroirs like fine products: caviar, foie gras, truffles, Champagne, terroir products like pepper, olive oil, cheese, panettone, nougat, tapenade and organic, fair trade or sustainable development products such as homemade ice cream, fresh squeezed fruits…
The offer was completed by equipment and accessories to cook like a chef, workshops by talented chefs and lectures on the art of Bien Manger by Brigitte Leloup, master sommelier, and starred chefs or meilleurs ouvriers de France (MOF).
Chefs from the French Riviera of the association Les Toques Brûlées, led by the truculent David Faure, chef of Aphrodite in Nice, proved in a stunning way that gastronomy knows how to mix flavors, sensations and show.
The clown Ciboulette and his puppet Oscar la Star, entertained young and old, circulating in the aisles of Gastronoma aboard a multicolored cart.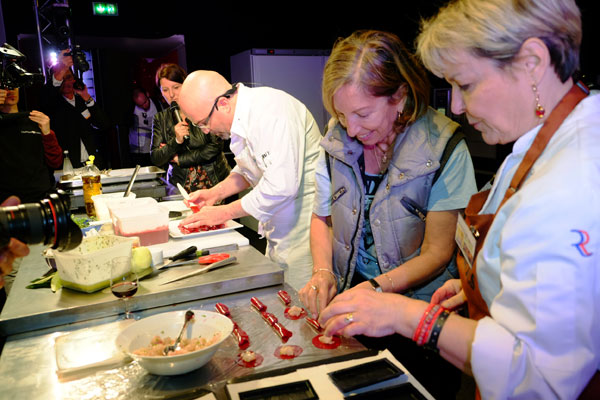 Live demonstrations of gourmet recipes
During the 4 days dedicated to the pleasure of the senses, many culinary demonstrations by prestigious chefs from the region were performed live. Among these prestigious chefs, Marianne Meschi, chef of Le Comptoir in Nice uncovered the secrets of her Mashed Avocado, Grapefruit and Ginger Chutney Gravelat Salmon, Crumble of Apples, Red Fruits, Chestnut and Almond, Lemon meringue tartlet (bio, without gluten).
On Sunday, Didier Chouteau, from the Amandier de Mougins, has demonstrated the Sar "de Petit Bateau" in a Beetroot ravioli, candied Kumquat, salad of Granny Smith. Christophe Dufau, chef of Les Bacchanales in Vence, dazzled the audience with his Goat Cheese from Tourettes sur Loup, Krakers des Bacchanales with Malt flour.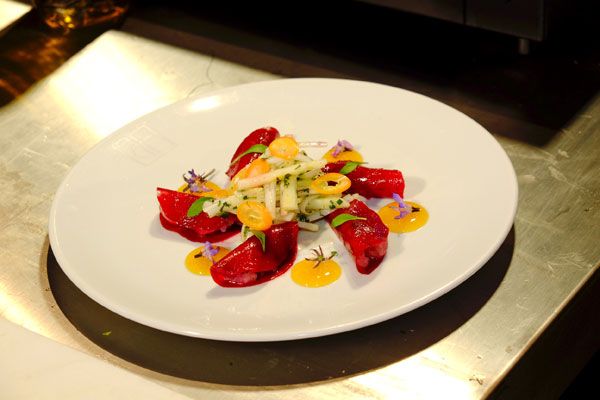 Gala night and haute cuisine
For the restauration, The Gastronoma bistro has proposed a gourmet break on the panoramic terrace with views over the Lérins Islands, but the main event of the salon of gastronomy in Cannes was the Gala dinner that offered an haute cuisine menu. The dinner was preceded by events including a fashion show with beautiful models, including the lovely Ksenia Antonova, Miss Prestige Côte d'Azur 2015.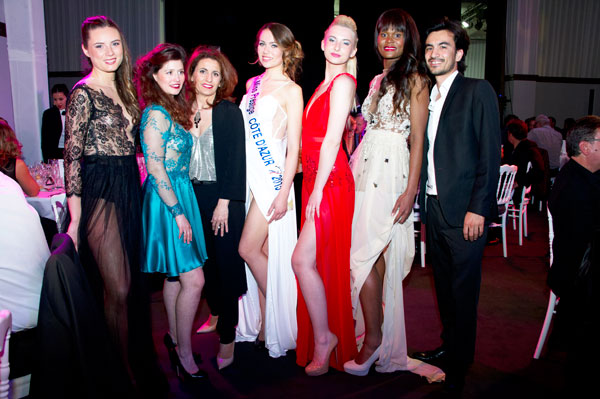 A ten-hand gala dinner
David Chauvac had prepared the amuse-bouche: Candille Crespeou, condiment in 3 colors. The cold appetizer was Denis Fetisson's creation: Carpaccio of Langoustines in Citrus flavors, Mango Coulis and Granny Smith Apples. The fish dish by Emmanuel Ruz distinguished itself by its originality: Zucchini Flower stuffed with Cod mousseline, Peas cream, vanilla Olive Oil. Franck Cicognola impressed the guests with his delicious boned Guineafowl, rolled in fresh herbs, with cooking juices, truffled Potatoes and bouquet of crisp Vegetables.
The gala dinner ended in style with the succulent Symphony of Strawberries on its Douceur of Mandarine, garnished with a vanilla emulsion, Sorrel sorbet by the great Jacques Chibois.
Brigitte Leloup selected some prestigious wines from Italian and French vineyards to accompany these exceptional dishes: Prosecco Domaine Astoria, Tenura Caretta Cayega (white). As red: the Tenura Caretta Il Palazzo and Les Terres de St Hilaire – Oppidum. For rosé, the Master Sommelier chose Les Petits Cœurs de Grains Henry de Bellegarde.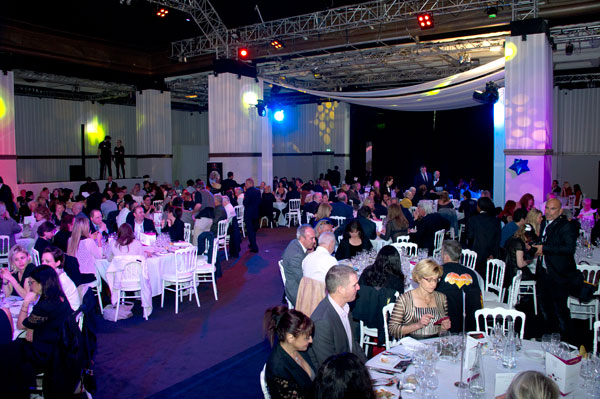 Under the patronage of starred chefs
The second edition of Gastronoma mobilized the patronage of prestigious starred chefs such as Jacques Chibois (La Bastide Saint Antoine in Grasse), David Chauvac (Le Mas Candille in Mougins), Denis Fetisson (La Place de Mougins), Emmanuel Ruz (Lou Fassum in Grasse), Franck Cicognola (Mon Petit Resto in Mouans-Sartoux) as well as the Vice President of the Association of Sommeliers of Europe, the master sommelier Brigitte Leloup to suggest food/wine pairing.
Click on pictures to enlarge – ©YesICannes.com – All rights reserved
Gastronoma, Prestige and Gourmandise at Palm Beach
was last modified:
April 14th, 2016
by