The Jilali B in Theoule celebrated its renewed title of Maitre Restaurateur, awarded four years ago to the chef Berrekama Jilali at a ceremony on February 5, 2015.
More than an award, the renewal of the Maitre Restaurateur title awarded four years ago to the chef Berrekama Jilali and his team of Jilali B, gastronomic restaurant in Theoule sur Mer, is a recognition, a testimony of the work and passion for a work well done. The ceremony was attended by Georges Botella, Mayor of Théoule and members  of the ICC and City Council representatives.
A course of excellence
Berrekama Jilali's professional curriculum in prestigious establishments demonstrates his commitment to excellence:
– Le Relais de Sèvres, at the Sofitel Paris, one Michelin star,
– The Mess at the Office of the Ministry of Defense and in the service of Gérard Longuet, Minister of Posts and Telecommunications and Foreign Trade,
– The Grand Hotel Du Cap Ferrat – Relais & Châteaux – Restaurant Le Cap, one Michelin star, with JC Guillon,
– The Hotel de Paris in Monaco – Restaurant Le Grill, one Michelin star,
– L'Oustaou de Baumanière – Relais & Chateaux,
– The Hotel Negresco – Restaurant Le Chantecler, two Michelin stars, with Dominique Lestang and Mr. Lorca.
After working as sous-chef at Restaurant L'Oasis, two Michelin stars, with Stéphane Raimbault, as chef for the opening of the restaurants Bruno in Saint Tropez and Monaco, then as chef at La Bastide de Capelongue, Relais and Chateaux and finally at the Miramar Beach Hotel in Théoule, Berrekama Jilali acquired the Jilali B in January 2010.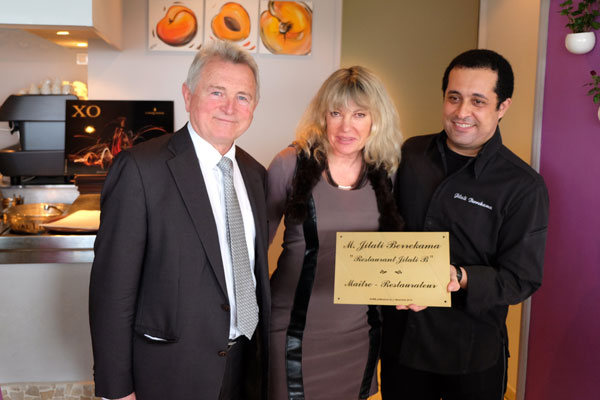 Talent and passion
In a natural setting, a garden within the red rocks of the Esterel mountains that plunge into the blue of the Mediterranean at its feet, the Jilali B offers breathtaking views and an exceptional menu, fruit of the chef's talent and passion.
Some examples to savor: Red Mullet with Espelette Pepper, Catalane with pickled caper; Coquilles Saint-Jacques with salted Butter, Cream Cheese with Chives; Back of Cod in Olive crust, Parmesan cream and small stuffed Tomato; Roasted Wild Wolf, Little purple Artichoke and Pancetta cooked in truffled casserole…
During the month of February, you can find these dishes in the Kermesse aux Poissons menu.
About Maître Restaurateur
The title of Maître Restaurateur issued by the state, controlled by an independent organism, rewards confirmed professionalism and homemade cuisine, with a commitment to transform raw and fresh products. It is a guarantee of quality of the dishes, hospitality and service, concern for conviviality and perfectionism.
Click on pictures to enlarge – ©YesICannes.com – All rights reserved
Jilali B Maitre Restaurateur
was last modified:
February 6th, 2015
by