Ma Loute, Bruno Dumont's crazy comedy, will devour any pessimism with his hilarious gallery of extravagant protagonists, cranks, eccentrics, birdbrains and nutters.
Ma Loute brings together in a wacky comedy Fabrice Luchini, Juliette Binoche and Valeria Bruni-Tedeschi, on a background of ch'Nord accent in the Bay of Slack, swept by the pure winds of the North Sea under a rather gray sky. Two families brush against one another in the dunes: a wealthy bourgeois family from Lille and a family of local fishermen. One eats legs of lamb, the other… tourists.
A cast of wacky characters
After his comic-detective series P'tit Quinquin, the northerner French filmmaker Bruno Dumont continues in the comedy with a water and sand thriller in the North of France, caught between a bay, some dunes and a tiny estuary that Ma Loute, a young fisherman and his father, "L'Eternel", take across those who don't want to get their feet wet by carrying them in their arms.
We are in 1910 and the Van Peteghem, a chaotic bourgeois family from Lille, arrive in their villa overlooking the bay for the holidays. They will learn by inspector Machin and his sidekick Malfoy, two police pieds-nickelés, unlikely transplant of Dupont and Dupond on Laurel and Hardy, that tourists from the Lille-Roubaix-Tourcoing area have mysteriously disappeared.
Thus begins a hilarious investigation combining situation comedy, visual gags, funny dialogues with Northern accent. We so laugh from the beginning to the end of the film that it's worth a session of abdominals toning!
Burlesque, pathetic and dementia
To interpret the locals, Bruno Dumont has found actors with incredible faces, silent beanpoles, disobedient children, surly women and hysterical tourists. All these people are swimming in burlesque! At the Van Peteghem's, plenty of fools: André (Fabrice Luchini), the head of the family, is a crackpot, a hopping hunchback who marvels at everything, his wife Isabelle (Valeria Bruni-Tedeschi) is a pale birdbrain, overtaken by events. André's sister, Aude (Juliette Binoche) a pathetic crank and Isabelle's brother (Jean-Luc Vincent), an obsessive nutter… Last but not least, here comes Billie (Raph), a girl disguised as a boy (or the opposite?) who will make the link between his(her) family and that of the Bruforts by falling in love with Ma Loute.
Fishing for ghouls
Luchini is wildly funny! He is playing with his usual jubilation, adopting an amazing body transformation. Juliette Binoche is laugh-out-loud funny when she screams, totally freewheeling. Inspector Machin, entangled in his enormous belly, rolls from dune to dune, in a series of priceless, wildly original visual gags. This bunch of characters, each crazier than the next, though arrives at the conclusion of the disappearance case: the tourists were ending up in the Bruforts' bowl. But Ma Loute seems to reject his cannibalistic instincts as he saves the latest victims promised to the chopper!
Even if Ma Loute deals with cannibalism or incest, Bruno Dumont succeeds to have everything accepted through laughter, without falling into caricature or squeaky. With the same lightness that lifts up the heavy but touched-by-grace inspector Machin, floating in the air like a balloon at the end of his line.
Numerous awards at Cannes
With Ma Loute, Bruno Dumont, a regular of the festival, returns to the Competition on La Croisette. His first feature film The Life of Jesus earned him the Camera d'Or in 1997. Entering the official competition two years later, his film Humanity received the Grand Jury Prize and earned Emmanuel Schotte and Séverine Caneele the Best Actor and Actress Award. In 2006, his fourth film Flanders also received the Grand Jury Prize. Bruno Dumont chaired the Jury Camera d'Or in 2008 and presented Hors Satan in Un Certain Regard 2012 and P'tit Quinquin in the Directors' Fortnight in 2014.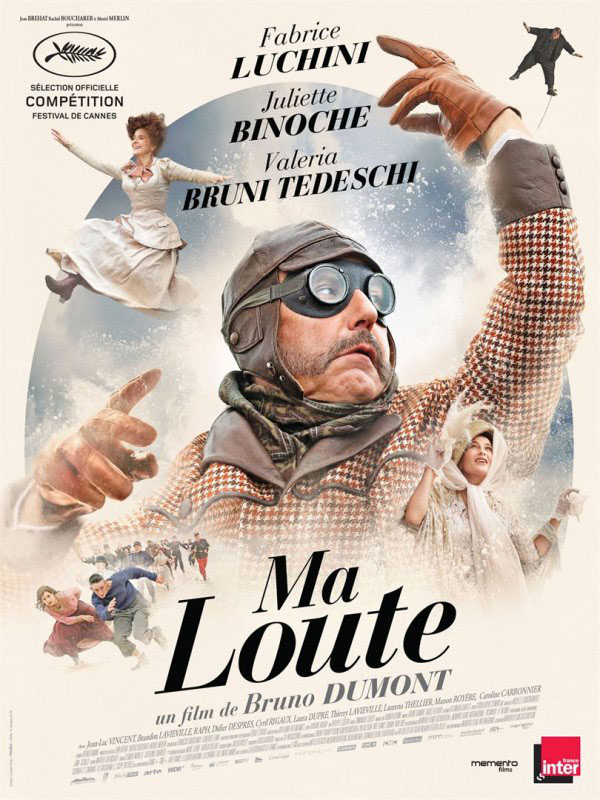 Ma Loute by Bruno Dumont
Official competition – 2h02
Click on pictures to enlarge – ©YesICannes.com – All rights reserved
Ma Loute, Ghouls Fishery at Festival de Cannes
was last modified:
May 14th, 2016
by