During the closing press conference of the 47th edition of Midem in the presence of Bruno Crolot, Reed Midem's Music Markets Director, Marc Thonon, Director, Atmospheric, President SPPF – The Independent Labels (France), Drunken Tiger, Artist (Korea) and Josh Rabinowits, SVP/Director of Music, Grey Group (USA) and Ewan Lowenstein, Founder& CEO Stageit (USA), it was recalled that midem was historically the world's largest gathering of professionals in Cannes, and it has yet proved it this year and remains a can't-miss rendezvous of the music industry.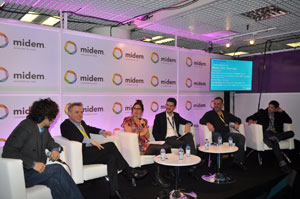 Despite a drop in attendance from 7% comparing to 2012, midem 2013 hosted 6,400 participants from the world of the music industry and new technologies, but also from the art world in the four corners of the planet. Bruno Crolot, Director of Midem, drew a positive balance of these three days interspersed with conferences (114 in total and 305 workshops with stakeholders), with more than  600 artists present, 80 concerts throughout the city, including those at beautiful Magic Miror and the performance of celebrities such as Madness and Lou Doillon and especially 3,300 companies and 184 startups came together to do business as well as 338 journalists from the entire world. Despite the crisis, heavily weighing on the minds and discussions, he has also insisted that there would indeed be an edition next year from 25 January 2014 and that it would take place at the Palais des Festivals, silencing rumors. Mr Crolot emphasized he had great ambitions and wanted to see the global market grow from 23 billion to 100 billion in the coming years by improving the venue areas and topics. Innovation, new players and new uses were now parts of the landscape in Cannes. Startups were rewarded and one has been able to meet Aurélie Filippetti, Minister of Culture and Communication, at the inauguration of the exhibition. Laure Pélegrin, delegated to SMEs, innovation and the digital economy came present a Midemlab special prize with the presence of guest of honor Jean-Michel Jarre who came for an event around Taiwan to further promote copyright, especially in China, as well as ministers from Finland, Malaysia or Germany.
Several countries absent from the event in previous years had again a pavilion, however, representatives from United States, Scandinavia and Southern Europe were less numerous.
This year the "core business" of the music industry accounted for approximately 70% of participants against 15% for the technology sector, 10% for agencies and brands, and about 5% for artists. According to Bruno Crolot, the shortfall in terms of participant this year especially comes from the "core business", with a reduction of rather small industry structures which see public subsidies decrease and consequently reduce their delegation.
To succeed Korea (the public was also able to enjoy the fantastic show by Drunken Tiger, dandy hip hop from the land of morning calm), Brazil will be honored next year. Further proof that 2014 will be the year the country of samba.
Click to enlarge pictures
 Our midem 2013 highlights
midem in The Image of World of Music
was last modified:
July 17th, 2013
by