On 7 February 2013, within the 9th Ministerial Meeting of the International Francophone Games Steering Committee at the Villa Massena Nice, Mrs Valerie Fourneyron, Minister of Sports, Youth, Education and Popular Education and Associational Life and Mr Christian Estrosi, Mayor of Nice and President of the Metropolis Nice Côte d'Azur, announced at a press conference in the presence of Mr. Eric Ciotti, President of the General Council of the Alpes Maritimes, Patrick Lallemand, senior vice president of the Regional Council of Provence-Alpes-Côte d'Azur and Municipal Councillor in Nice and many other personalities, that the National Museum of Sport will settle in the Allianz Riviera stadium in Nice.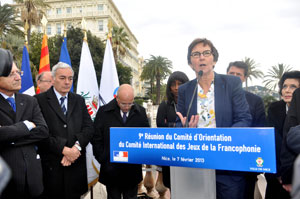 This awaited installation in a 5,500 m2 space, will enable to showcase one of the largest collections of sports objects in the world, with more than 100,000 pieces. Often called the "Pearl of French heritage," the wealth of the National Museum of Sport will for the first time in Nice find a venue befiting its importance. The establishment labeled "Musée de France" will contribute to the culture of sport influence in Nice, the metropolis Nice Côte d'Azur, the Provence Alpes Côte d'Azur region and  throughout France and beyond the French borders.
In addition to the heritage collections and documentary reserves, the Museum will host permanent, temporary and events exhibitions, a children's museum, an auditorium, a shop and a research center. The Minister and the Mayor both welcomed that an agreement was found to allow the installation of the National Sports Museum in Nice. This project indeed meets the three requirements that partners had set: a project enabling to sustainably promote the unique collections of the Museum; a project preserving the status of its agents; a balanced and bearable financial arrangement for each of the stakeholders. The installation operations will begin in 2013.
Click on pictures to enlarge.
The National Sports Museum Settles in Nice
was last modified:
July 17th, 2013
by