On 8 February 2013, the official launch of the first works of the multimodal hub Nice Thiers was held in the presence of Mr Christian Estrosi, Mayor of Nice and President of Nice Côte d'Azur Métropole, Mr Eric Ciotti, President of the Alpes Maritimes General Council, Mr Patrick Lallemand, First Vice-President of the Provence-Alpes-Côte d'Azur Regional Council and Nice Councillor and key stakeholders and project partners.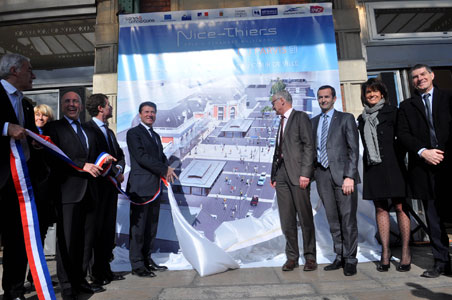 On this occasion, Mr. Estrosi recalled that the Metropole and the City of Nice were the largest contributors to this ambitious project, with a participation amounting to 17.4 million euros. The mayor emphasized that this multimodal hub operation fits into the reconquest of these degraded areas. Improve the welcome, the traffic, passenger comfort by encouraging exchanges towards rail and public transport of the city, pedestrians, two-wheelers and taxis traffic while revitalizing old surrounding neighborhoods, so is the ambitious project on which all partners have been working since 2009.
By 2020, attendance at the station will have grown from 7 to 11 million rail passengers. With this need, the Provence-Alpes-Côte d'Azur region, the Nice Côte d'Azur Métropole, the Alpes-Maritimes, Réseau Ferré de France, Stations & Connections (SNCF), the State and Europe are engaged in a Citizens' Agenda, in an eco responsible approach in accordance with the National Programme of Ancien Degraded Districts Redevelopment that supports the action of the City of Nice for the rehabilitation of the Thiers district. The project will create a united space: the station forecourt will be emptied and equipped with services kiosks and a pathway will be created, leading to the Thiers tram station. A new building should house SNCF services, shops, a hotel and a 150 space car park.
Accessibility, interactive information systems, innovations in sustainable development, security and new services… The transformation of the Nice Ville train station into a multimodal exchange hub set up Nice towards a dynamic and effective future. Each citizen or traveler will now be able to travel and be part of a new heart of the city.
Click on pictures to enlarge
Nice Multimodal Hub Launched
was last modified:
August 13th, 2014
by