Agecotel 2016 was the backdrop for prestigious and delicious culinary competitions, including the Neptune d'Or and La Main d'Or au Féminin.
Agecotel, the 27th trade fair for restauration and hotel sector in Greater South took place in NiceExpo from January 31 to March 3 2016, with Joël Robuchon, the most starred chef in the world as Godfather. The salon has honored the best sea products on two prestigious competitions that took place on January 31 and February 1, 2016: the Neptune d'Or (Golden Neptune), imagined by Marcel Lesoille, World Champion of oysters opening in 2008, and La Main d'Or au Féminin.
Contest Neptune d'Or
Under the presidency of Michel Roth (MOF and Bocuse d'Or, Director of the Hotel President Wilson's kitchens in Geneva) and Guillaume Gomez (MOF), the event was hosted by Carinne Teyssandier, famous reporter in Télé Matin broadcast aired on France 2. The fine cook TV star offers tasty recipes live from Rungis. The jury, chaired by Stéphane Coco, winner of the 2014 edition, was composed of 12 members including prestigious chefs and food journalists.
Stages of the competition
The Neptune d'Or contest was reserved for women and men professional chefs. The participants shared their talents in the afternoon of January 31, 2016 on the theme of seafood. The 6 selected candidates were accompanied by their apprentice chef or their commis (age limit 22 years maximum). They had to realize – in 3 hours maximum – a recipe of their choice, developed from the imposed products: Turbo, Lobster, Horse Foot (a variety of flat oyster). Standing on a silver platter the culinary achievement called Neptune d'Or received the appreciations of the jury after tasting.
The winners of the Neptune d'Or
Rocco Seminara (La Salle Empire in Monaco) with its dish: Turbot meunière, crunchy Apples, Beads of Horse Foot, crispy Jardinière and Breton Lobster, Venere Rice with Verbena, tangy Juices, acceded to the higher step of the podium follwed by Chahrazad Bougamza (Les Terres Blanches in Tourettes) and Eric Rabazzani (La Place de Mougins).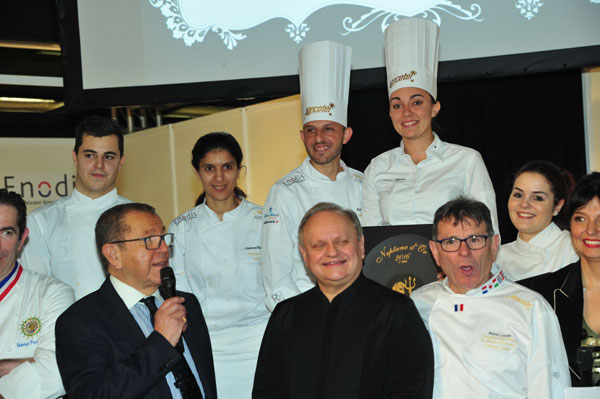 Main d'Or au Féminin
The event La Main d'Or au Féminin was chaired by Joël Robuchon with co-chairs Michel Roth and William Gomez. President of the jury, Dominique Loiseau and a host of women 'cheffes' (12 in total), composed the jury including TV star Mercotte, Claire Verneil, Hermance Carro, Anne-Claire Tronquoy… The cheffes shared the difficult task to decide between the candidates. La Main d'Or was hosted by Carinne Teyssandier, host of Télé Matin broadcast on France 2.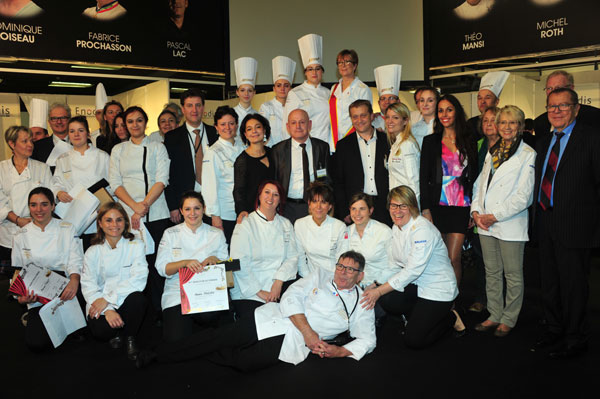 Organic sea food
The first female contest main objective was to highlight the sea and its organic food products. He addressed this year to schoolchildren from French hotel schools, accompanied for the test by their master trainer. A total of 6 candidates contested that delicious culinary event. Nimble fingers, hands of gold and talent had to be deployed by the competitors to win the Main d'Or au Féminin trophy.
La Main d'Or winners
Jennifer Capelle-Grandet (ICFA Bordeaux, Coach Norbert Gimenez) was the lucky winner of the contest with a declination around the turbot: Turbot with Potimarron scales and Hazelnuts crust, Beet in Rubicube orange-ginger, Parsnip and Cromesquis coconut-green lemon and Sauce Hollandaise. 2nd: Alyssa Berger (Lycée des métiers Georges Frèche, Montpellier), 3rd: Pauline Gillet (Lycée les Portes de Chartreuse, Voreppe).
Best Baguette Trophy
For lovers of good bread, the Trophy for Best Traditional French Baguette took place on February 2, 2016 at the restaurant of Lycée Hôtelier Paul Augier in Nice. Sébastien Blanc (Biolangerie Blanc, Nice) was crowned king of the baguette, followed by Stéphane Lapalme – Le Pain d'Olivier (Mougins) and Ludovic Ray – Boulangerie des Alpes (Séranon).
Click on pictures to enlarge – ©YesICannes.com – All rights reserved
Neptune d'Or and Main d'Or at Agecotel
was last modified:
February 29th, 2016
by