The third Nuits Lyriques de Chateau Thuerry, under the banner of Love and Friendship, brought together talented musicians, including virtuoso François-René Duchâble.
Under the sign of Love and Friendship, the third edition of Nuits Lyriques de Chateau Thuerry gathered from August 4 to 6, 2015, around artistic director Sandrine Sutter and the Musique en Provence association, highly talented artists including the famous virtuoso, the pianist François-René Duchâble.
A collective musical adventure
The collective adventure of the Festival of Nuits Lyriques de Chateau Thuerry, involving Wine, Music and Poetry is born from the meeting of three people: Sandrine Sutter, lyrical singer, Jean-Louis Croquet, Vigneron, owner of the domain Chateau Thuerry and Alain Vagh, ceramic artist in Salernes, who lent a piano decorated with mosaics. About  this year's theme, Sandrine Sutter said: "Love and Friendship are two values that I think are essential in music but especially in Life". For the Nuits Lyriques, Sandrine Sutter gathered around her a team of faithful "companions on the way" she met during her career.
Sweet Love songs
On August 4, 2015, the Nuits Lyriques de Chateau Thuerry were on the paths of love with the performance of Sweet Love Songs, between Renaissance and Romanticism, performed by a talented troupe of musicians, singers and actors: Sandrine Sutter – mezzo-soprano, Isabelle Philippe – soprano, Fernand Bernardi – bass, François-René Duchâble – piano, Tanjia Muller – flutes, Daniel de Moraïs – theorbo and archlute. The musicians brilliantly performed works by Monteverdi, Luly, Mozart, Rossini, Chopin, Berlioz or Verdi.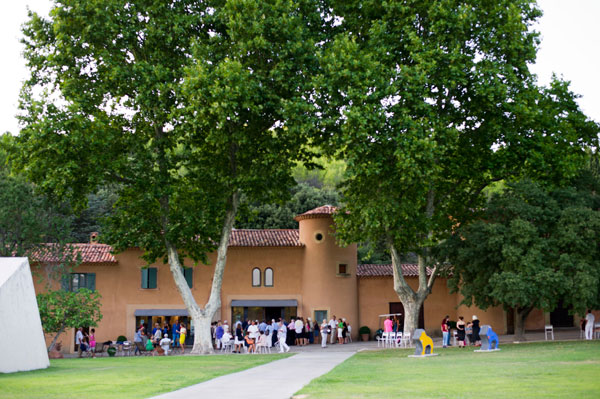 Sparkling virtuosity
Sharing his love of Lyric Art, François-René Duchâble accompanied the singers and interpreted several pieces for piano with sparkling virtuosity, his fingers giving birth to bewitching melodies and cascades of notes that delighted the audience.
Olivier Blazuc, actor and director and Céline Chéenne interpreted letters of love and passion between famous artists and characters like Napoleon to Josephine, George Sand to Flaubert, Rodin to Camile Claudel or the Marquis de Sade.
Exception of artists in an exceptional place
The 2015 edition of Nuits Lyriques du Chateau Thuerry also innovated by presenting love and passion with Bizet's Carmen in original staging, investing several places: the square in front of the castle, the cellar with its sculpture of a bull, to finish on the scene between the cellars, whose acoustics are surprisingly good. The aim of the family of artists animating the  Musique en Provence association is to create musical event "outside the institutions" and achieve "concrete utopias" in exceptional places with highly talented artists. A way of living their summer recreation while realizing a re-creation of musical and lyrical masterpieces.
About Chateau Thuerry
The domain of Château Thuerry in Villecroze, in the heart of Var, covers 340 hectares, including 45 hectares of vineyards, around a majestic country house whose origins date back to the Knights Templar. It is located in the heart of the Parc Naturel du Haut-Var Verdon and produced three vintages of wines: Le Château, Les Abeillons and L'Exception as well as a "traditional method", a sparkling Blanc de Blancs.
Click on pictures to enlarge – ©YesICannes.com – All rights reserved
Nuits Lyriques de Chateau Thuerry Paths of Love
was last modified:
August 7th, 2015
by