A regular highlight in the Cannes summer season, the Festival of Russian Art opened with the Folk Dance Ensemble from North-Alania Ossetia.
The 18th edition of the Russian Art Festival, thanks to a quality artistic programming, unveiled the wealth of this nation which, for more than a century, has been maintaining friendly relationship with the Capital of Cinema. During five days, concerts, exhibitions, ballets, theater, puppet theater, symphony orchestra, are plunging the public into a fabulous Russian atmosphere.
The wonderful "Alan" from Ossetia
The Russian Art Festival offers an overview of the Art and artistic expressions from Russia, whose cultural richness is inexhaustible. For the opening night at the Palais des Festivals in Cannes, the folklore show Alan by the entire North-Alania Ossetia Folk Dance Ensemble, unveiled its folklore and traditions through the talent of its artists. Throughout the evening, the magic of "Alan" took the audience to the origins of this famous "Russian soul", so complex to understand and so endearing.
Magic, poetry and magnificence
With the show Alan, the audience at the Debussy Theatre was carried away in the unknown lands of the immense Russia. The talented artists let the public discover all the mysteries of this Caucasian republic. Music, songs, men with a virile stature, dressed in Cossack and wearing the chapka, executed energetic and acrobatic dances.
Dressed in traditional dresses with shimmering colors, the female dancers slipped onstage into convolutions adjusted to the millimeter. Each of them showed technical mastery, fluency and grace interpreting choreographic movements in a natural way, perfectly representing the popular traditions of North-Alania Ossetia. All these artists with exceptional talent contributed to making this exceptional evening entirely dedicated to Russia, a real moment of magic, poetry and magnificence.
About the National Ensemble "Alan"
Established in 1938, the National Ensemble "Alan" is today triumphing across Russia and on stages around the world with its dazzling use of music, drama and space and the stunning virtuosity of its artists. Under the artistic direction and choreography of Elbrus Kubalov, it offers a rich repertoire that excels in presenting the folklore from Ossetia but also from the neighboring Caucasus republics, sharing the lavish traditions and customs of an eternal, multi-ethnic Russia.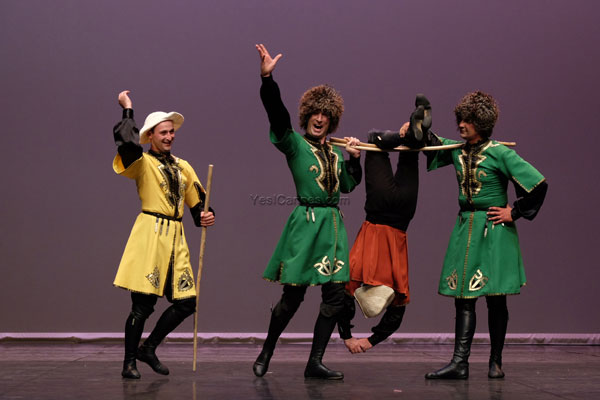 A major rendezvous of Franco-Russian friendship
Established in 2006, the Festival of Russian Art is a major rendezvous of Franco-Russian friendship in France. It is co-produced by the Foundation for Russian Culture, the City of Cannes and the Palais des Festivals and Congresses, with the assistance of the Ministry of Culture and Foreign Affairs of the Russian Federation and its Executive Producer Tatiana Shumova, and the International Programs Direction of the Republic of Khakassia.
Click on pictures to enlarge – ©YesICannes.com – All rights reserved
Ossetia at Russian Art Festival in Cannes
was last modified:
August 30th, 2015
by