The iconic brand Penthouse Media celebrated 50 years of erotic entertainment at MIPTV 2015 with a sexy Anniversary Party attended by celebrities.
The Penthouse Anniversary Party at MIPTV 2015 in Cannes on April 14 highlighted 50 years of Penthouse sexy content at the Majestic Barriere Hotel and was attended by Penthouse Pet Layla Sin along with TV celebrities and global broadcast executives, who walked the Pink Carpet lined with famous magazine covers. The party featured a 1960s' theme to commemorate the decade that Penthouse Magazine launched
Launch in 1965 in London
Penthouse men's magazine was launched in 1965 in London by Bob Guccione before being sold in the United States in 1969, at the peak of the sexual liberation. When he launched Penthouse, Bob Guccione was living in London, moving from apartment to apartment, hardly able to pay the rent. He borrowed 5,000 dollars to publish the first magazine, taking himself the pictures of the models with a camera lent by a friend.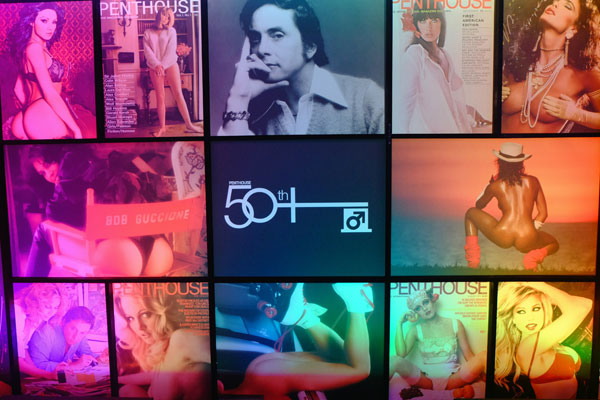 Agent provocateur
Throughout his career, he proved to be a marketing genius and agent provocateur. He financed the production of the film Caligula by Tinto Brass, an epic film shot in Italy, released in 1979, billed as the first non-pornographic film with explicit sex scenes and insane violence. Bob Guccione personally opened the movie in the US theaters, gathering each time a lot of press. He then published controversial photos of celebrities such as Madonna, Vanessa Lynn Williams, the first Black Miss America and porn star Traci Lord.
Full-frontal women nudity
The magazine, combined at first urban lifestyle articles and soft porn pictures that, in the 1990s, evolved into hardcore. It distinguished from its competitors by pioneering in showing full-frontal women nudity and exposing many scandals and corruption at the highest levels of the United States government.
At the height of the success of the magazine, Bob Guccione was on the list of the 400 richest men in the United States and put together a large collection of work of art. But, after the death of his wife, his company went bankrupt and he lost everything, ending his life in a trailer.
Sexy lifestyle programming
Nowadays, the Penthouse iconic brand has evolved into sexy lifestyle programming. With over 20 million monthly consumer touch points and more than 50 years' experience creating the world's best erotic entertainment, Penthouse Media distribute programs around the world into over 100 countries to over 350 million households.
Penthouse offers four distinct channels targeting every market sector. Penthouse HD is couple friendly, erotic, stylish programming shot in 100% full native HD, delivering the sexiest women in the hottest movies, featuring sexy Penthouse Pets and the freshest new stars in adult films.
Ana Alicia Ortiz at Penthouse Anniversary
At MIPTV in search for coproduction, Mexican born actress-director-writer, Ana Alicia Ortiz played the lead role as Melissa on CBS's Falcon Crest, for which she won both the Nosotros Award and the Cesar Award. Ana Alicia also starred in television movies such as The Sackets with Tom Selleck, Coward of the County with Kenny Rogers, and in films such as Romero with Raul Julia and Halloween II. She has also directed 18 episodes of the series Stunt Masters and has written a film which is currently in development. Ana Alicia is launching her newest venture, Quebrada Entertainment, a Film & Television production company whose goal is to successfully reach a culturally and demographically diverse audience .
She also worked in Pairs, France, hosting "Live! The Worlds Greatest Stunts " for FOX network where she met her future husband, Gary R. Benz, President and CEO of GRB Entertainment.
Click on pictures to enlarge – ©YesICannes.com – All rights reserved
Penthouse Celebrates 50 Years at MIPTV
was last modified:
April 25th, 2015
by