At Agecotel 2016, the 5th Trophée Culinaire Bernard Loiseau, supported by Dominique Loiseau, has sublimated the seafood.
Agecotel 2016 was the opportunity for the contest Trophée Culinaire Bernard Loiseau to honor the seafood. Founded by the Disciples d'Escoffier of Catalan and Occitan country, the competition was held under the auspices of the Académie Culinaire de France with godmother Dominique Loiseau from the Restaurant Le Relais de Bernard Loiseau. The co-presidents of the competition were chefs Michel Roth, Fabrice Prochasson and Guillaume Gomez.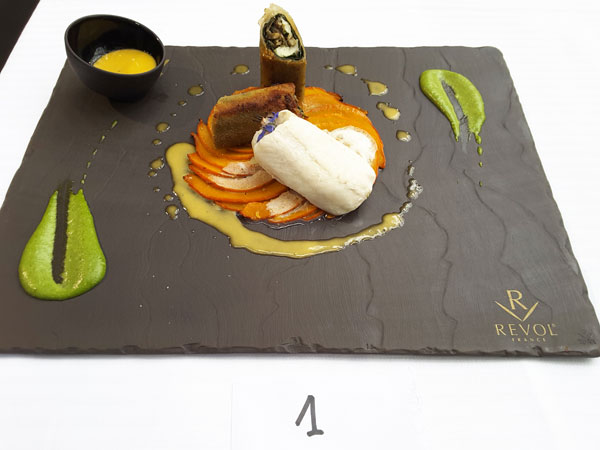 Duo of delicious Mediterranean fishes
The Trophée Culinaire Bernard Loiseau started early in the morning. Within three hours, the participant chefs had to submit a hot dish on the theme of a Duo of Mediterranean fish: seabass and red mullet. These delicious fishes were to be accompanied by a sauce and 3 toppings, including one taken from Escoffier's Guide Culinaire. The chefs had also to make a chocolate dessert for 8 people, covered with icing, with a sauce, made after their choice but based on Grand Marnier and Lemon from Menton.
Meilleurs Ouvriers de France as Jury
The candidates were judged by a panel of chefs, MOF and members of the Culinary Academy of France including: Guillaume Gomez (MOF 2004, chef of Palais de l'Elysée, ACF member), Bernard Leprince (MOF 1997, Member ACF), Michel Pasquet (vice president ACF), Gilles Biancheri, Jean-Marc Mompach (ACF member and organizer of the culinary Trophy Bernard Loiseau 2016), Philippe Joannès (MOF 2000), Marc Bayon (MOF 2008, member ACF).
Winners list and rewards
The Trophée Culinaire Bernard Loiseau was won by David Gremillet, L'Esturgeon in Poissy. He won an internship at Bernard Loiseau's with hotel accommodation, a dinner at the star restaurant for 2 people, 1 medal of the Académie Culinaire de France (value of the lot € 3,000).
The second, Grégory Borkowski, Grand Parc Puy du Fou, won a cup offered by the Culinary Academy of France and a diploma of honor.
The third candidate, Frédéric Pouilly, La Maison du Chef in Ardres, walked away with a cup offered by the Disciples d'Escoffier Pays Catalan and Occitan, an honorary diploma and medal Joseph Favre of Culinary Academy of France.
About the Trophy Bernard Loiseau
Concieved by Gérard Oudin and Lucien Mongelli, this contest was originally intended to showcase the chefs de partie working in starred brigades who are often unknown to the public, but essential to the operation of the brigade. Twelve partners, including Air France, Bragard, Bridor, les Champagnes Collet, Guy Degrenne, Nespresso, Président Professionnel, Rougié Sarlat, Trablit, Coup de Pates, guide des vins, have sponsored the Bernard Loiseau competition by offering many gifts to the lucky winners.
Click on pictures to enlarge – ©YesICannes.com – All rights reserved
Trophée Culinaire Bernard Loiseau at Agecotel
was last modified:
February 12th, 2016
by