Les Chefs au Sommet d'Auron welcomed Chef Nhut Nguyen and Chef-Pâtissier Stéphane Mangin for an haute cuisine dinner at the Bistronome.
Chefs au Sommet d'Auron 2023: from 14 to 19 January 2023, the 11th edition of the Mountain Gastronomy Festival offers memorable gastronomic experiences to tourists and inhabitants of the emblematic Mercantour resort. In addition to the after-ski cooking shows, every evening renowned chefs will officiate in the restaurants of the Haute Tinée resort and offer sumptuous gastronomic dinners at a unique and privileged price of 55€ per person. Chef Nhut Nguyen from Le Grain de Sel in Cannes and Chef-pâtissier Stéphane Mangin from the three-star restaurant Georges Blanc in Vonnas, delighted the gourmets at Le Bistronome.
Eleven years of passion for gastronomy!
The Mountain Gastronomy Festival is celebrating its eleventh anniversary. Once again this year, this flagship event brings together many of the Côte d'Azur's top chefs and talented pastry chefs to share an authentic moment of culinary pleasure and conviviality in the heart of the sumptuous Mercantour mountains. Concocted by the chefs in kitchens made ephemeral for the event, the menus composed of an amuse-bouche, a starter, a main course and a dessert thrill the fine gourmets' taste buds every evening.
Gastronomic Dinner at the Bistronome
On Monday 16 January 2023, Chef Nhut Nguyen from Le Grain de Sel restaurant in Cannes and Stéphane Mangin, the Chef-patissier of the three-star Georges Blanc restaurant in Vonnas, transposed their delicious culinary experiences into the warm, wooded, mountainous chalet setting of Le Bistronome restaurant on the central square in Auron.
Provence and Mediterranean, instinct and season
Nhut Nguyen practices instinctive cooking based on seasonal products. For his chef's dinner at the Chefs au Sommet d'Auron, Nhut Nguyen drew his inspiration from Provence and its terroir, and from the Mediterranean with its savoury marine riches and iodine flavours. The Perfect Egg is one of his signature dishes, which appears on his menu all year round, and is adapted to the seasonal arrival of produce and vegetables. His Mediterranean red mullet was accompanied by a crunchy assortment of forgotten, yet potent local vegetables: rutabaga, salsify, parsnips and Jerusalem artichokes.
Honing his talent at two-star restaurant
Originally from Vietnam, Nhut Nguyen arrived in France at a very young age and began his training in the restaurant industry at the Auguste Escoffier school in Éragny in the Val d'Oise before finishing his studies at the Lycée Hôtelier Saint-Louis in Toulon. Nhut Nguyen honed his skills in several establishments in the South, notably in Saint-Tropez and at Chef Edouard Loubet's Moulin de Lourmarin, a two Michelin-starred chef and Gault-Millau's 2011 cook of the year.
Nhut Nguyen and his delicious grains of salt
Nhut has worked at L'Escale in Saint Tropez, Chez Félix in Cannes, as chef at Barbarella in Cannes, and then as second and chef at La Brasserie de la Méditerranée in Mougins. Since its opening six years ago, Nhut Nguyen has been practising his talents at Le Grain de Sel, Rue Hoche, a pedestrian street in the centre of Cannes.
Passion and travel
Originally from Saint-Nabord (88), Stéphane Mangin began his career as a pastry chef in a shop with Jean-Luc Valentin in Remiremont. To perfect his training, under the advice of his boss who encouraged him to discover other facets of the profession, he joined the starred kitchens of L'Oasis** in Mandelieu-la-Napoule run by the Raimbault brothers. His desire to travel then took him to Abu Dhabi, Dubai, Tokyo… For the Orient Express train, he created a new range of desserts, and many other experiences followed.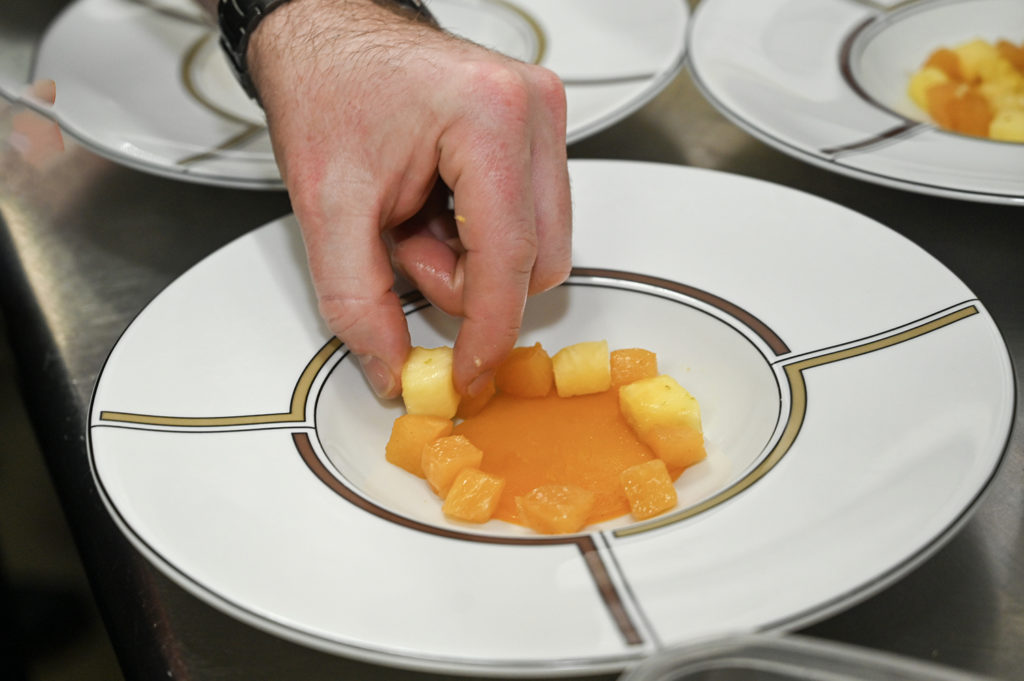 Inexhaustible creativity
This long journey will lead him to Grasse to La Bastide Saint Antoine with the great straeed Chef Jacques Chibois. In 2018, Stéphane Mangin flew to Morocco to land at the prestigious Royal Mansour in Marrakech where he took up the post of Pastry Chef. His creativity, his passion and his little touch of madness have found a new home. In 2019, he will join the twice starred chef Nicolas Decherchi at Le Paloma restaurant. In 2020, Stéphane Mangin becomes consulting pastry chef.
Stylish and elegant desserts
Today, Stéphane Mangin is the head pastry chef of the three-starred Georges Blanc restaurant in Vonnas in the Ain region. He has been using his art to serve the legendary Lyon restaurant for three years. With a deep respect for the chef's culinary guidelines, the pastry artist ensures that the feast of the senses is extended with absolute meticulousness. Playing the spatula and the whisk with virtuosity, the 43-year-old from the Vosges plays his score of taste by staging stylish and elegant desserts. His overflowing imagination is always on the alert and leads him to create mountains of sweetness with soft, creamy and aromatic textures. His constantly renewed flavours are inspired by nature, its harmonies of colour and the world around him. This craftsman of happiness, in addition to being imaginative and creative, bases his art mainly on rigour, precision and know-how.
Respect for tradition and the product
For this tireless manual worker, there is no room for approximation and everything has to be done with precision, because seasonal products are often short-lived and the dishes are usually made up to the minute. "In order for the balance of a dessert to be respected and for the desired effect to be achieved, the recipe must first be respected to the nearest gram. When I make a dessert, I think about the taste first. When everything works, I start working on the shape. If there is any hesitation, I have to start again, because a dessert must create a gustatory emotion. If not, I put it aside, and perhaps rework it later."
Respecting the tradition and values of the Blanc family, the chef-patissier puts forward local products and those of the delicatessen adjoining Georges Blanc's starred restaurant. Stéphane Mangin likes to share and pass on his passion, as during his demonstrations at the Chefs au Sommet d'Auron.
Menu tasted at the Bistronome (photos YesICannes.com)
Le Bistronome, conviviality and fair prices
Christophe and Fabienne – la Cheffe – have been proposing good mountain gastronomy with gourmet accents from the Lyon region for seven years. After having practised their talents at La Plage Royale in Cannes for many seasons, the couple of restaurateurs settled on the central square of Auron to practice a cuisine with accents from the Alpine region at a fair price. Among their specialities, you will find frogs' legs, fried eggs with truffles, black pudding from Anot or tasty local charcuterie. In a spirit of conviviality, Christophe, who used to be a professional musician, often invites guests to a jam session at the end of the evening.
Les Chefs au Sommet d'Auron
From 14 to 19 January 2023
Restaurants in Auron, St Étienne de Tinée and St Dalmas-le-Selvage
Information: Auron Tourist Office
Tel: +33 (0)4 93 23 02 66
Chefs au Sommet d'Auron 2023, Nhut Nguyen and Stéphane Mangin at Le Bistronome
was last modified:
January 25th, 2023
by