Chefs au Sommet d'Auron 2023 will celebrate gastronomy, sharing, conviviality and friendship in the emblematic ski resort of the Mercantour which has become the Capital of Mountain Gastronomy.
Chefs au Sommet d'Auron 2023: the emblematic resort of Auron has just opened under a promising snow cover and already a gourmet winter is in the offing with the eleventh edition of the Mountain Gastronomy Festival, which combines speed on the slopes with the delight of the palate. For five days, from 14 to 19 January 2023, skiing, sunshine and gastronomy will take you to the snowy slopes of the Alps! Some twenty Côte d'Azur chefs and pastry chefs will be giving free rein to their talents in Haute Gastronomie in the charming villages of Auron, Saint-Dalmas-le-Selvage and Saint-Étienne-de-Tinée. An event of sharing and culinary happiness to be urgently included in your winter holiday dates!
A gathering of chefs at Alpine ovens
Building on the success of previous editions, this high-altitude culinary event will take place in the sumptuous snow-covered peaks of the Mercantour in the Southern Alps. Organised by the Auron Tourist Office, supported by Auron, Saint-Étienne de Tinée, the SEM des Cimes du Mercantour and the Chambre des Métiers des Alpes-Maritimes, the Mountain Gastronomy Festival will be presided over this year by starred chef Patrick Raingeard. The restaurants in the resort of Auron, Saint-Dalmas-le-Selvage and Saint-Étienne-de-Tinée will welcome in their kitchens renowned Chefs and Pastry Chefs, officiating in the Côte d'Azur region, who will be working with local Alpine products.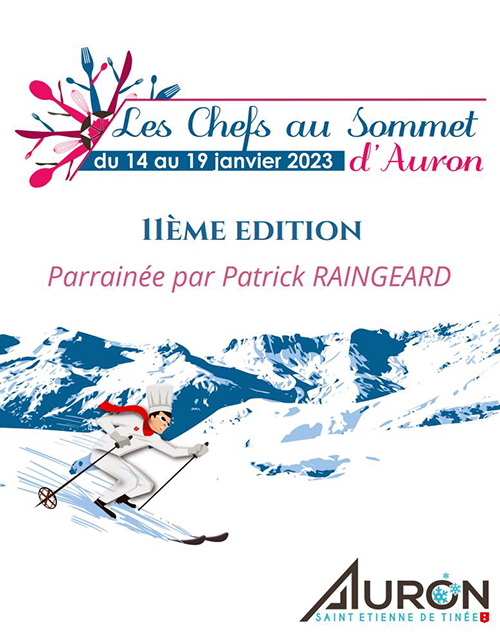 Patrick Raingeard, a talented and delightful chef
Rigorous and passionate, Patrick Raingeard is the chef of the restaurant La Table de Patrick Raingeard at the five-star Cap Estel hotel in Eze. Patrick Raingeard was awarded a Michelin star in 2013 – the only one awarded by the prestigious red guide in the Alpes Maritimes that year! – and has kept it ever since. An award confirmed by Patrick's crowning as Gault&Millau d'Or PACA 2013 and the award of 3 toques and Coup de Coeur at Gault&Millau. A Breton who fell in love with the Mediterranean, Patrick Raingeard trained in great houses such as Lenôtre and Ladurée in Paris or La Mère Poulard in Mont Saint-Michel, alongside Alain Passard, Jacques Maximin and Patrice Hardy.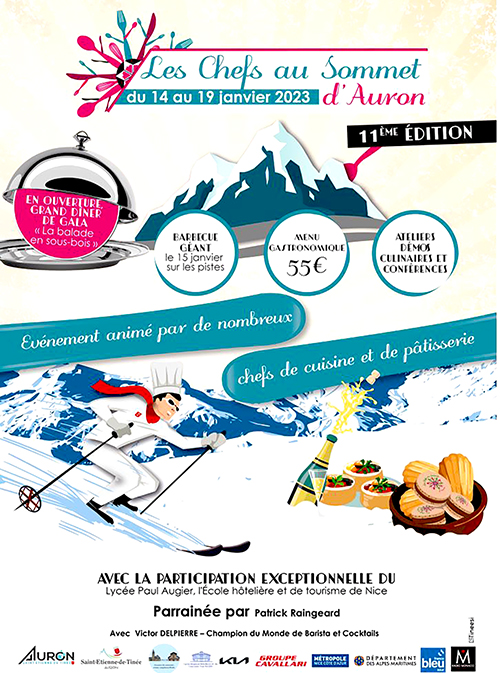 Opening dinner
Cancelled last year due to the health crisis, the grand opening gala dinner is back. It will be organised in the Salle Rovery on the theme of "Balade en sous-bois" (95 euros). For this purpose, the organisers have called upon some fifty students from the Lycée Paul Augier in Nice who, under the leadership of the godfather of the 11th edition, Patrick Raingeard, will display a wide range of their budding know-how to delight the hundred or so guests. The occasion will be a great opportunity for them to put their professional training into practice.
Three chefs in three restaurants each evening
Every evening, three different chefs will be working in three different restaurants to create exceptional dinners. By the fireplace, in the warm and authentic atmosphere of the dining rooms with their wooded and mountain decor of altitude restaurants, holidaymakers, seasonal workers and inhabitants of the valley will have the opportunity to taste real gastronomic menus at the unique and privileged price of 55 euros. Composed of an amuse-bouche, a starter, a main course and a dessert, the menus are sure to delight the fine gourmets' gourmande taste buds.
Giant barbecue at the foot of the slopes
On Sunday 15th, the Chefs au Sommet d'Auron 2023 will be wearing the flamboyant Toques Brûlées outfit to offer skiers a crazy cooking show, treating them to grilled meats, delicacies and mountain specialities. The now traditional giant barbecue with tasting of freshly cooked dishes, produced by the Toques Brûlées and hosted by the talented Noëlle and David Faure, will feature some twenty overexcited chefs who will set the snow front ablaze with their gastronomic delights for the greatest pleasure of the skiers of the domain.
Breakfasts at the bottom of the slopes
At the Chef au Sommet d'Auron, the day will start with a breakfast offered by the valley's bakers to the skiers on the snow front. Auron, St Etienne de Tinée, Isola, in partnership with Fiers Artisans, Pascal Rolfo and Moulins Foricher, the partners of this warm and lively event.
Workshops, culinary demonstrations, barista-cocktail events
During the festival, the Chefs au Sommet d'Auron will offer culinary demonstrations and fun workshops during gourmet 5 à 7 sessions in the Salle Rovery, accompanied by the delicious cocktails of Victor Delpierre, World Barista/Cocktail Champion, creator of Le Riounet, the official cocktail of Auron. Inventor and specialist in the Cuisine des Boissons, Victor Delpierre likes to provoke the unexpected and go beyond the boundaries of taste. If chefs cook food, Victor is having fun "cooking" beverages to renew the sensations with ever more creative and daring concepts and mixtures. The Riounet is to be discovered fresh after a nice walk or warm after skiing (orange and lemon from Menton, triple sec Combier 1834 and cocoa, Champagne…). On Wednesday, children wearing a chef's toque and apron can learn to cook at the Ptits chefs workshop.
Made in St Etienne de Tinée
The traditional cuisine of St Etienne de Tinée is also honoured with the members of the ASESC association. As in previous years, our grandmothers' recipes such as ravioli, green pasta, gnocchi, fritters and ganses will be featured.
Chefs and partners day
On Monday, anything goes! This day will be reserved for the Chefs and partners of the event. After a morning reserved for skiing or snow activities, everyone will meet for lunch in one of the restaurants located at the foot of the slopes of the resort. In a warm and friendly atmosphere and away from their kitchen, the chefs will be able to meet in a postcard, snowy and picturesque setting.
Mercantour products in the spotlight
The chefs will take the gourmets to a discovery journey in French culinary art with the best products from the Mercantour, sublimated and honoured during this delicious event on the theme of Locavore, products from short circuits, expressing the love of the land. This festive programme will also put the spotlight on the mountain products supplied in large part by the Association Montagnes Paysannes, a group of producers from Puget-Théniers. But also the Bergerie de la Belloire (Tinée valley) for ewe's cheese and lamb as well as honey producers. Cuisine of the Haute Tinée and old recipes revisited will spearhead this beautiful gourmet event.
Great names in culinary art
Numerous famous chefs have succeeded one another as sponsors and have thus contributed to the influence of this gastronomic event at the summit of the Mercantour mountains: Jean-François Issautier, Jacques Chibois, Alain Llorca, Philippe Joannes, Jacques Maximin, Christian Cottard, Virginie Basselot, Théo Mansi, David and Noëlle Faure.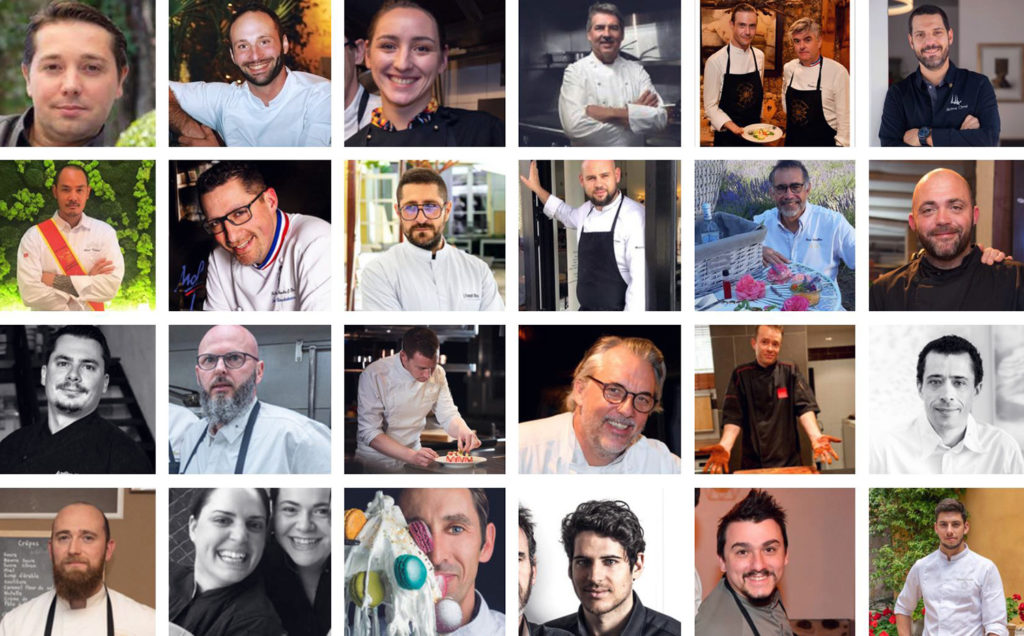 Great names in pastry
Stéphane Mangin, Georges Blanc***, Vonas; Mathieu Marchand, Le Comptoir Gourmand de l'Oasis – Collection Barbossi, Mandelieu-La-Napoule; Jean-Michel Llorca – Alain Llorca* – La Colle sur Loup; Christophe Canet – Pâtisserie Canet – Nice; Pascal Picasse – Bastide St Antoine – Grasse; Yohan Gouverneur – Pâtisserie Émotions – Castagniers; Séverine Lemaire – Cerise sur le gâteau – Drap; Bruno Laffargue – Mic Mac Macarons – Cagnes sur Mer; Marc Payeur – Pains et Pâtisseries Carabacel – Nice; Julien Lac – Pâtisserie Lac, Nice; Ludovic Gambini – Château Eza ***** – Eze.
Diners de Chefs
Opening dinner at Salle Rovery "Ballade en Sous-bois" 95€ – (reservation: +33 (0)4 93 23 02 66)
Sunday 15 janvier:
Alain & Jean-Michel Llorca – Le Blanchon (reservation: +33 (0)4 93 23 02 99)
Julein Roucheteau & Christophe Canet – La Table du Chalet (reservation:+33 (0)4 93 23 00 21)
Chef (à préciser) & Stéphane Mangin – Les Pivotes (reservations: +33 (0)4 93 23 02 72)
Monday 16 janvier:
Jean-François Marre & Pascal Picasse – Le Galion (reservations: +33 (0)4 93 23 01 56)
Nhut Nguyen & Stéphane Mangin – Le Bistronome (reservation: +33 (0)4 93 03 12 87)
David Graziani & Ludovic Gambini – Le Cubersel (reservation: +33 (0)6 19 24 72 17)
Tueday 17 janvier:
Alexandre Martin & Mathieu Marchand – L'Alisier (reservation: +33 (0)4 93 23 34 83)
Yves Terrillon & Julien Lac – Le White (reservation: +33 (0)4 93 23 34 90)
Arnaud Collin & Marc Payeur – La Brasserie (reservation: +33 (0)4 93 03 40 48)
Wednesday 18 janvier:
Didier Aniès – Grégory Mélani & Séverine Lemaire – La Bergerie (reservation: +33 (0)4 93 23 06 81)
Aurélien Martin & Yohan Gouverneur – Les 3 Marmottes (reservation: +33 (0)6 84 48 67 93)
Deborah Georges & Bruno Laffargue – Le p'tit flocon – (reservation: +33 (0)4 93 05 87 41)
Thursday 19 janvier:
Jérôme Clavel & Séverine Lemaire – Les Canailles (reservation: +33 (0)6 22 11 03 75)
Many partners
Started in 2012 with a few chefs, the Chefs au Sommet d'Auron now brings together some twenty chefs who host the event in the resort's restaurants. Like any large-scale event, the Auron Gastronomy Festival benefits from the support of numerous partners who have made the Chefs au Sommet d'Auron sparkle: Saint Etienne de Tinée/Auron; Associations of shopkeepers, craftsmen and liberal professions (UN.I.TE).
Local terroir flavours
Balicco; Deloye Marée; Micmac Patisserie; Malongo; Capfruit; Philipponnat; Gabriel Meffre; Victor Delpierre Consulting; Eberhardt; Bonemasters Europe; Montagnes Paysannes; Rational; Fidèle; Maison Bonifassi; ZK Chocolatier; Chartreuse; Andros; Distillerie Combier; Elle & Vire; Bergerie de Belloire; Foricher Les Moulins; Fiers d'être Artisans; Firplast; Live Shoot.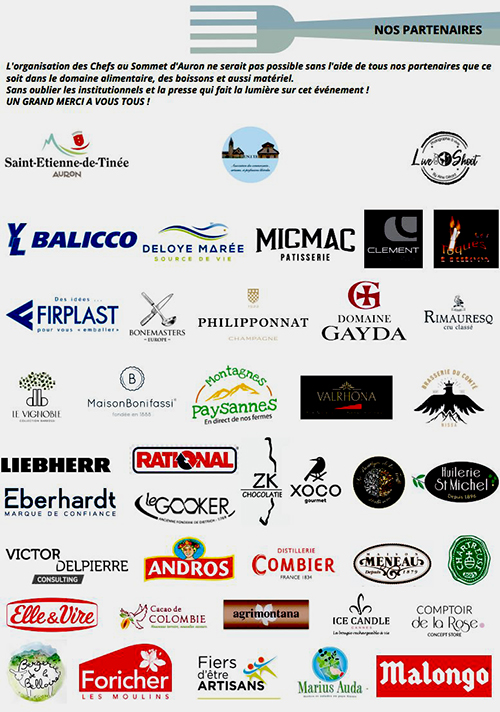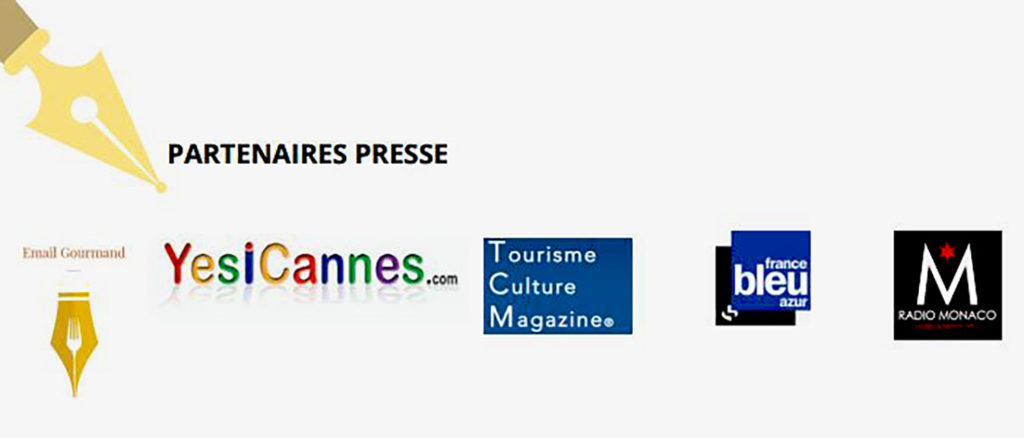 Chefs au Sommet d'Auron 2023, the Toques Are Snowbound
was last modified:
January 4th, 2023
by